Festival du Cannes (or Cannes International Film Festival, if you like) has its long-standing tradition of elegant and meaningful posters.
Two years ago, we could see the Great Marylin Monroe, blowing the candles for the Festival's 65th anniversary. All in harmonized film noir color palette. Then last year for the 66th edition of the biggest European cinema fete, we could see Joanne Woodward and Paul Newman ("a couple who embody the spirit of cinema like no other") in their entwined kiss.
Always "to the point", l'affiche officielle reminds all the attendees that there's much of history and a very unique atmosphere, that you could breath in and out on Boulevard Croisette.
This year for the third time I will attend this land of wonder. This is one of those places where one can actually feel the Time itself. Sipping a terroir Chablis and watching the boats, slowly swinging their eternal dance, Time just goes by. Its reflections are revealed in such way, you can almost touch them. The Past, enchanted in the flirty look of Marcello Mastroianni on the poster - it feels like we know him for ages. Modern men in their garniture are the biggest achievement of a suspended clock hand. The Future, collecting all the dreams and expectations. I don't know if I am truly capable of describing the suspense that creates the Present. It is a great challenge to be able to actually feel that way.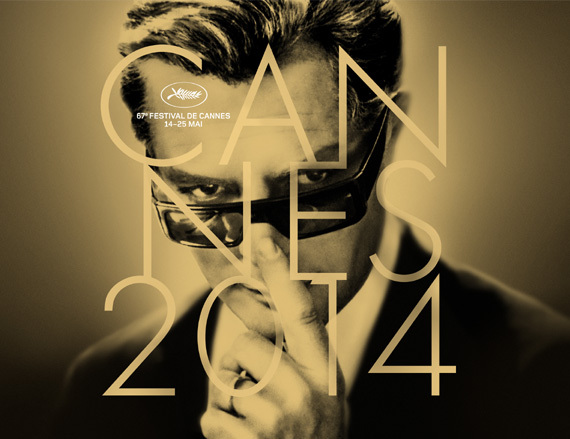 Source: Press materials / Festival de Cannes
In Cannes business meets pleasure night by night, when almost every beach turns into pure Fun. After a few days of the Festival it is kind of hard to hear the comforting sounds of the sea. In a rush, one can find it difficult running into a familiar face or appreciate a decent movie. Finding time for watching movies could be tricky there. Ironically that is what we are really there for. I need to control my disposition for making digressions - which movies will we find as the lucky chosen ones?
While I am writing this words, the Festival's film selection is still a mystery. It is something, every film passionate is waiting for. I can feel the fear of plentitude, I will be happy to recite here on my blog in a month or even less. I personally believe this year will be special. That's just an intuition, I really want to trust.
Dear Reader I am writing for - we can find that out together in a month. I think that Jane Campion, the Head of the Jury, will use her exquisite taste to choose the best image from the selection. The same goes for Pablo Trapero ("Un Certain Regard") and Abbas Kiarostami ("Cinéfondation" and Short Films). I couldn't think of a better choice for the Master of Festival's two most important Ceremonies than Lambert Wilson.
That's a lot to digest. I must admit that I am all curious, expecting really unforgettable time at the Festival this year. And that's not even the beginning...
I need to leave you all here for now - with that annoying Hitchcockian suspence. If you feel it, please do follow my blog for the next articles on Festival de Cannes. I will take a glass of Chablis, watch the video I've shared below and try to imagine sitting somewhere on the legendary Cote d'Azur a month from now!
See you then mes amis or even before ;)