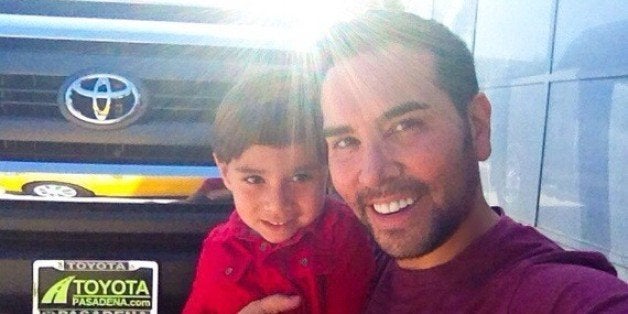 As a dad, I feel that rewarding our children is super important. But there's a fine line between giving kudos and overindulging.
Now that my eldest son is 4, I wanted to try a new strategy when it came to rewarding him for good behavior... or for sitting still and not banging his hand on the pew in church... or for not pulling a UFC move on his little brother when we turn our head for a second (literally a second!).
Before, we had no problem heading to Target for a Hot Wheel. Sure, they only cost a little over $1, but that's not the point. The crazy thing is, when you hand him the brand new Hot Wheel in the package, you'd think he just received the keys to a new Bugatti... a REAL one! But as soon as that package is open and the car has been cruising up and down our hardwood floors (ugh!), the novelty wears off. Then the four-wheel treasure becomes old news and joins the rest of the car and truck fleet that fills his room.
OK, so he loves cars and trucks. What way can I still give him that kind of reward that won't cost dad anything and avoid adding more clutter to the house? Bingo!! The perfect solution came to mind: a trip to a truck dealership of his choice each week.
I let him know of my plan, and whoa... if he could do backflips and cartwheels, he would have pulled a Mary Lou Retton all over our house. His excitement was unreal!
So, sure enough, we set the first goal. I told him, "If you have an entire week at school where you listen to your teachers, eat your whole lunch and clean up when you're supposed to, we will cruise to your truck dealership of choice this weekend." First words out of his mouth were: "Ford? Can I go see the F-150s and F-250s? I want one like my Uncle Robert." Yes. It was on!
Wouldn't you know, the entire week passed, and he had been touched by an angel... or at least there was an angel chillin' on his shoulder saying, "Don't screw up. Think F-150." Friday arrived, and when I went to pick him up, his teachers couldn't stop singing his praises. And trust me, our son is kinda like his daddy... coo coo for cocoa puffs. So this was huge for me! He ran up to me and said, "Can we go? I want to see the trucks." His teachers had known about this dealership deal and smiled.
Saturday morning arrived, and at 6 a.m., a certain 4-year-old was up and ready to go. Um, dad was barely up at this point and not by choice. Oh, our 10-month-old son had been up that night... all night, in fact, with teething issues. So mom and dad didn't sleep much. Actually, not at all. But there was no way in hell I was going to back out of this deal of a lifetime. At least, it was a deal of a lifetime to him. After explaining that the dealership doesn't open until 9 a.m., I was cool to attack our Keurig machine for a much-needed caffeine pick-me-up.
8:50 a.m. arrived, and boom! He and I said adios to mom and little brother, and we were out the door. All the way there (10 long minutes), his mouth never stopped. We talked about different truck models, colors and engines. You name it; we chatted about it. But since I personally love cars, I put myself in his shoes and totally got it.
Pulling up in my Ford Edge, I'm sure the car salesmen were like... score! This guy wants to trade in his ride for something new. Not quite, but as soon as they rolled up on me and my son, I quickly let them know we were just looking. Fortunately, they were cool about it and left us to ourselves. But they did get a kick out of this little guy rambling off all the Ford truck models as he approached the shiny line-up of new vehicles. For the first time, he actually initiated photo ops. That's funny because trying to get this kid to smile when we're trying to snap a family picture is like trying to count the granules of sand at the beach... impossible!
This kid was in truck heaven. We walked around that dealership for a good 45 minutes, and he never once stopped smiling... and talking. The salesman put the cherry on top when on our way out, he handed him a brochure for the F-150. I could tell by his face, this was better than any book he already owned. Yes, I'm referring to the library of books currently in his room. Not only was this a memorable experience for him, but he got a memento to take home.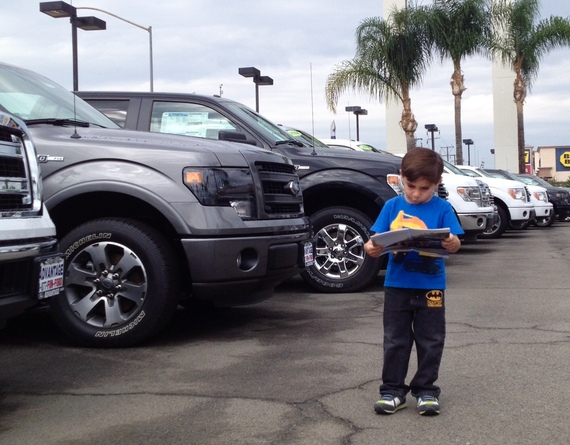 Wouldn't you know, this reward had such a profound impact on him, that we've done it two more times since then. Let's just say the Toyota and Chevrolet dealers now know us quite well. Proves that rewards can come in many shapes and sizes, and honestly, they don't have to cost anything.
Our son turns 5 soon, so this whole freebie reward thing may come to a screeching halt when he realizes that dad is just being cheap (I call it smart!). But hey, I'm beyond happy that I at least gave this a test drive.