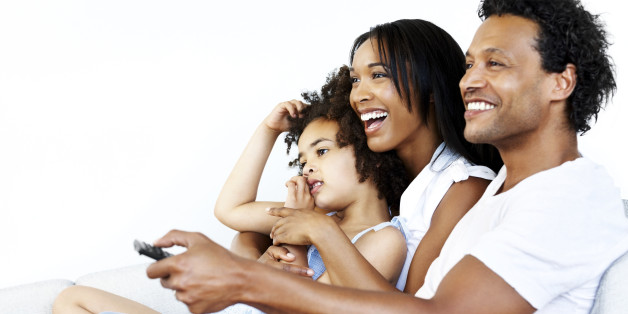 Is it just me, or is there a lack of quality programming for families to watch together?
Don't get me wrong, as a parent of two boys, I'm all for limiting the amount of TV our kids watch each day... one hour in the morning and one hour at night.
Let me jog your mind a little bit with some blasts from my past: Growing Pains, Family Ties, The Cosby Show, Who's The Boss, The Hogan Family, The Facts of Life, Silver Spoons and Diff'rent Strokes.
Parents in your upper 30's to early 40's, you can't tell me that you wouldn't be able to ramble off at least a few lines from the Diff'rent Strokes theme song! "Now, the world don't move to the beat of just one drum. What might be right for you, may not be right for some ..."
"Whatchu' talkin' about Willis" was like a household phrase in my parents' house for awhile. This was back in the '80s, but still.
Oh boy, here's another one for your noggin': The Greatest American Hero. Let's sing along together... "Believe it or not, I'm walking on air. I never thought I could feel so free. Flying away on a wing and a prayer. Who could it be? Believe it or not it's just me." Boom! Straight off my memory. Am I proud of that? Umm.
So fast-forward to 2014. Sure, we have Modern Family, but not only is it on too late, but I'm not sure it's appropriate for the youngins. My wife and I absolutely love the show, but it's saved for our late-night DVR binge once the kids are in bed. The show just has too many words like "stupid" and "hate" in the mix. For our 4-year-old, those are considered bad words. And yes, I hate that we have to wait to watch our stupid shows until after they hit the sack. OK, so dad doesn't think those are bad words.
The definition of "family sitcom" is not what it was back in the '80s or even the '90s. Nowadays, family shows are more geared towards tweens and teens. Pretty sad, but the only show we can actually watch as a family is NBC's American Ninja Warrior. In case you've never seen it, it's basically the modern-day American Gladiators. Well, minus the gladiators. There is no cussing, no "bad" words, no weapons... just incredible athletes showing off their strength and determination while going through the craziest physical challenges.
Some of you may be thinking, then why have your kids watch TV at all? I hear ya. Trust me, we have so many children's books in this house that we should start selling library cards. Good thing for us, our 4-year-old loves books. But if I have to read his favorite Little Blue Truck book again, I may take that truck for a solo drive up the coast. Specifically, I love the kids' books with big writing and not too many pages. Be honest, parents. You do, too.
I don't know why I'm so obsessed with getting family sitcoms back on the air. Seriously, I remember my dad yelling down the hall that The Cosby Show was starting, and we'd all gather around the den and watch as a family. Remember when little Rudy (Keshia Knight Pulliam) steals the spotlight in the episode about Cliff's (Bill Cosby) parents' 49th wedding anniversary celebration, when the whole family sings a Ray Charles song? In my opinion, the best and most memorable episode.
And then there's The Facts of Life. It's just that I miss Ms. Garrett (Charlotte Rae) chatting with Blair (Lisa Welchel), Jo (Nancy McKeon), Tootie (Kim Fields) and Natalie (Mindy Cohn) in the kitchen. The other day while I was changing a loaded diaper, I caught myself humming The Facts of Life theme song. WTF?! My wife Debbie gave me this "you are the nerdiest guy on the planet" look. She may be right.
So my response? Whatchu' talkin' about Deb?