Born into a family of hairdressers, Cesar Ramirez, is today's go-to hairstylist catering to R&B royalty. His dramatic, definitive creations have donned the pages of i-D, Ebony and Italian Vogue, as well as the runway shows of New York designers Katie Gallagher and Carlos Campos. He's made his career styling 'dos for a roster of flossy celebrity clients--from La La Anthony and Brandy to Aubrey O'Day and Ciara. He chats with me about his infamous "Cassie cut," how to get your very own flawless Ciara wave, and his despise for gel.
Ciara. Photo: Jason Merritt/Getty Images
Walk us through the steps to get Ciara's ombre waves. Blogs everywhere have been crushing on it since she rocked it in her red Balmain dress at the 2012 MTV Movie Awards.
I start by washing and deep conditioning the hair with Kerastase Nutri-Thermique which is good for adding moisture and acts as a heat protectant. After that, I apply Kerastase Nectar Thermique; also an essential for heat styling, and blow-dry with lots of volume. Once dry, I create a center part. Then take small sections of the hair--from the under-layer, working my way up--applying Kerastase Fiber Architect to each section. To create the waves, I alternate the 'waving' using a 1 and 1/2-inch curling iron and finish it with a flatiron, continuing on with this technique throughout. Once done, I like to dishevel the hair a bit with my hands and always brush through the hair to smooth the style.
You've been with Bad Boy singer Cassie since day one. Tell me how you came up with her half-shaved hairstyle.
It was something we talked about for a long time. She really wanted to try something new and edgy. Knowing Cassie well, she's always had this kind of tomboy style to her. We wanted a hairstyle that fit her everyday look, but, could also define her style as a musician. It all came down to her personality. What's unique about the cut is that we'll constantly be changing it up with differing shaved cut-outs.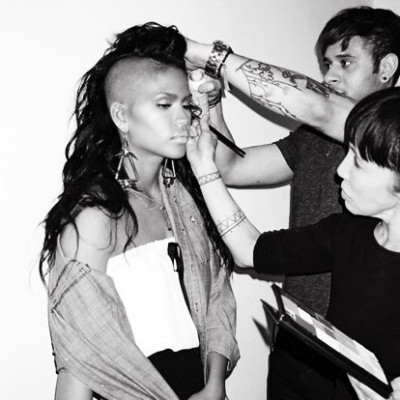 Cassie. Photo: Ysa Perez
You've probably seen some unabashedly bad hairstyles in your day. What's the worst in your opinion?
I never understand when stylists curl hair and don't brush it out to blend and create a soft finish. Curls or waves should always look natural -- never look as if you ringlet-curled every strand. The worst, though, is crunchy-gel locks. It gets me every time.
Want more? Be sure to check out Stylelist on Twitter, Facebook, Tumblr and Pinterest.