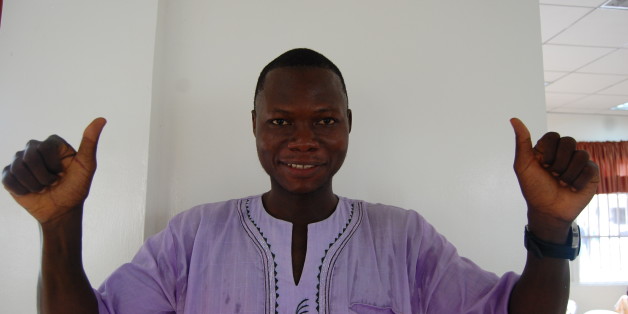 It was another busy morning of meetings and presentations at the Incident Management Team meeting in Monrovia. The conference room on the third floor of the Ministry of Health and Social Welfare in Congotown was full -- standing room only, no one else was allowed in. All uninvited guests and non-members were asked to leave. This was a closed meeting for the technical team. Partner organizations, including national and International nongovernmental organizations (NGOs) were invited to the open meetings on Fridays, not this one. Many did not welcome the decision, yet they had to comply. Since August 16th, I had been working in an advisory capacity with the Incident Management Team (IMT), which coordinates the various components of the Incident Management System (IMS), the authorized coordinating arm of Liberia's Ebola Response. This was August 25, 2014.
What was significant about this day for me was the report about Ebola survivors. Rev. John Sumo, who heads the Psychosocial Component of the Incident Management Team, reported that there were 60 survivors and they wanted to establish the Ebola Survivors Network, to promote awareness and gain support for survivors and their families. Heading this Network would be Korlia Bonarwolo, one of the first three survivors of Ebola in Liberia.
I wanted to meet Mr. Bonarwolo, to see an Ebola survivor. I wondered how he would look, how he would be, whether I should be concerned being in his presence. Was he truly recovered? After all, Ebola in West Africa is a new phenomenon. Even the presumed "experts" don't understand all the possible ramifications. I should be circumspect. Shouldn't I? These questions I asked myself.
Dr. Moses Massaquoi, who heads the Case Management Team on the IMS, gave me Korlia's phone number. I called him requesting a meeting and without hesitation, he agreed to meet me on August 30th, in the cafeteria of the Ministry of Health. I desired details of his story, how he dealt with Ebola and life after full recovery, release back into society -- into his community. Had he been stigmatized? How had he reintegrated into his own family? How have they dealt with him and Ebola diagnosis?
Korlia Bonarwolo, a 25-year-old physician's assistant (P.A.), worked in the emergency room at Redemption Hospital in New Kru Town, a ghetto outlying Monrovia. It was an ordinary day, when he reported for work on June 14th, covering the evening shift, screening new patients. One of his colleagues, a nurse (EK), came in with severe diarrhea, vomiting and fever; she was dehydrated. He uspected cholera and treated her accordingly. What he did not know was that she had cared for the hospital's first confirmed Ebola patient who died just a week earlier. Her condition worsened, she was admitted with an unrelenting temperature above 101.5 degrees Fahrenheit (F), profuse perspiration, excruciating headache, rapid heart rate, bloody vomitus and now, bloody diarrhea. The nurse died the following afternoon. So did the Ugandan doctor (Sam) who also treated that patient. Ebola tests confirmed the diagnosis for both EK and Sam. Considered a primary contact, Korlia began observing himself, taking his temperature thrice daily.
Ten days later, on June 24th, he had a temperature of 101 degrees. He called his supervisor (from home) and was advised to come to the hospital for screening. On arrival, there was no electricity at Redemption, the lab was not functioning. Although he had no other symptoms, oral rehydration solution and an antibiotic were prescribed and he was sent him home. The next day, his temperature rose to 101.4 F, with profuse sweating, severe headache and weakness. By 5 P.M. the third day, he had muscular aches and pains, vomiting with 101.6 degree temperature. After expending much effort, he got a P.A. at JFK Hospital to send an ambulance to take him to JFK isolation unit. It was June 25th at 8 pm. A diagnosis of Ebola was confirmed on June 26th.
Korlia's symptoms worsened over the next ten days. He became incoherent. He was treated for severe vomiting, persistent diarrhea, rising temperature, an excruciating headache, persistent violent hiccups, difficulty breathing and then he became delirious. Between eleven and fifteen days after hospitalization, his symptoms began to slowly subside. A repeat Ebola test was inconclusive. The test was repeated on day seventeen and twenty, both negative for Ebola virus. After twenty-two days, on July 18th, Kolia was discharged from the hospital, certified Ebola free. He had survived! He attributes his survival to: "the Grace of God, seeking and receiving supportive care early, being young, a very strong immune constitution, strong, unrelenting family love and support with a lot of prayers." He never received the "ZMAPP miracle" that the American, Kent Brantly, got before being airlifted out of Liberia.
As of October 22, 2014, the Contact Tracing Team of the IMS reported that there are over 2,500 Ebola survivors, despite a sixty-six percent case fatality rate of Ebola related deaths in Liberia. Kolia Bonarwolo, Liberia's first Ebola survivor now wants to study epidemiology and become a researcher. Scholarships are welcome!
This post is part of a special series produced by The Huffington Post in recognition of the threats posed by Ebola, particularly to West Africa. To see all the posts in the series, read here.