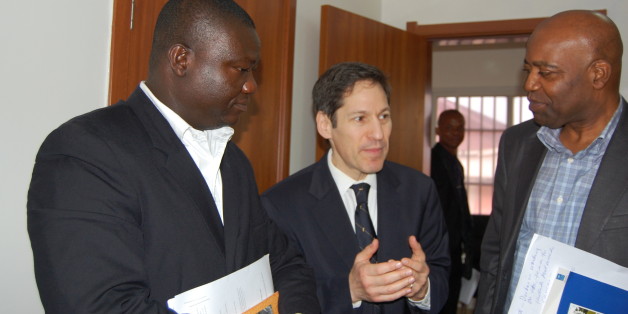 I returned to Liberia in April of this year, after a one year absence, with a team from the Division of Global Psychiatry at Massachusetts General Hospital, to conduct a rapid assessment of Mental Health services and interventions in New Kru Town, a drug infested ghetto outlying Monrovia. There were then five reported cases of Ebola virus disease and one reported death.
In 2005, I chaired Ellen Johnson Sirleaf's Transition Team on Health and Social Welfare, after she won the presidential election. The entire health system had been ravaged by fifteen years of war. This ten person team conducted an assessment in three weeks and made a report to the Transition Committee, recommending that a priority for health system restoration was a National Health Policy and an implementation strategy known as, the Basic Package of Health Services.
After Sirleaf's Inauguration in January 2006, under the auspices of the World Health Organization (WHO) collaborating with the Ministry of Health and Social Welfare (MOH), the process of developing a National Health Policy began. I served as the initial team lead. In 2007, the National Health Policy and Basic Package were completed and accepted by the government. The challenge however, was the government's implementation of its own policy and plan to bring health services to all its citizens.
There were many cracks in the implementation: inequities in distribution of services and resources, inadequacy of trained health professionals, the inability to attract highly trained professionals, complacency of those charged with the responsibility, easy access to government officials by anyone from anywhere, regardless the intent of that access or qualification, the overt tendency to disregard specialized Liberian doctors with the commitment to make the system better, who came and left frustrated. There was too much mediocrity or less in capacity issues, accepted at all levels, to effectively implement the Policy and strategy we had put in place. The people just didn't seem to care. I left in May 2013, with the prediction that things would eventually fall apart. Ebola Epidemic has brought to light much of my predictions. The world now sees in a system, the cracks that could have been avoided.
With the pandemonium and devastation imposed by Ebola, as most were fleeing Liberia, my natural inclination was to go back and serve my native land, flying into the belly of the beast, the unprecedented Ebola epidemic. My daughter said "even though I know it is a good cause, you don't have to go. I am very annoyed with you. Why don't you just stay here (in America) and advance yourself?" My family and friends said they'd pray for me. Believing confidently that life belongs to the brave and I was brave enough to return to Liberia, assured of my safety, I returned in August with a text from my daughter -- "I don't believe you will catch Ebola." Indeed, that's the truth!
I arrived in Monrovia and hit the ground running, from the airport: dinner with my friend and colleague, Kevin De Cork, Centers for Disease Control (CDC) team lead, who had been in Monrovia a month and was leaving the next day. He gave me the statistics (over 1000 cases, rapidly increasing) and we both knew how bad things were.
The next morning, I joined the Incident Management Team on invitation of Tolbert Nyenswah, the Incident Manager/ Incident Management System (IMS), coordinating all components of Liberia's Ebola Response. I was on WHO Technical Committee, recruited by Dr. Nestor Nydirimeji, then Country Representative. Being a part of the Ebola Response team was thrust upon. I knew then this was what I had come to do.
In August, CDC and WHO experts estimated the epidemic would span12 months. West Point an urban slum, considered a major hotspot for Ebola transmission in Monrovia, was locked down by Security forces. The community's reaction to the exigencies caused by the Ebola virus propelled it into the international spotlight -- painting its citizens as uneducated, irrational mobs, hell bent on civil disturbance and spreading the virus.
There were only 3 Ebola treatment units (ETUs) in the country, with less than 300 beds. After Ebola deaths of several colleagues, health workers refused to go to work, afraid of being infected and infecting their families because of lack of personal protective equipment (PPE) or appropriate training to effectively implement infection control and prevention measures necessary for an epidemic of such proportion, causing all major health facilities to shut down, collapsing the entire system. People without Ebola could not get care anywhere in the country. Pregnant women suffered as health workers, fearing contact with their blood, were reluctant to provide care. Liberia surpassed Sierra Leone and Guinea in total number of cases by fifty percent. August 20, the Government imposed a nationwide curfew from 9 pm to 6 a.m.
By September 1, there were almost 2000 new cases and over 1000 deaths. The health system is deplorable and must be elevated to comparable international standards and practice in the aftermath of Ebola or, the nation will perish!
This post is part of a special series produced by The Huffington Post in recognition of the threats posed by Ebola, particularly to West Africa. To see all the posts in the series, read here.