The last time I was in Paris I was a pre-teen, and I was more excited about analyzing the difference between American and French chicken McNuggets than I was about... anything. A lot has changed. For example, I don't eat chicken anymore. And I'm gay. This time around, I was determined to enjoy a few of the more worldly pleasures that Paris has to offer. In 48 hours.
DAY 1
I arrived in Paris early in the morning and went straight to my hotel. I can't really do anything in a new city until I've dropped off my luggage and cleaned up, otherwise I feel like a smelly lunatic tourist clutching my bags all day, and not the casually elegant world traveller I imagine myself to be.
My room in particular had a view of the 19th-century church where Jules Verne was married. Loved that. All the rooms in the Hotel de Nell are modern, understated perfection. The palette is all taupes and creams, letting the textures speak -- organic wool carpet, linen wallpaper, white marble, and unstained myrtle wood accessories. I threw my bag down, kicked my shoes off, and ran directly for the japanese-style soaking tub. I wanted to dive in but I had to fill it first. Very exciting for me. In the middle of this bath, my friend was texting me like, "Let's go to the Louvre already!" so I had to get out.
I braved the city share bikes, Vélib, to get there in a timely manner. (WAY SAFER, by the way, than the bike share in Rome, which was complete madness. I think the only reason why I didn't die that day in Rome is because I have not yet accomplished what God put me on this earth to do and also because my bike chain broke 20 minutes into the experience.) With a small detour, you could stop by the creepy-amazing Michael Jackson paraphernalia boutique called King of Pop.
TIP: To skip the long-ass line at the Louvre, buy tickets online OR inside the Carrousel de Louvre (the shopping mall in the Louvre) you'll find a Tabac that sells tickets.
We whiled away many happy hours inside, just as you'd expect. Follow the masses to the Mona Lisa, the Venus do Milo, Michaelangelo's voguing queens, etc. By the time we got to Napoleon's apartments, we were hungry and exhausted. Fortunately, you can walk outside and straight into the Tuileries garden, buy a delicious baguette, grab a metal chair, and kick back with your feet up on the lip of the Grand Bassin like everyone else. On a beautiful day, which it was, it looks like a Busby Berkeley production around the fountain.
After our snack in the garden, I thought that I might go to the Palais de Tokyo. That's what *you* should do when you go. But let's be real -- I was on art overload. Instead I shopped. The Marais is full of many wonders. You just walk and you can't help running into great boutiques, so I'm not going to list them. Oh, but if a someone tells you about how the H&M in Paris is actually worth visiting because they have a special, fancy line that isn't carried anywhere else, don't listen to their lies.

Anyway, after shopping I went down for a quick nap before reuniting for a night out. Some french friends graciously hosted a pre-party that concluded with them handing out Guronsan. Don't know what that is? I didn't either. Guronsan is an effervescent drink tablet that contains "energy enhancing ingredients and ascorbic acid (Vitamin C) to assist the body in overcoming fatigue and lack of vitality." My sense is that it worked some magic, but I can't be sure. In any case, I really needed that weird little french fizzy tab because we were headed to Chez Moune to dance ALL NIGHT to a set by DJ Kim Anh.

Chez Moune, located in Pigalle (translation: Pig Alley) was founded in the 30s as a "Cabaret Lesbienne" with a girls-only policy. Awesome. Now it's more of a hipster dive, but the history gives it a speak-easy, faded-glory sort of shine. LA-based DJ and producer Kim Anh (find her at her party Booby Trap!, or in your city if you're lucky) rocked the f*ck out of crappy sound system, spinning rare selections of 80s and 90s classic house, new wave and cosmic disco. The place was packed with writhing bodies from 2 - 5 am.

DAY 2
I got up surprisingly early considering the night I'd had. Thanks, jet lag!

I'm just going to briefly touch on the fact that my breakfast in the bistro at the Hotel De Nell was a spiritual experience due mainly to the madeleines, but also due to the everything.

Speaking of spiritual experiences, they really want you to have one when you go to the Sacre Coeur basilica. Or, at the very least, they want you to dress "respectfully." What I'm saying is, you might get turned away if you're wearing a tank top. Go anyway -- the decorated ceilings feel less Middle Ages and more like being in a giant graphic novel. And then buy an outrageous outfit at the nearby boutique Pantheone, which is run by hot, artsy girls. Me, I bought boxing (not boxer) shorts with a charming banana print and a matching scarf. I feel really good about it.

Then my friend was texting me again like, "Let's go to Pere-Lachaise!" so off to the cemetery I went.

This friend wisely bought a bouquet of flowers before we entered the cemetery, and we strolled up and down gentle hills, through the cute little tree-lined "streets" and distributed flowers on the graves of a few of our favorite late greats. Chopin, Piaf, Morrison, Stein. I found Oscar Wilde's tomb the most surprising and the most moving. The grave is marked by a massive sculpture of a flying nude angel, who was apparently so covered in lipstick kisses that damage was done him. Now you can lipstick kiss the plated glass wall that protects the stone figure. After paying our respects, we found a bench with a view of the Eiffel tower and broke out some baguettes. In other words, it would be impossible for a cemetery to be more romantic.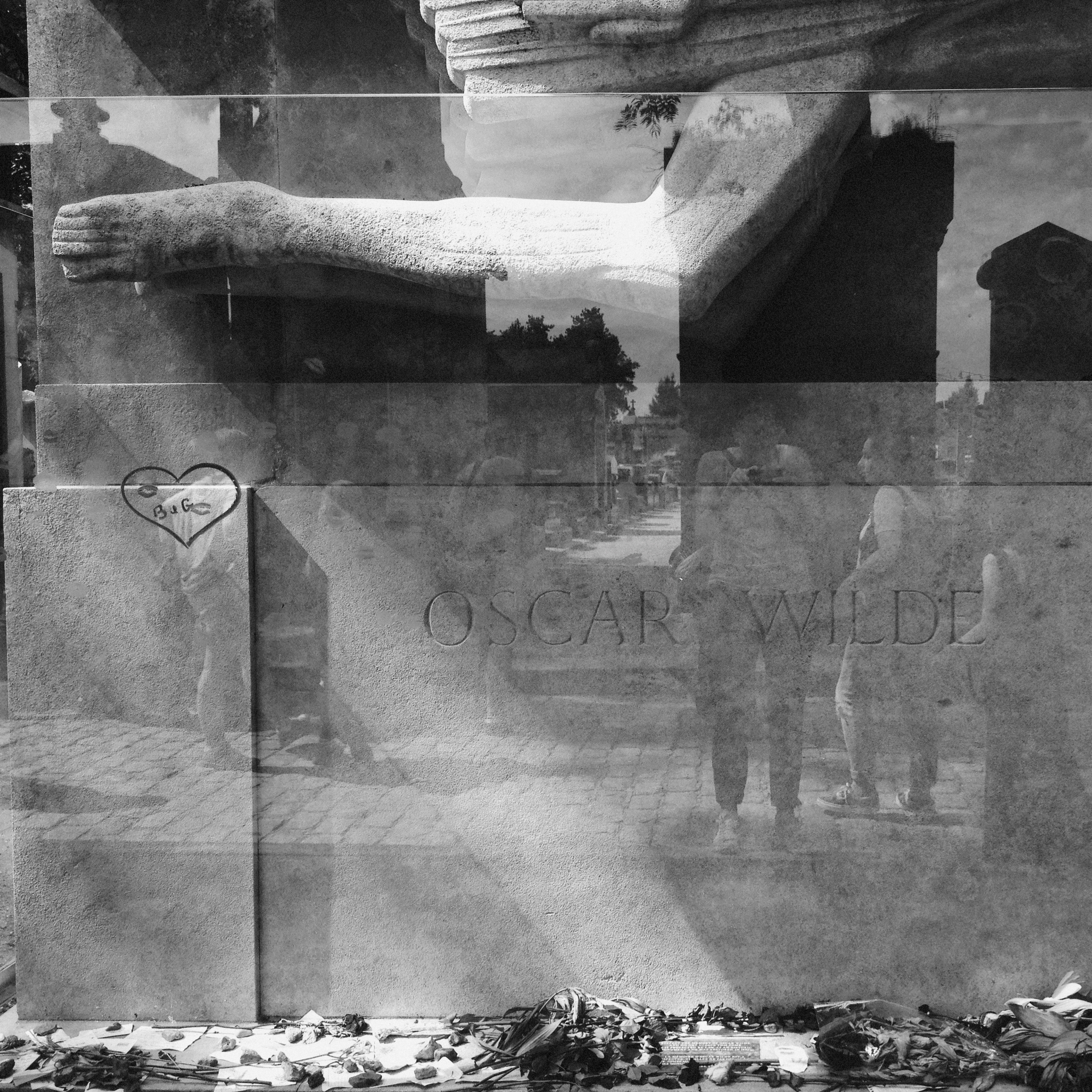 It was hot and we got lost a lot in that huge maze (you will, too) so we justified a pedicab ride along the Seine, which I thought would feel douchey but instead was awesome and pretty cheap. We made two little islands stops:
We hit Sainte-Chappelle, a Gothic chapel on the Ile de la Cité, which hosts the most amazing stained glass experience in the world, and the Berthillon ice cream shop on Île Saint-Louis is very close by, which I was almost equally euphoric about.

If you feel like it (we didn't) you can join tourists and locals alike in lounging on the tiny fake beaches that line the banks of the Seine, complete with blue beach chairs, little palm trees, and real sand. It's the "Paris-Plage," and it's...hilarious.

Then, to Le Marais, where we hit a few vintage shops (don't expect some wonderland of adorable 1950s Parisian vintage in the Marais. What we came across was pretty gnarly smelling 90s American kitsch...I bought a mesh basketball jersey for 10 €) before parking ourselves at an outdoor cafe for some rosè and people watching, which felt really, really right.

Eventually we made our way to Les Mauvais Garçons for some *freaking fantastic* food. Traditional French cuisine, delicious and unfussy. We sat outside on the tiny terrace and even though the food took forever, the staff was so cute and friendly and the atmosphere so lovely that I couldn't have cared less.

I had every intention of going to a bar or two after dinner, but it was late and the previous night's shenanigans got the better of me.

And that, friends, is one gay way to spend 48 hours in Paris.