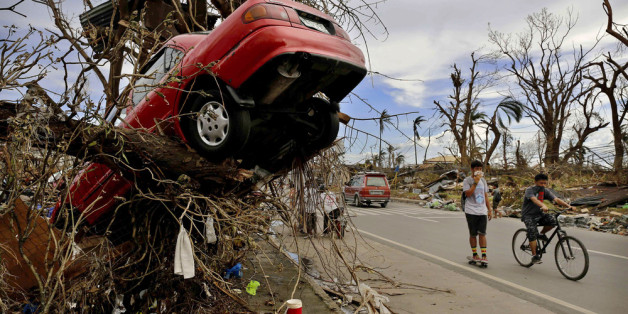 Tacloban -- the Philippine city that monster typhoon Haiyan turned into matchsticks and heaps of rubble, tossing boats ashore, smashing cars, tearing up coconut trees and leaving residents desperate, homeless, thirsty and hungry -- lives differently in my mind. In memory, it centers on a white sand beach, curling around the end of a bay, lapping waves, a few graceful coconut trees and the airport behind us with the occasional plane landing or taking off. The perfect place to unwind on a hot October afternoon with our friend Tony Benedicto and his "Regal Friend," as he always referred to the bottle of Chivas that accompanied us.
Tony chaired the committee organizing the annual commemoration of the Leyte Landing on October 17, 1944, one of the last big Pacific theater engagements of World War II. My husband, Dan, was the American Consul, based in Cebu but covering all the Visayas, the island belt across the middle of the country, and Mindanao, the big island to the south. Each of the three years of our Foreign Service tour in the Philippines (1971-1974), Dan and I were among the officials invited to the formal commemorations. We were also Tony's house guests, staying in his family's welcoming home with a shaded courtyard not far from the center of that quintessential Philippine small town. In those days, it was bustling, low and extremely pleasant.
The American ambassador was always the invited honoree; we were supporting actors. But somehow, the first two years, something intervened -- plane trouble one year, a typhoon passing between Leyte and Manila another, so the ambassador didn't arrive. By default, Dan became the impromptu official representative of the United States. The first time he laid the wreath at the memorial. The second, when we finally heard the ambassador's plane had returned to Manila as we sat down to lunch, Tony informed Dan he therefore was the main speaker. Gulp.
"Honored guests, residents of Tacloban," he began. "It is a privilege to be here today as we commemorate the twenty-eighth anniversary of the Leyte Landing. I feel like I have a special connection with that event. The first time I was in the Philippines I was eleven. In November 1940, our family, like many Americans around Asia, was being evacuated on one of three large passenger ships sent for the purpose, in our case from Shanghai on the SS Washington. The ship then stopped in Manila to pick up others being sent home on the eve of World War II. As the ship sailed out of Manila Bay, we passed Corregidor just after dark. Every light was on. Searchlights lit the sky. Airplanes circled overhead. The wives and children of the American forces stationed there were also being evacuated on our ship. Their men were saying good-bye. Many of them never saw each other again. Today's commemoration honors the redemption of the pledge those men and General McArthur made to the Philippines and Filipinos: 'I shall return.'"
And he sat.
American troops have returned to Tacloban again, this time ferrying in Philippine troops armed with water and food for the typhoon-stricken residents of that once lovely tropical town. In a few days, more will come on the USS George Washington.
Haiyan, labeled the century's biggest typhoon -- literally 'big wind' -- packing winds equivalent to a category 5 hurricane, first came to people's attention a week ago as newscasts began predicting its course toward the central Philippines. Just weeks earlier, Cebu and the island south of it, Bohol, had been devastated by a 7.2 earthquake and were still feeling aftershocks. Villages and old churches had been flattened, including part of the Basilica in Cebu that housed a small wooden statue of the Santo Nino, Christ the Child. In 1521, when Magellan stopped in Cebu on the circumnavigation of the earth, he gave it to the people as a sign of their conversion to Christianity. Actually, Magellan got no further. He interfered in a local fight and was killed in Cebu although his ship completed the voyage. Since then, the statue has survived fires, earthquakes, World War II and now this collapse of the church around it -- thus in the view of believers, Santo Nino has enormous power to grant wishes, including safety from storms.
As news of Haiyan spread, concern heightened. Our Cebu 'family,' who adopted us while we were there forty years ago -- then children the same ages as ours -- began posting their fears and their preparations on Facebook. Those of us elsewhere likewise posted hopes and prayers for their safety. And heaved a huge sigh of relief as Friday morning's posts reported downed trees and lights off but family and friends shaken and safe. Closer to the Cebu harbor, sadly, there was more damage. Our friends began organizing food and other necessities for neighbors in need. Then Friday afternoon, long before it was on the international news media, our friend posted a small note from her friend describing the destruction of Tacloban. Thus, sad and troubled, we began to know details of the far wider disaster.
Pictures began appearing. As with images from the tsunami in Fukushima, Japan, or the earthquake in Haiti, or New Orleans post-Katrina, I found myself, heart-sick, plummeted back in Banda Aceh, the day I arrived, two months after that 2004 earthquake and tsunami leveled miles and miles of shoreline, killing 200,000 and displacing a million more. My task then was to carry out a needs assessment for an education rehabilitation project. That project ultimately meant I made 19 trips to Aceh in five years to help start a new high school, now about to graduate its fifth class. Thus I had a ringside view of the relief and rehabilitation process that has provided an important example of Indonesian government leadership and many helpful models for international collaboration for major disasters since.
But what I remember of that first trip, and what I re-live with each succeeding disaster, is the little things. As far as the eye can see, gray mud, broken trees and the odd wall, one starkly marked with the names and ages of children lost. A child's shoes mud-bound in the middle of the road. Walls of pictures searching for 'lost' relatives. The tile footprints of houses, all that remained of what were people's homes. As talk among a group of women turned to children, the hands of a young woman silently reaching out to catch the babies being swept away. A father gently following his three year-old, the only child left in the village he was away from out fishing when the earthquake struck. The generator ship dumped three kilometers inland on top of three houses, burying their residents - -still providing light to a large part of the city. A fence serving as a clothesline as displaced people struggle to remain clean. A man clearing up rubble and beginning again. Small shops starting by the side of the road. The explosion of babies a year later, now eight-years old and in grade school.
That time, having had years in and out of Indonesia, experience developing schools, still some language, and being 9 years younger, there was something tangible I could go do. This time, as much as I want to go to long-standing friends and familiar places to help, all I can do is feel hollow as I hear about the always too slow first stages of relief. I anguish with people who plead for water and food. But I also know, as urgent as the needs are, that help is getting organized. That the local logistics are beyond difficult, but trucks do get found, roads do get cleared, help gets delivered to remote places, never fast enough, but it gets done. And, from here in the safety of where I live, beyond sending concern, I can send funds to the major, well-practiced relief organizations already on the scene. When people who know I have been there and ask how they can help, I encourage them to do the same.
And I see hope in a picture that shows clean clothes on a fence, a struggle for a semblance of normality in the midst of chaos. And the safe arrival of Bea Joy Sagales, born the day following the typhoon, named for her lost grandmother, a face for the future. Out of disaster, once again reminders of the human spirit's power to endure.