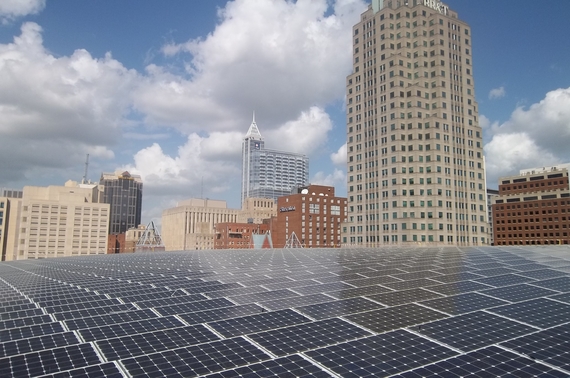 Solar panels on the Raleigh Convention Center. Photo by City of Raleigh, N.C.
Solar power is on the rise across the country, with another panel or project installed every three minutes last year. Plummeting costs, increasing public concern over global warming and energy independence, and technological innovation have all played a role in spurring the growth of this pollution-free energy source.
And so have America's cities.
In fact, the top 20 U.S. cities for solar power make up 6.5 percent of the country's solar power capacity as a whole--using just a fraction of a percent of the nation's land area. As population centers, cities are home to large electricity markets. By installing solar panels on government buildings, streamlining permitting for panels, promoting community solar, and more, city leaders can have important influence on the way grids are powered.
Our researchers recently announced our annual ranking of major American cities for total and per capita solar installations. And while cities from the sunny Southwest and Southeast scored well, the list of top cities shows that with the right policies in place, cities in any region in the country can take advantage of solar power.
Top 20 Solar Cities by Total Installed Solar PV Capacity, End of 2014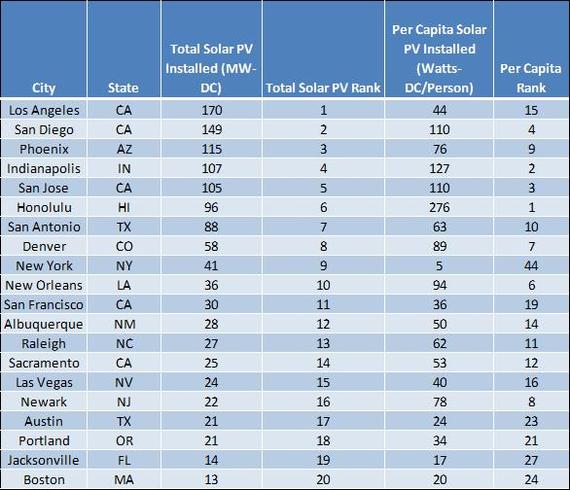 These cities didn't earn top spots in our Shining Cities study by accident. In almost every case, local government leaders have aggressively promoted solar as part of their energy portfolio.
Many cities have passed requirements for clean energy.
Solar energy is a key element in San Diego's Climate Action plan, which calls for 100 percent renewable energy use in the city by 2035.
"San Diego is leading the way in solar energy and that's going to help us meet many of our City's environmental goals and put San Diegans back to work," said San Diego Mayor Kevin Faulconer.
San José is committed to receiving all of its electrical power from clean, renewable sources by 2022.
"The city has been doing its part by investing in solar technology for City buildings," said San Jose Mayor Sam Liccardo. "We are delighted that our businesses and residents are joining us in that effort with private investments in solar technology, ensuring that San José remains a solar power leader for years to come."
Like San Jose, many cities are leading by example.
Honolulu, which ranked number one for solar power installed per capita, is proposing to spend $4 million over the next four years to install solar systems at city facilities.
"Our thriving city in the center of the Pacific has not rested on its laurels [when it comes to solar]," said Honolulu Mayor Kirk Caldwell.
As the state solar market has become more challenging, the city of Newark has remained committed to doing its part to increase solar capacity.
"Newark has continued to be a leader in installed solar capacity by prioritizing the creation and promotion of sustainable development activity in our public schools and throughout the City," said Mayor Ras J. Baraka.
Cities are taking advantage of strong state and federal policies to spur solar growth.
Kansas City maximized state-mandated requirements for clean energy and rebates for solar, and then took them a step further. The city applied for and received federal grants to streamline the city's solar panel permitting process, increase access to financing, and update zoning and planning codes for solar PV systems.
In New Orleans, a 50 percent investment tax credit offered by the state has helped the city rebuild in a sustainable way in the years following Hurricane Katrina.
"In the past five years, New Orleans has installed more than 5,000 rooftop solar systems," said New Orleans City Councilwoman Susan Guidry. "It is impressive watching solar panels go up in virtually every neighborhood across the city, while touching the lives of so many people."
America's largest cities are playing a leading role
Last year, the mayors of three of the nation's largest cities - Los Angeles, Houston and Philadelphia - launched the "Mayors' National Climate Action Agenda." The initiative acknowledges that cities are responsible for a large part of green- house gas emissions, and is based on the idea that, as leaders of cities, "mayors are uniquely compelled and equipped to lead on the fight to stem climate change, as well as to adapt to it and prepare for the impacts of global warming."
"Los Angeles is blessed with abundant sunshine and with the most solar power in the country we are proud to be putting it to good use," said Los Angeles Mayor Eric Garcetti.
"Houstonians are increasingly embracing renewable energy," said Houston Mayor Annise Parker. "We want to continue to be the largest municipal purchaser of renewable energy in the nation."
***
Unfortunately, in the face of solar power's rising popularity and feasibility in cities like these, utilities across the country are campaigning intensely to increase fees for rooftop solar, which they see as a direct threat to their business model.
We need leaders at all levels of government to stand up against pressure from these utilities and their backers, and continue to support the policies that will let solar shine across America.