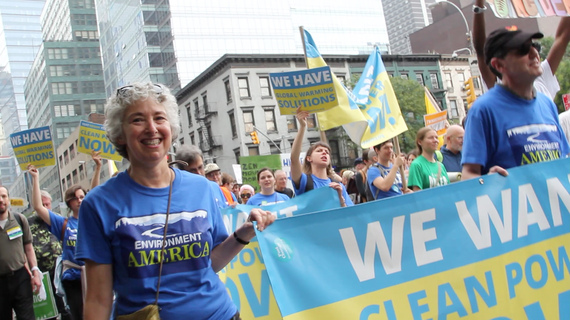 I grew up in the City of Long Beach, and most of my family still lives in New York. Superstorm Sandy affected me personally. The community boardwalk where I used to ride my bike, all two miles of it, was destroyed. The first floor of my brother's house was ruined, along with dozens of homes. My sister and her neighbors went without electricity for days. Far too many people in Long Island and up and down the East Coast faced much worse.
So I couldn't have been prouder to march on Sunday -- along with my family, friends, colleagues and hundreds of thousands of others -- demanding solutions to avert a climate catastrophe that would make devastating storms like Sandy the norm, and wash away much of my childhood home.
I was all in. Like most of the record numbers of marchers, I stood for two hours, and walked for two more. I passed out signs, and waved them around. I chanted until I was hoarse, hoping our voices would still be ringing in the streets when 125 heads of state gathered for their summit on Tuesday.
To solve everything, we need everyone, and every solution, from solar-powered cars to zero-energy homes to a massive increase in public transit. But on Sunday there was one solution I yelled the loudest and repeated the most: Clean. Power. Now.
Ditching dirty energy is central to stopping the worst impacts of global warming, and a new report from Environment America Research & Policy Center helps explain why. Our plant-by-plant analysis of 2012 data shows that carbon emissions from U.S. power plants alone were the 3rd largest in the world, ahead of the entire economies of India, Brazil, and every other nation but China.
We also found that a small handful of the dirtiest plants, which tend to be older plants fueled by coal, produce a massive and disproportionate share of the nation's global warming pollution. The 50 dirtiest U.S. power plants produced as much carbon dioxide pollution in 2012 as the entire economy of South Korea, while producing only 15 percent of the nation's electricity. The 100 dirtiest plants produced as much carbon pollution as Germany, the 6th largest carbon emitter in the world.
Across the United States, we have made some real headway on clean power. At the UN Climate Summit on Tuesday, President Obama touted that solar energy capacity has increased tenfold since he took office, while wind capacity has tripled. He's right.
Yet for too long, our federal government ignored limits on power plants, the nation's largest single source of carbon pollution. In so doing, it missed the chance to jumpstart the sort of radical transformation we need to clean, renewable energy.
That changed in June, when the U.S. Environmental Protection Agency proposed the Clean Power Plan, which will put national limits on carbon pollution from existing power plants for the first time ever. Our research demonstrates the plan is significant. It's equal to eliminating all the carbon pollution from our northern neighbor Canada, and it would be the biggest step ever taken by the U.S. to curb greenhouse gasses.
Naturally, polluters and their allies in the halls of power oppose the plan with vigor. Governors from mostly coal, oil and gas states have lambasted it. ALEC, Americans for Prosperity, the Koch Brothers and their ilk are spreading misinformation and spending heavily to support anti-climate-action candidates in 2014. On Thursday before the march, the U.S. House passed a bill to block carbon pollution limits on power plants altogether.
The Clean Power Plan won't solve global warming on its own. EPA must strengthen the plan and the states must implement it in a way that maximizes our enormous potential for efficiency and renewable energy; and achieves deeper, faster cuts in carbon pollution. For the United States to make the dramatic cuts in global warming pollution that scientists say we need, action is required at every level of government. But there's no question that we have to get the Clean Power Plan past the polluters and across the finish line to have any chance of solving the climate crisis.
Sunday's march wasn't about any one solution. It was about demonstrating that the public demands action, and that, Big Oil, and Big Coal, and the politicians who oppose solving global warming are outnumbered by several orders of magnitude. It was an inspiring and unprecedented catalyst for change, which has to start somewhere. Let it start with clean power now.