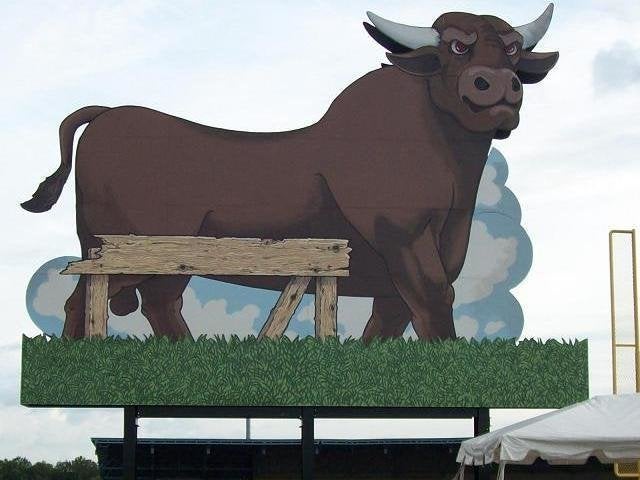 His black T-shirt covered by a white bib apron, 72-year-old Tommy Bullock sets down plates of pan fried chicken, brisket, chopped pork and apple wood-and-hickory-smoked spare ribs. A waitress follows with bowls of candied yams, okra, butter beans, Brunswick stew and barbeque slaw. I look across at my friend Sam, a former chef who's lived in Durham for 20 years and has taken me to Bullocks Barbeque to experience traditional Southern BBQ.
"I thought we were going to have a light lunch -- not an entire pig-out!" I say.
"You're in the South, get over it," Sam replies.

I've come to Durham for the Annual Bull Durham Blues Festival, being held at the same ballpark where they filmed Bull Durham, but right now I'm learning about Southern cooking. Bullock returns to the table and plops down a bowl of hushpuppies. "Save room for dessert," he says, "because I've got banana pudding, peach cobble and chocolate pie."
Besides his wife and children who work here, Tommy treats everyone as family, including me. He slides into the booth next to Sam. "You know why they call them hushpuppies?" he asks. "Because the slaves used to take the leftover cornbread and fry it up to feed to the dogs."
Tommy has been working at this restaurant since his parents opened it 60 years ago; he still puts in 12-hour days and serves at least 30 entrees, all made from scratch. "If there's something you don't see on the menu, just ask for it," Tommy says, "and I'll make it for you."
Looking at the huge spread laid out on the table, I'm tempted to ask for a treadmill.
Somewhere between the Brunswick stew (delicious) and the spare ribs (never had any better), I learn that the expression "shooting the bull" comes from Durham, when people stood around talking and spitting out Bull Durham tobacco. The word "bullpen" began at Yankee Stadium where a Bull Durham tobacco logo was painted on the wall of the warm-up pen. Barcode readers, Astroturf and the ctrl-alt-delete computer command were all invented in Durham. North America's largest high tech research park is here along with the AAA Durham Bulls. The town has 43 museums and galleries and is a foodie paradise, offering everything from fine dining to gourmet food trucks.
For dinner, I choose Durham's trendiest new hotspot where Spanish food meets Southern drawl. At Mateo Bar de Tapas I chow down on squid meatballs, octopus carpaccio and, tonight's special, a 12-inch long curly barbequed pigtail. No kidding.
Since the 1930s, Durham has been home to the Piedmont Blues, and such musicians as Bind Boy Fuller, Washboard Sam and Sonny Davis made this upbeat, ragtime-based, finger-picking blues popular. I stand close to the stage at the Blues Festival listening to Wild Magnolias from New Orleans. Three of the band's musicians are dressed as Mardi Gras Indians and throw us miniature plastic tambourines instead of beads. Later, Marcia Ball wails the blues in her Louisiana swamp-rock meets Texas hold-em. We go wild.
Much later, I am still wired and lying awake in my sumptuous suite at The King's Daughters Inn. This 1911 residence, formerly a home for single, elderly woman, has been elegantly and lovingly restored by Deanna and Colin Crossman who met as grad students at Duke. They married, bought the dilapidated property and, for their honeymoon, went to a Restoration School in Maine. The Inn is now a deluxe B&B with Southern furniture in rich velvety textiles and sunny rooms overlooking Duke's East Campus, a perfect place for a workout.
Early the next morning, I run the through campus to the massive Gothic Duke University Chapel, then to the Sarah P. Duke Gardens with lotus ponds, terraces and even a Japanese Garden. I decide the one-hour run has earned me the right to indulge in a huge breakfast back at the Inn; I try chocolate pancakes, spicy chicken sausage, grits, fruit, homemade scones -- with no guilt!
It's easy to see why Durham has been called America's Foodiest Small Town. Ron Graff, owner of LOAF Bakery is a former scientist researcher who chucked it all to bake bread. Every night before leaving the bakery, he starts a raging fire in a custom made oven, then returns at 4 a.m., cleans out the ash and bakes. "You'd have to be an idiot to do it this way," he grins. I sample a fresh hot baguette. Delicious. Obviously the special oven helps. I decide I'll only have one bite of a chocolate croissant, but of course I eat the whole thing.
Saturday is farmer's market day in Durham. Stalls brim with beef, cheeses, local produce, bakery items, organic herbs, spices and crafts. A solo musician sits off to the side playing guitar and I drop a dollar in his basket. (I always tip musicians; they earn it.)
Next, I buy a Durham T-shirt with a yellow bull from Liberty Arts, a foundation which is also hosting today's Pig Pickin'. Michael E. Waller, sculptor of Durham's famous bronze bull in downtown Durham, slices off a piece of the delicious cooked pig for me to sample, and then I head off for lunch at the Bull City Burger Brewery.
In business just over a year, Bull City Burger Brewery has been voted Durham's greenest restaurant. Owner Seth Gross serves only North Carolina antibiotic-free pasture-raised beef with no hormones. "I'll close the restaurant before I'll serve corn-fed beef," says Gross, who also hand-makes his own buns, mustard and mayo. "I tried making ketchup," he says. "I bought 250 pounds of tomatoes and cooked them down to eight pounds, and it was all was gone the next day, so I don't any more."
On one side of the restaurant behind a glass wall is a stainless steel working brewery which produces up to eight beers on tap at any given time. "We import our beer from here to here," Gross grins, pointing from the brewery to my table.
My cheeseburger, which arrives stabbed through with a steak knife and accompanied by a heaping pile of sweet potato fries, is the best I've ever tasted. Even more amazing, the entire lunch costs less than seven bucks. For a moment, I wonder how much this trip is going to cost me in calories. Then I remember Sam saying, "You're in the South, get over it."