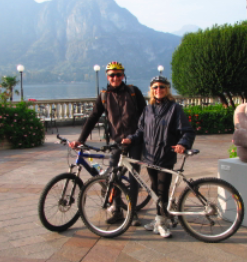 Ending a Bike ride at The Grand Hotel Villa Serbelloni, Bellagio, Italy
Who would have thought that on top of 2,470-foot-high Magreglio, a small province of Como in Lombardy, Italy, there's a cycling chapel that was blessed by Pope Pious XII in 1948 and which all cyclists flock to like pilgrims? And that next door to the chapel, is a sleek glass, steel and stone Cycling Museum?
Maybe it's not so surprising considering that the road leading up to the chapel and museum is the famous Vallassina Road, a brutal series of steep switchbacks, the decisive last leg of both the Tour of Italy and Tour of Lombardy. They say that Italians are lazy and don't bike -- they drive - but Lombardy has 700 cycling clubs with 12,000 members and 1,200 races every year, many ending at this chapel, the Santuario Madonna del Ghisallo (the Sanctuary of Ghisallo).
At the entrance are side-by-side statues of Italy's two most famous cyclists, Fausto Coppi and Gino Bartali. Everywhere inside this cyclists shrine -- on the walls, hanging from the ceiling, behind the altar - are racing bicycles of every vintage, biking jerseys, and at least 50 different team cycling flags. It's easy to miss the portrait of the Madonna of Ghisallo, patron Saint of cyclists, underneath which a bronze eternal flame (also blessed by the pope) burns in this 400-year-old chapel.
The cycling museum next door, Museo del Ciclismo Madonna del Ghisallo, is designed with a ramp identical to the final hairpin turn on the Vallassina Road. Inside are two floors of biking memorabilia including 50-year-old woolen biking jerseys with large buttoned pockets, movies of the greatest biking champs of all time, bicycles used by the Bersaglieri rifle regiment, sleek new wooden racing numbers, and a hot Colnago-Ferrari bike on display.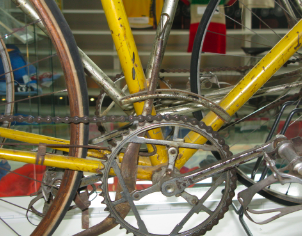 Some of the older bikes at the Museo del Ciclismo Madonna del Ghisallo
I wouldn't be here if it weren't for Antonio Calzolaro, Manager of The Grand Hotel Villa Serbelloni in Bellagio, Italy, where I am staying. I'd asked him to rent me a bike so I could cycle around Lake Como (and hopefully run into George Clooney or Sir Richard Branson who both have villas in Bellagio); Antonio said the lake road was too dangerous for cyclists, but he found me a wonderful cycling guide, Pierluigi Gandola, who spoke excellent English, had zero percent body fat, and showed up with a loaner bike which fit me perfectly.
But when we started up the steep hairpin turns of the Vallassina Road, I knew this was a mistake. Why had I chosen to bike this horrendously tough road when I could have been hanging out at the Villa Serbelloni pool or sipping a cappuccino on my private terrace watching the ferries pass by on Lake Como?
All the way up the road I doubted my choice, until we arrived at the tiny chapel and I looked down at Lake Como surrounded by cypress trees, small stone villages, lush greenery and the Alps. I'd made the right choice.
I treat myself very well whenever I achieve some seemingly impossible task, so I booked a massage at the Grand Hotel Villa Serbelloni Spa. As Antonella, my masseuse, kneaded the knots out of every muscle in my body, I drifted off to sleep, dreaming of pedaling effortlessly in the air, looking down on the little cycling chapel on top of the hill.