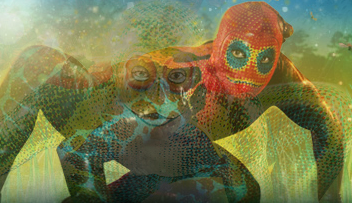 Are you hooked on the circus? If so, Montreal is where the aerialists are flying high, the clowns hamming it up, and the jugglers doing it on unicycles in Totem, the newest Cirque du Soleil show now playing in Montreal. Before Totem, I hadn't seen Cirque du Soleil in five years because I figured, if you've seen one Cirque show, you've seen them all. Totem proves this wrong. It's a jaw-gaping neck-stretching spectacular with impossible acts of balance and strength. It made me a believer again and also made me believe that Cirque du Soleil has one of the best "murch" programs around; the intermission is thirty minutes long to allow show-goers enough time to purchase merchandise -- everything from masks and games to T-shirts and totems.
If you love the Big Top but Cirque du Soleil isn't your thing,you should still head straight to Montreal www.tourisme-montreal.org because Montreal is Circus City. From now through July 25th MONTREAL COMPLETEMENT CIRQUE http://www.montrealcompletementcirque.com/ the first international circus arts festival is taking place, featuring more than 100 circus artists from Belgium, Germany, Spain, Canada and Wales.
And for those who want even MORE circus, Montreal's McCord Museum is showing Dream Weavers - Costumes by Cirque du Soleil, so you can get up close to the intricately designed costumes the performers wear. If you love jewelry, head to The Montreal Museum of Fine Arts for Inspiria, a marriage of luxury Cirque du Soleil jewelry and the House of Boucheron.
BEST DEAL OF ALL! 25 Montreal hotels are offering a Summer Sweet Deal package of 50% off a third night (starting at $120 and good till October 15, 2010). So pack your bag and run away to Montreal to join the circus fun. www.tourisme-montreal.org