I am walking towards the 1,168-foot CN Tower in Toronto on my way to do the Edge Walk a hands-free circumnavigation along the ledge of Canada's highest building, 116 stories above the city.
This is the scariest thing I have ever agreed to do, and believe me, I've tried some pretty heart-pounding adventures: I've rappelled upside down, jumped off high rocks into freezing water and rock-climbed vertical walls. But even though I'll be wearing a harness and will be attached by two industrial-size cables, walking outside on a five-foot ledge with no railing makes everything else I've done seem lame.
I'm not afraid of heights, but I am terrified of looking down at the ground from the top of a skyscraper. When I was in my teens, my father committed suicide by jumping from the window ledge of the 14th floor of an office building. For years, I've conjured up an image of him out there alone, and I'm hoping that if I can dare myself to walk around a high ledge, I will finally be able to move past the event that has shaped so much of my life.
At the Edge Walk counter check-in, I sign my life away. Two 40-ish couples and an older man complete my group. "Are any of you scared?" I ask. None of them is, so I don't tell them how terrified I am.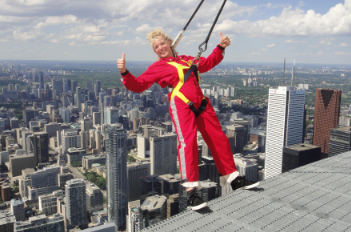 Marge Goldsmith leaning back during the Edge Walk on the CN Tower, Toronto
We pass the Breathalyzer test, and then don orange jumpsuits and harnesses. Christian, our guide, checks our harnesses three times, gives them each a final tug and leads us up an elevator to the 116th floor. We are clipped with metal caribiners to industrial-strength steel cables. "Okay, single file, follow me," he says.
We step onto the metal ledge. The sky is perfect: sun, no breeze and billowing clouds. Smurf-blue Lake Ontario glistens below us. The skyscrapers, which looked like glittering behemoths from below, are tiny Legos from here. A helicopter flies by at eye level.
"It's time for Toes Over Toronto," Christian says, He walks to the edge and demonstrates by stepping over the ledge with the balls of his feet suspended in space. "One person at a time." The man wearing black shoes is first. He gingerly shuffles his feet about a half an inch off the platform. Now it's my turn.
Purposely placing my feet over a ledge goes against everything I've learned about self-preservation. I hesitate and then take baby steps to the edge. I'll be okay if I don't look down, I think, but I need to see my feet. I plant my sneakers two inches off the ledge and stand there frozen. "Look down and enjoy the view," Christian says. Did my father look down? Or did he jump right away so he didn't see anything?
We continue forward, clutching our umbilical cord, the cable. "Now," Christian says, "One by one, I want you to turn around, squat and walk backwards until your feet are against the ledge. Then stand up, lean back and let go of the rope." Maybe it's because I'm facing the building and don't have to look down, but I have no trouble doing this. I even smile and make the thumbs up sign.
The next challenge is to move near the edge, pull on the rope, lean forward, stand on tiptoes and look down. I can lean forward and stand on my toes with no problem but I have to force myself to look down. It's like being in an airplane. A tiny train moves towards the railroad station. I notice how many green parks the city has. Maybe if my father had seen beauty he might not have jumped. But I doubt he thought to look because he was depressed. He felt like a failure and wanted only to escape his demons.
I look out at a puffy cloud and suddenly feel as though this ache, which I have had since I was 18, has finally stopped hurting. I didn't climb on this ledge to end my life. I did it to understand him. And it's not about my father -- it's about me. I am on a ledge as he was, and I'm not going towards death. I am embracing life. Suddenly, I'm no longer afraid to look down and can't wipe the grin off my face.