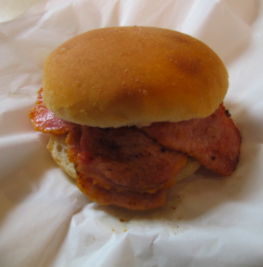 Peameal Bacon Sandwich: A Toronto Specialty
There was nothing I didn't eat last weekend in Toronto, except maybe my custom-made hat from Lilliput http://www.lilliputhats.com, a velour felt black-bowed cloche that makes me feel daring and chic. Lilliput owner Karyn Gingras calls it a sculpture for my head. What I love best is it's the only hat I've ever worn which doesn't give me hat-hair.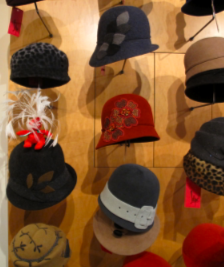 Bespoke Hats from Lilliput
Gingras, busy with the Royal Wedding told me that everyone's having a hat made, so that even if they're not going to the ceremony, they can hang out in a bespoke bonnet. For the future Royal bride, Gingras is creating a large-brimmed cherry red hat embellished with ivory ribbon and a tiny bird's nest made with twigs (from her back yard), with a feather bird tucked inside. "Its a little kitschy, a little woodsy and essentially Canadian," Gingras said.
I left Lilliput with my bespoke hat and headed over to the Carousel Bakery & Sandwich Bar in St. Lawrence Hall for Toronto's specialty, the Peameal Bacon Sandwich. I chose Carousel, which has been there 33 years, because how could I go wrong in a place where Emeril and Bobby Flay returned for seconds?
Not to be confused with Canadian Bacon, Peameal is unsmoked bacon made from boneless back loin called Peameal because once, crushed yellow peas were used as the preservative. At the turn of nineteenth century, a local butcher who was fed up with the peas turning rancid, substituted cornmeal, which has been used ever since (even though the old name remains).
Because I'd never been to Toronto before and only had a weekend, I decided I'd see and learn the most by hiring private guides. Art historian/artist Betty Ann Jordan of Artin Site was waiting at the Gladstone Hotel to lead me on a tour of Toronto's Art + Design neighborhood. We began at the historic Gladstone and nearby Drake Hotels, both with full-time art curators, and each filled with original art. We continued down West Queen West Street to visit some trendy boutiques. When we passed a hotel, The Cameron House Betty pointed out carpenter ant sculptures the size of giant snowshoes crawling up the wall. "There are ten ants," she says. "Get it? Tenants!"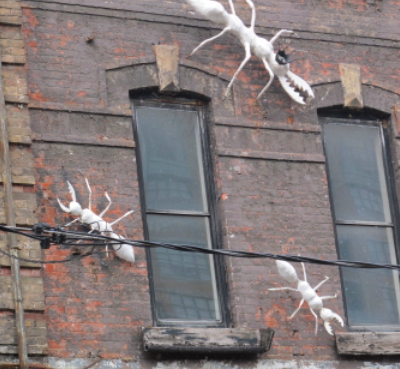 Carpenter Ant Sculptures at Cameron House

A little over two hours later, I headed back to the brand new Ritz-Carlton, to drop my purchases in my room overlooking the CN Tower and Lake Ontario, and headed to TOCA restaurant for a Sparkling Ginger "Temperance Cocktail" (ginseng, lemon juice, ginger beer, pink peppercorn syrup, and candied ginger). I was told that Chef Tom Brodi makes a great "fish and chips" with lobster, but I'd already become a Peameal Bacon addict, so I opted for the Toca LBLT: Yarmouth lobster and Peameal bacon on a pretzel bun.
It was time to walk off all that food. Historian/author Bruce Bell was waiting in the lobby to take me on a tour emphasizing Toronto's past. He showed me how you can walk underground and in malls practically anywhere in the city, and then we went back outside so I could see one the city's first skyscrapers, where the idea for Superman was conceived. I had no idea that Superman was created by a Canadian author. Our last stop was the Bata Shoe Museum in Yorkville, where more than 1,000 pars of shoes -- everything from sabatons to Chinese binding shoes for women were on display. Celebrating the fact that I never had to bind my feet, I walked over to nearby chocolatier MoRoCo for a liquid caramel truffle and dark sipping chocolate.
Toronto is a city of immigrants where 130 different languages are spoken and food is available from at least 30 different cultures. For dinner, I decided on Asian-fusion tapas at Chef Susur Lee's eponymous Restaurant www.susur.com. I tried Singaporean-style slaw piled as high as a haystack, caramelized black cod with grilled turnip cake, Korean style skirt steak with garlic mushrooms, and the Chef's green curry chicken, a Top Chef award-winner.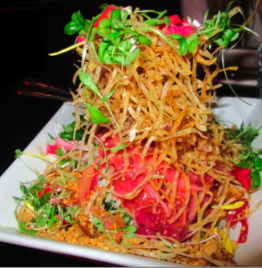 Singapore Slaw at Lee Restaurant
The next day, still on my food kick, I joined food ambassador John Lee (johnslee@yahoo.ca) for a tour of Chinatown and Kensington.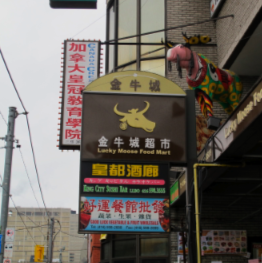 Toronto's Chinatown
On the way, Lee pointed out places I filed away: Buu Quang Optical for inexpensive designer eyewear, the Green Tea Shop with its endless varieties of tea, and King's Noodle Restaurant for melt-in-your-mouth dim sum. Next was Kensington Market where we checked out some excellent food purveyors: European Meats, Cheese Magic, and My Market Bakery.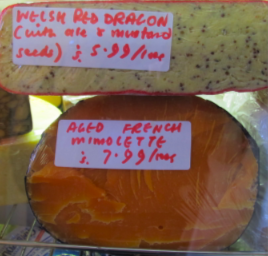 Cheese at Cheese Magic, Kensington
At Patty King, I ate a delicious West Indian goat paddie. Sipina and Dundas Streets reminded me of the East Village in the 60s, which is not surprising since many American draft dodgers ended up here. It was full of funky boutiques, head shops such as Funky Junky, and second hand clothes shops. We checked out The Hot Box Café a "Potorama," where "smoking" is allowed in the outdoor garden. Diners inside are given Vaporizers (think bong).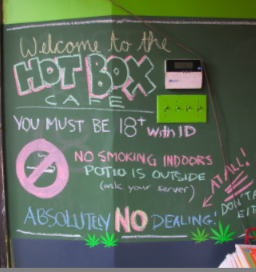 The Hot Box Cafe
Toronto has been dubbed "The Oyster Capitol of North America," and I planned to try some at the Starfish Oyster Bed and Grill where World Oyster Opening Champion, Patrick McMurray holds the record of shucking 38 oysters from their shells in under a minute. I was afraid if I started eating oysters, I might never get to Canoe, considered one of Canada's best restaurants with a drop-dead view of the city and where I had a dinner reservation.
I sat at the rail watching the bustling staff in the open kitchen adorn their preparations with flourish and love. Chef de Cuisine John Horne came by to find out if there was anything I didn't eat as I chose the tasting menu, paired with fine wines from the 560 labels. My feast began with Tree Syrup Frogs legs and Marinated Eggplant Nasturtium followed by a Duo of Sockeye Salmon, Duo of La Ferme Foie Gras, and Prairies Venison.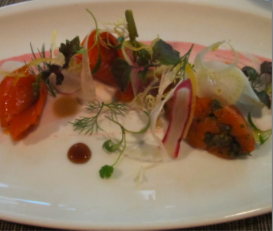 Duo of Sockeye Salmon, Canoe Restaurant
For each course, Sommelier William Predhomme chose the perfect red or white wine, including a Hinterland Ancestral Prince Edward County Ontario 2010 to go with my Stone Ground Cornmeal Cake with Ontario Maple Syrup and Oatmeal Ice Cream. I sat looking out at the glittering city. Every night at sunset, Chef John makes the kitchen staff stop what they're doing to look at the setting sun. Sunset watching a requirement? It almost made me want to move to Toronto.
Photos by Margie Goldsmith