On February 20, 1962, John Glenn's spacecraft landed in the Atlantic Ocean near the Turks and Caicos. Glenn liked the sleepy islands so much that he returned to spear fish and scuba dive. He returned for the same reason I decided to go, the vibrant life in the water.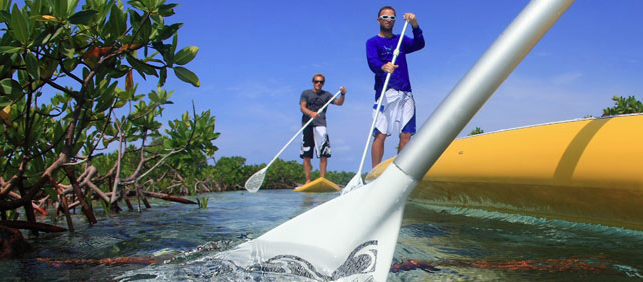 Stand up Paddle Boarding in Turks & Caicos (Photo courtesy of Big Blue Unlimited)
Alright, I had a few motivations Glenn didn't: Go stand up paddle boarding, kayak and snorkel, stay at a great resort and have soothing massages. This British overseas territory of 49 cayes and islands has six inhabited islands accessible by air and boat: Grand Turk, Providenciales, North Caicos, Salt Cay, Middle Caicos and South Caicos. There were so many hotels. Where should I stay?
A friend told me about My Turks and Caicos a reservations service where destination experts would find me a suitable hotel and book all my adventures. When I requested a resort that offered everything, they found the ideal place in Providenciales, known as Provo. But the resort only offered Stand Up Paddle Boarding (SUP), in the ocean, and I wanted to try it in the crystal-clear turquoise mangroves. No problem, said My Turks & Caicos, and arranged for a driver to pick me up from the airport and take me directly to the waterfront location of Big Blue Unlimited in Provo.
After a short lesson on land, the Big Blue guide, Ray, pushed the six of us into the water as we kneeled on our boards. With such calm water, it only took minutes before we were standing, and Ray led us across the Channel to the turquoise mangroves. The perfect host, Ray sat on his board and pulled a conch shell from the water, coaxing the critter to show itself.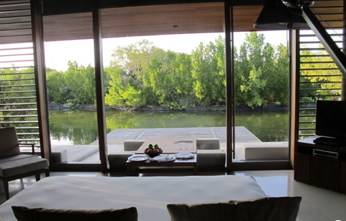 Pavillion at Amanyara (Photo courtesy of Margie Goldsmith)
A little later he pointed out a small gray lemon shark and then a nurse shark. I think if I'd thrown a toothpick in the water, he would have found it.
Back on shore, the driver of the Amanyara was waiting for me. My room, a huge glass cube with a soaring ceiling overlooked a lake surrounded by foliage. It was so private I could sunbathe naked on a Queen-sized daybed on my large deck.
I lay down and stared out at the pond. Soon, an egret landed nearby. I stayed there quietly until close to sunset, then headed for the resort's oversized infinity pool overlooking the beach. This time, I sprawled out in a lounge chair sipping a rum and champagne Mojito as I watched the neon orange orb disappear into the ocean.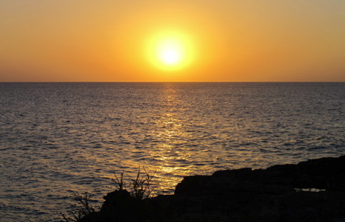 Sunset at Amanyara (Photo courtesy of Margie Goldsmith)
Dives in the Northwest Point Marine National Park are just five minutes by boat from Amanyara beach, where Big Blue has a dive shop. Guests hover over the abyss, watching eagle rays, sharks, turtles, corals and, during winter migrations, Humpback whales. I began the day hitting with the tennis pro, then went on a snorkeling excursion with Amanyara's naturalist (who pointed out little orange snails which clung to the sea fan coral), and finally geared up and headed with Big Blue's Dive Master to The Coral Stairway dive site. Scuba diving on these islands has not been oversold; I was dazzled by barracudas, exotic fish, sea sponges, and corals.
And then it was time for a soothing massage at the Spa. My therapist, Sheila, worked on my tired body with sage and lavender oil, so relaxing that I drifted off to sleep. Afterwards, I had the entire spa pool, pavilions and lake all to myself. I closed my eyes and listened to the wind rustling gently through the trees, thinking about what I wanted to do tomorrow. I could take an early morning yoga class or maybe an eco-hike; I hadn't yet tried kayaking or sailing or boogie boarding, all free and available anytime. And if I wanted to get into a car, I could go fishing, horseback riding, play golf or try kite boarding.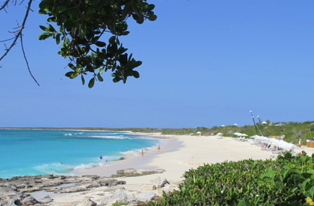 Secluded Amanyara Beach (Photo courtesy of Margie Goldsmith)
A wind chime tinkled softly in the distance, and that's when I decided that tomorrow I would spend the day on the beach, lazing in the sun, letting the attendants bring me iced water and fluffy towels. I'd float the way John Glenn did as he orbited above the Turks & Caicos in his spacecraft - taking it all in, and doing nothing at all.