In person, Victoria Beckham is skinny. Anna Wintour OBE is even skinnier. At least that was my impression yesterday at the "GREAT" Britain campaign, in which both were featured at Grand Central's 42nd Street subway shuttle.
At the event, HRM The Queen's Ambassador to the United States, Sir Peter Westmacott announced Great Britain's new advertising campaign, "GREAT" Britain. I have no idea why it was held in a subway station, because I doubt Victoria Beckham, Anna Wintour or the Ambassador have ever taken a subway (or ever will).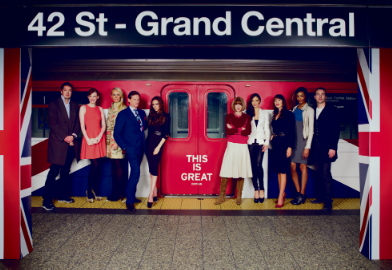 GREAT Britain Launch (Photo Courtesy of Patrick Demarchelier)
The other launch bold-facers included British designer; Hamish Bowles, international editor-at-large of Vogue; Georgina Chapman and Keren Craig of Marchesa; Jourdan Dunn, British supermodel; Karen Elson, British supermodel and singer-songwriter; Tamara Mellon OBE; David Neville and Marcus Wainwright of rag & bone.
When I arrived, there were about 50 photographers and a few videographers squeezed onto a platform smaller than a squash court, and, off by himself, Patrick Demarchelier shooting the official photograph for Vogue. The celebs being photographed stood in front of a subway car all decked out in the Union Jack, and whose closed door read:
This is
GREAT
Britain
I think the idea of GREAT is cute, but it doesn't tell me anything about why Great Britain is a GREAT place to visit (trust me, I know why -- plus this spring is the Queen's Diamond Jubilee and the 2012 Olympics will take place).
So why all the brouhaha in a subway station? Perhaps because Grand Central, along with Hoboken and Stanford stations, JFK, LAX and Boston Logan airports, and TV and taxi ads will be filled with "GREAT" images. But none of the images were on view at this launch. Only Victoria and Anna. Anna (who by the way, was NOT wearing her signature sunglasses) was wearing a slightly colorful jacquard sweater, cream-colored pleated skirt, and knee-high tan suede boots with buttons all the way up. The boots were cute, but the Phoebe Philo for Celine outfit was accented with a lot of glittery clunky jewelry, a little strange for the subway.
Victoria's outfit was all black: black belted dress with spiky black heels, and very boring. And, as is her trademark, no smile. Trust me, she was much more fun as a Spice Girl than as either David Beckham's wife or as a fashion designer -- if this little boring black dress is an example of her creativity.
So let's cut to the bottom line: every year, British fashion contributes over twenty billion pounds to the British economy. Victoria Beckham's ready-to-wear collection is handmade in the UK and available in over 300 retail stores around the world. Which makes her the ideal "GREAT" Ambassador. As the British Ambassador, Sir Westmacott announced, "As one of Britain's major fashion icons, Victoria Beckham's involvement with the "GREAT" Campaign will bring even more attention to Britain's world-renowned fashion designers, the magnificent range of shopping on offer and our distinctive British style."
For the life of me, I still can't understand why they chose a dank NYC subway station for a launch of "GREAT." But I guess it was GREAT that neither Anna, Victoria or any of the supermodels had to MIND THE GAP with their eight-inch stilettos.