"Make a pizza," says Bobbi, skiing backwards and holding onto my ski poles. I push my legs out so my skis are in a wedge. "Now French fries," she orders. I close my skis so they're parallel.
This is ridiculous. Maybe this is how you teach kids to ski, but this is humiliating. Years ago, I used to ski the steepest slopes and biggest moguls. Then I married a man who didn't ski. I divorced him, but my second husband was also a non-skier.

It's been forty-five years since I've skied, certainly time to get my groove back. So when my friends, Becky and Sarah, invited me to come and ski three mountains in Alberta, I raced out to buy a new ski jacket.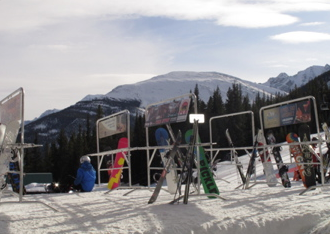 Marmot Basin, Jasper National Park
First stop: Marmot Basin in Jasper National Park with 3,000 vertical feet and 1,765 acres of powder terrain and where I rent skis, boots and a helmet. When I last skied, the skis were twice as long and much more narrow. How will I be able to ski on these short stumpy fat boards? I can't even turn! Becky and Sarah are really patient and constantly wait for me to catch up, but I insist they go ski the black diamond trails. There's only one solution for me: I hire a ski instructor for the day. The problem is, she's used to teaching kids and now she's telling me to hop like a bunny.
By the end of the day, I'm finally making parallel turns on the green runs.
We drive back to our spacious cabin at The Fairmont Jasper Park Lodge, go for an Italian dinner in the two-block-long village of Jasper, and then head for Maligne Canyon, the only ice walking canyon in North America. Wearing headlamps and crampons supplied by Overland Trekking, we gingerly make our way through the frozen canyon along a solid ice river bed to frozen waterfalls suspended in the air like clusters of icicles.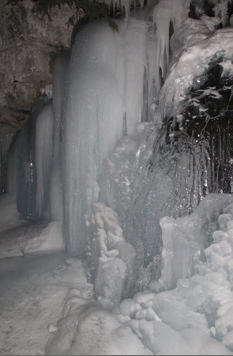 Frozen Waterfalls of Maligne Canyon, Jasper
When we come to a steep drop of frozen ice, we sit and hold onto each other, and we slide, screaming like kids. Except for our headlamps, it's pitch black, and the stars are so big they look fake. Jasper is the largest dark sky preserve in the world, the only place where you can see the milky part of the Milky Way.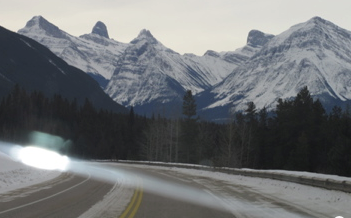 Icefields Parkway seen from the Car Window
The Icefields Parkway is an aptly named 144-mile road that winds through two national parks and links Jasper to Lake Louise. Everywhere are hypnotic views of endless white jagged mountains, glaciers, and snow-swept valleys. At one point, we watch three climbers scurry up an ice wall. At the gigantic Athabasca Glacier, we stop and take a short hike, then race back to the car because the wind is so strong. We arrive in Banff National Park, a UNESCO World Heritage Site, around 4pm. I expect Lake Louise to be huge, but there's no town, just a supermarket, gas station, and ten hotels.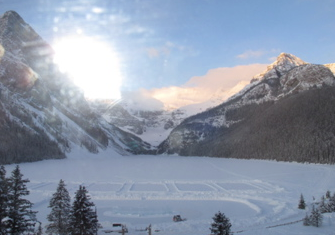 View of Lake and Glacier from accomodation at Fairmont Chateau Lake Louise
My room at the Fairmont Chateau Lake Louise overlooks the enormous lake, framed by a gigantic glacier. We rent cross country skis at the outdoor center and head to the lake, past giant ice sculptures of animals and an intricately-carved ice wall where a couple is having their wedding photos taken. We ski on the trail past four hockey rinks on the lake when suddenly a horsedrawn carriage behind us jingles a warning. We slide through the lodge pole pines and glide right onto the lake. Except for the swish swish of our skis, it is silent and it would be peaceful except I'm thinking about the Lake Louise Ski Area with 4,200 skiable acres on four mountainsides. How will I be able to keep up with Becky and Sarah?
No need to worry because Lake Louise Ski Big Three has a "Ski Friends" program in which volunteers offer free mountain tours. I'm lucky because no other beginner/intermediate has shown up for a ski friend, so I have Mike Dandurand, former head of the ski school, to myself.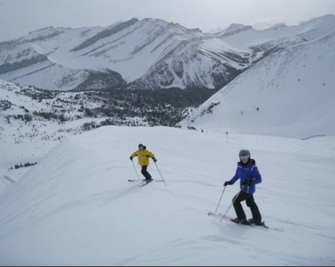 Skiing Lake Louise
We take the lift to an intermediate blue run, and a snowboarder flies by. They hadn't invented snowboarding when I last skied. Mike watches me ski, then says he's going to ski down the hill, and when he gives me the signal, I should ski down, but never take my eyes off him. It changes my skiing completely because it makes me keep my shoulder to the mountain. Suddenly I feel like a real skier again, and for the rest of the day, I'm in heaven. To celebrate my new victory, we have a tasting dinner with wine pairings in the gourmet dining room of The Post Hotel.
Sunshine Village Ski Banff, a short drive from Lake Louise, is Canada's highest elevated resort. We take the gondola up to the Sunshine Mountain Lodge and drop our bags. Talk about ski in ski out -- two lifts are just a few feet away. Sarah is chomping at the bit to hit the expert runs, but I've decided to ski with an instructor and Becky, who wants an easy day, joins me. Our instructor, Jake Reid, tells me to keep my head down and not to pop up after every turn. "Let the skis do the work," he says. He points to the middle of my ski boots. "Think of it as a childproof jar and you have to turn it." That image works. Finally, I feel as though I'm floating around the turns. By mid afternoon, I decide it's time to advance to black diamond runs and ski the bumps. Jake draws a bunch of concentric circles in the snow, like a topographical map. "Just plant your pole in the middle of the bump and ski around it," he says. Soon I am flying over the moguls, screaming with joy. To celebrate, we toast with shots of rum (shotskis) in the resort's oversized outdoor hot tub.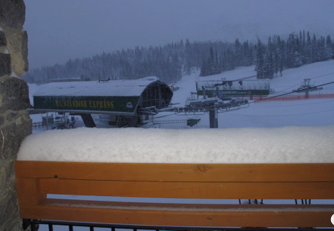 Fresh Snow on Balcony of Sunshine Mountain Lodge
I'm too excited to sleep -- not because I've gone from green to blue to black runs in three days, but because fresh snow has been falling since dinner. I finally drift off and when I wake, I'm staring at nine inches of fresh powder! Sarah skips breakfast and races off so she can carve the first tracks. "There are no friends on a powder day," Becky laughs. I expect Becky to race off also, but she skis with me, meaning there are friends on a powder day. The snow keeps coming down as we glide over the powder and cut our own tracks. I fall twice and each time it takes forever to get my ski back on in the thick snow, but who cares? Maybe it's early spring back home in New York City, but Sunshine sets a record with four feet of brand new snow, not unusual because here, the snow gods reign until the very last week in April. In the Canadian Rockies, they run out of skiers before they run out of snow.