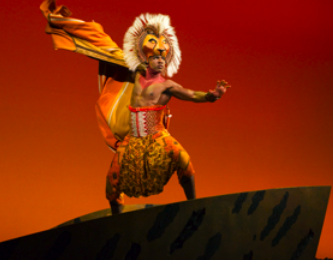 Dashaun Young as Simba in The Lion King
Photo: Joan Marcus, 2010 © Disney Theatrical Productions
As a Manhattanite with an apartment, I have hosted many out-of-town friends and even friends of friends. But my favorite guest is 18-year-old Maura McManus, a high school senior from Sun Prairie, Wisconsin, who came with her mom, my friend Melanie. Their winter weekend in NYC was both a birthday gift and a bonding opportunity for them since Maura will be a college freshman next fall.
Maura is irrepressibly sunny, set on achieving her goals, and like me (and Melanie) a runner. I was happy to be tour guide and companion to Melanie and this freckle-faced strawberry blond bundle of energy. Experiencing her unadulterated enthusiasm for New York attractions I've seen and done countless times reminded me how long it has been since I've hung around with a blond who doesn't color her hair. As we ran around town checking off things on her bucket list of things to do in New York City, I realized that just because I live here, there's no reason to take Manhattan's great tourist attractions for granted.
Maura's first choice was Broadway's smash hit, The Lion King. I saw it when it first opened 14 years ago, and would have preferred to see something I hadn't already seen. But sitting in the orchestra as the animals sashayed up the aisle to a score I knew by heart, I was as transfixed as Maura and Melanie. After the show, we joined a backstage tour and Maura not only posed center stage for a photo, but had a chance to see the costumes and masks close-up. At the stage door, she was thrilled to meet Dashaun Young (Simba), Gareth Saxe (Scar) and Fred Berman (Timon), who all signed her Playbill.
That, for Maura, would have been plenty, but I next took her for a Diet Coke at the piano bar at Mimi's Restaurant on East 52nd St and Second Avenue. Here, the infamously talented pianist/singer "Chicken Delicious" performed. You have to see "Chicken" to believe him. He changes his outrageous costumes, wigs and face masks for every song. "None of my friends will ever believe this," Maura said.
Saturday morning began with a training session with a top New York City running coach Spencer Casey (Marathon P.R.: 2:23), who coaches for TerrierTri, my triathlon team. He also coaches a girl's team, and invited Maura to run with them. This was her "tough" workout.
Last year, when Maura came to Manhattan for an interview, she went to Rockfeller Center and stared down enviously at the people ice skating. Now, here she was, gliding on ice skates at the most famous rink of the world. "I can't believe it," she said blissfully. "I'm down here looking up at all the people instead of up there looking down!"
Right across the street was Saint Patrick's Cathedral. As we circled the inside of the Cathedral, I noticed a reproduction of La Pieta, three times the size of the one in St. Peter's in Rome. Strange that I'd never seen it before -- and when I asked the guard, he said it's been there ten years! Shopping was next, and they did the grand tour of Bloomingdale's, Williams Sonoma, Pottery Barn, and a peek into Serendipity.
The next morning, we took the subway up to Harlem to the Greater Refuge Temple of Christ. It was the complete opposite of St. Patrick's Cathedral, which had been silent except for the shuffling footsteps. Greater Refuge was a gospel church rollicking with joy and love, exactly what Maura had requested. The worshipers, many dressed to the nines in big hats and shimmery fabrics, sang, bobbed their heads, stamped their feet, threw their hands in the air and shook tambourines as a 50-person choir complete with organ, drums and electric guitar rocked the house. Our hands were sore from so much clapping to the music.
But before heading back to Sun Prairie, there was once last item on Maura's bucket list: Madame Tussauds. Here, she posed for photos with life-sized wax replicas of Mick Jagger, President and Michelle Obama, Angelina Jolie, Madonna, Beyonce, Britney Spears, Lady Gaga, Johnnie Depp and even the Pope. Opposite her, in a long colorful costume was Rafiki from The Lion King. "Oh my GOD!" she squealed as she raced over to pose.
This wasn't the end of a bucket list, I thought as I snapped a photo. It was the beginning of her own circle of life.