Two weeks out from Election Day, motivating women voters means clearly defining what's at stake. And the economy is the number one focus, as borne out by recent polling and the president's initiatives. Today the National Economic Council released a report on jobs and economic security for women. It's a great list of pro-woman policies and goals, and is worth a read on its own. There are a few things that stood out:
First, while women's presence in the workforce is increasing, women still suffer from wage inequity and underrepresentation in senior management. Lily Ledbetter was a good first step, but the Paycheck Fairness Act would strengthen women's ability to get paid the same as men for doing the same job.
Second, women's economic contributions to the home are sizeable, and increasing. Nearly two-thirds of married couples are dual-income, and women's economic contribution to their households has increased by about 10% since 1970. Improving women's conditions in the workforce, through job training or help for small business owners, directly helps families and children.
Third, child care and elder care are crucial components of women's economic security. The Administration is studying workplace flexibility, and will encourage states to come up with programs on their own. There are also specific proposals to improve seniors' dependence and help caregivers, who are typically women. Doubling the Child and Dependent Care tax credit would make it easier for mothers and care-giving women to make ends meet.
This is all consistent with our own research, which has consistently found women to be concerned about their economic security, even across party lines. In the most recent survey among Walmart moms, conducted by my firm along with Neil Newhouse and Alex Bratty of Public Opinion Strategies (and sponsored by Walmart), this continues to be true. We talked to Walmart moms in five states with competitive Senate races: California, Colorado, Florida, Missouri, and Pennsylvania. In each, voters are roughly evenly divided as to how anxious they are about their own economic situation.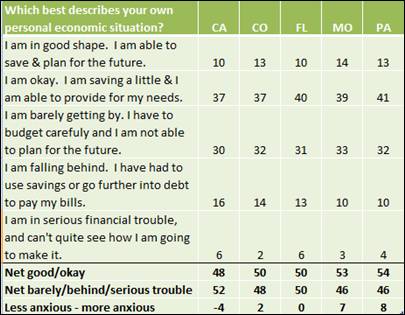 In what is becoming an increasingly polarized electorate, even among these more swing Walmart moms, attitudes toward the national economy and political figures break very decidedly along party lines. But economic insecurity transcends party. In some states, Democrats are slightly more anxious, and in others, Republicans are slightly more anxious. Given the smaller sample size (250 interviews per state), these differences overall are minor.

As I've written elsewhere, there is widespread support for policies directly affecting women (and men, too). Reminding women voters of Obama's strong commitment to these policies can help boost the advantage women give Democratic candidates this November, because all women, across party lines, could use the help.