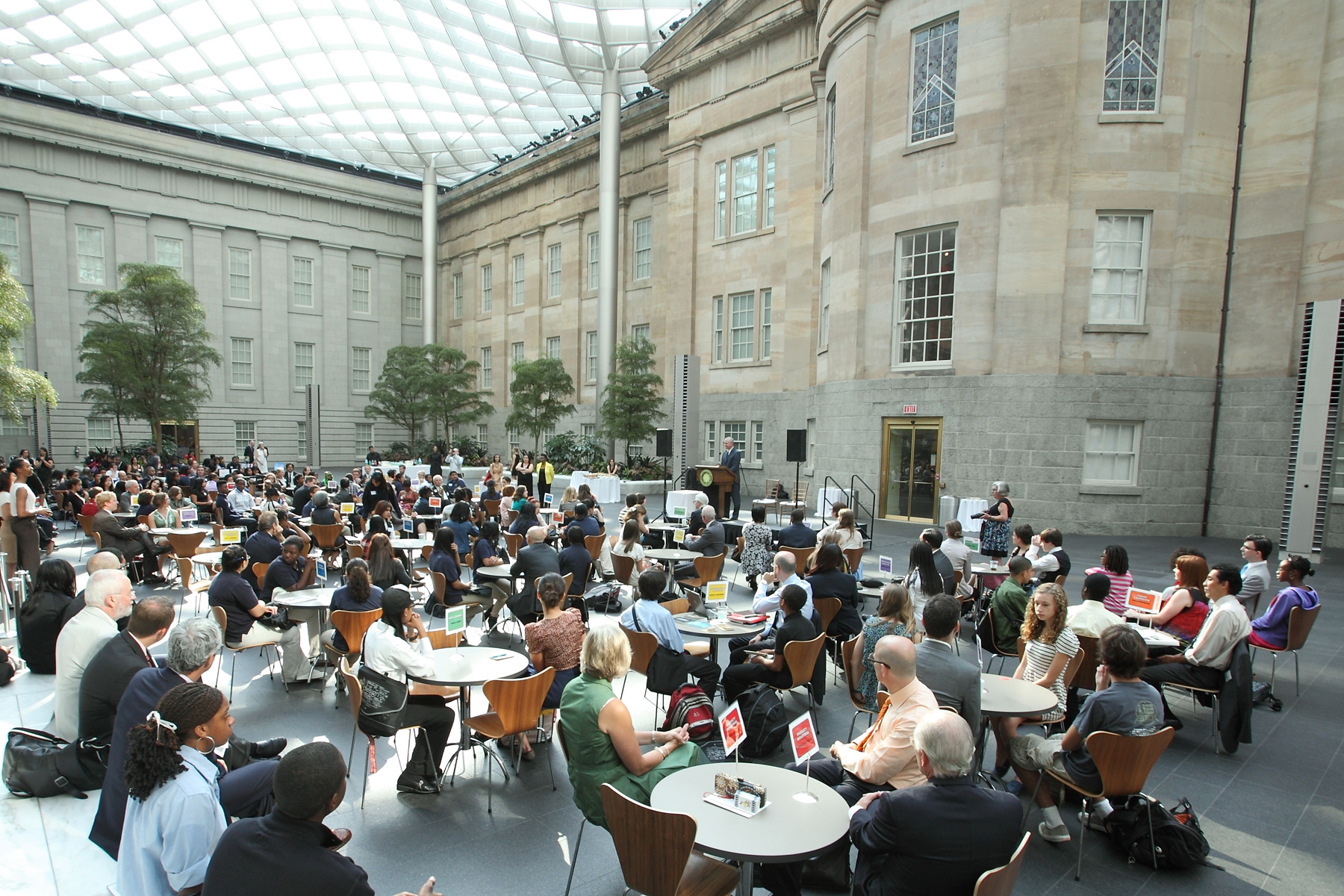 So I am seated right next to Tim Gunn's table at the 2011 Teen Design Fair in Washington, D.C. The thirty or so the Smithsonian's Cooper-Hewitt, National Design Museum National Design Awards winners and finalists (I am a finalist this year in landscape design) are stationed at individual tables, where DC public school teens will come ask us questions about what we do, and about how to get to do design.

A group of three teens hovers nearby, looking anxiously toward Mr. Gunn, Project Runway's hugely good-willed taskmaster, hoping to bag the next seating with him, to receive his totally authentic and sound and personal advice on how to become a fashion designer, or a fashion executive or whatever it is they truly want to be. This eager pod of teens is gradually, literally, pushed into my table by the large number of people crowding around what has become Tim Gunn's court.

My table has attracted no teens so far, but it's early yet. I decide to ask them what they are interested in - landscape design, by any chance? Fashion, they tell me. But they look at me expectantly, although surely they can tell from my safe getup that I am not a fashion designer -- after the Teen Fair, the Design Awards honorees and finalists are going to the White House for a luncheon reception, hosted by Mrs. Obama, at which we are supposed to wear "business attire," and because I have no idea at all what "business attire" means, I have chosen something that will look respectable, if a little dour. I thought of wearing J. Crew, just to support Mrs. Obama's embrace of accessible (well, more accessible) design.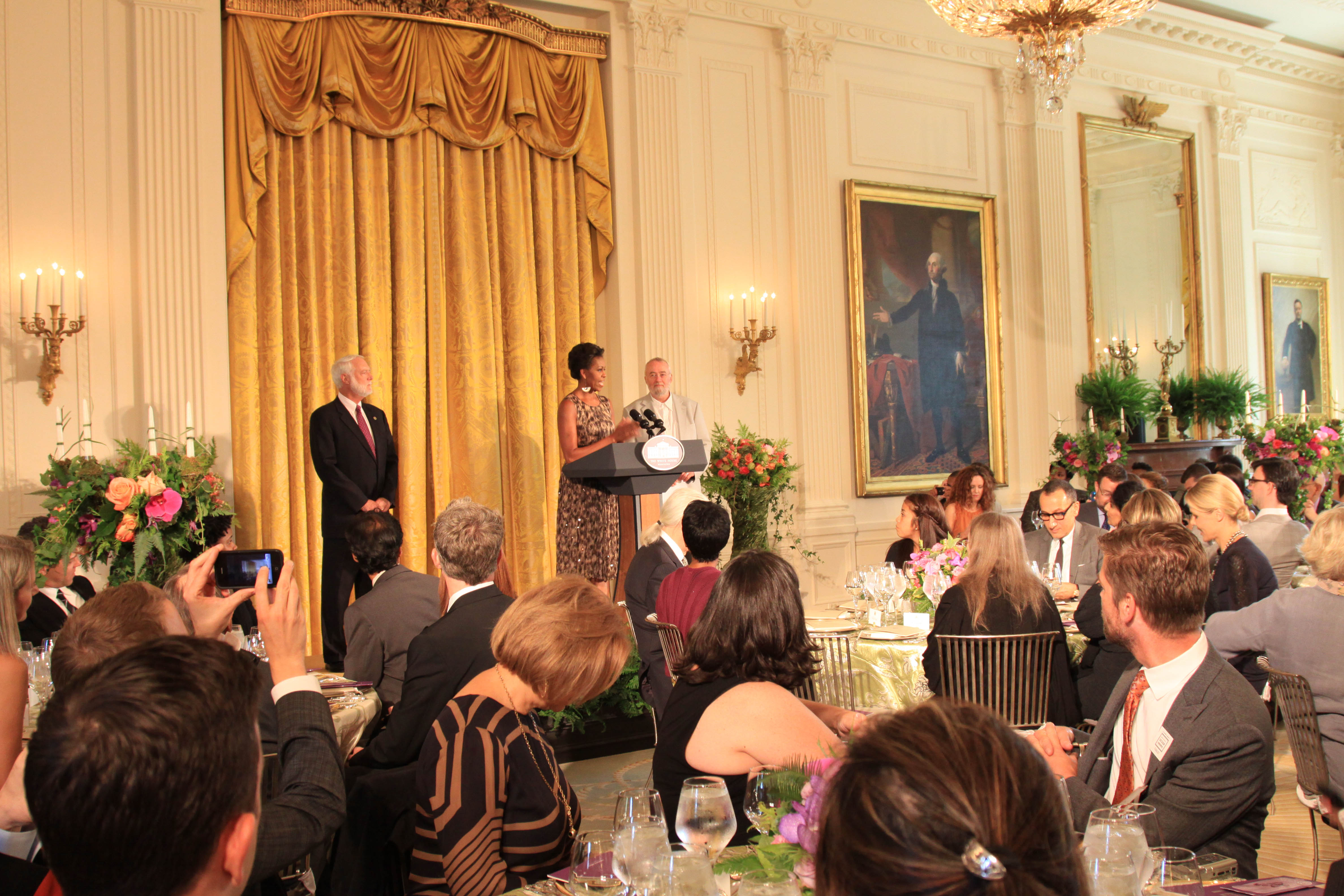 I tell the nascent fashion designers involuntarily leaning into my table that I am a landscape designer, and ask them if they know what landscape architecture is. "Um," the boldest of them ventures, "is that, like... outside?"

I can't blame them for not knowing what landscape architecture is, it shows up on an infinitesimal number of high-school curricula. Most college students would be hard-pressed to say what it is. But as the morning wears on, I am visited by a lot of students, a lot, who want to know what we do, and who look through the pages of the mockup of my forthcoming book with an avidity I rarely see in graduate students. They are almost inhaling the images. After one large group leaves, a quiet young lady stays put in her seat. She points to my book draft, and kind of shakes her head as she forms her question for me, knitting her brow in confusion.

"That, that's not environmental engineering?" she asks me, quizzically.
"No," I tell her, "I work with environmental engineers, as collaborators. But this is landscape design, landscape architecture, urban design -- you can go into any of those fields and do this."
"This," she says, pointing to the images on the open page, "this is what I want to do."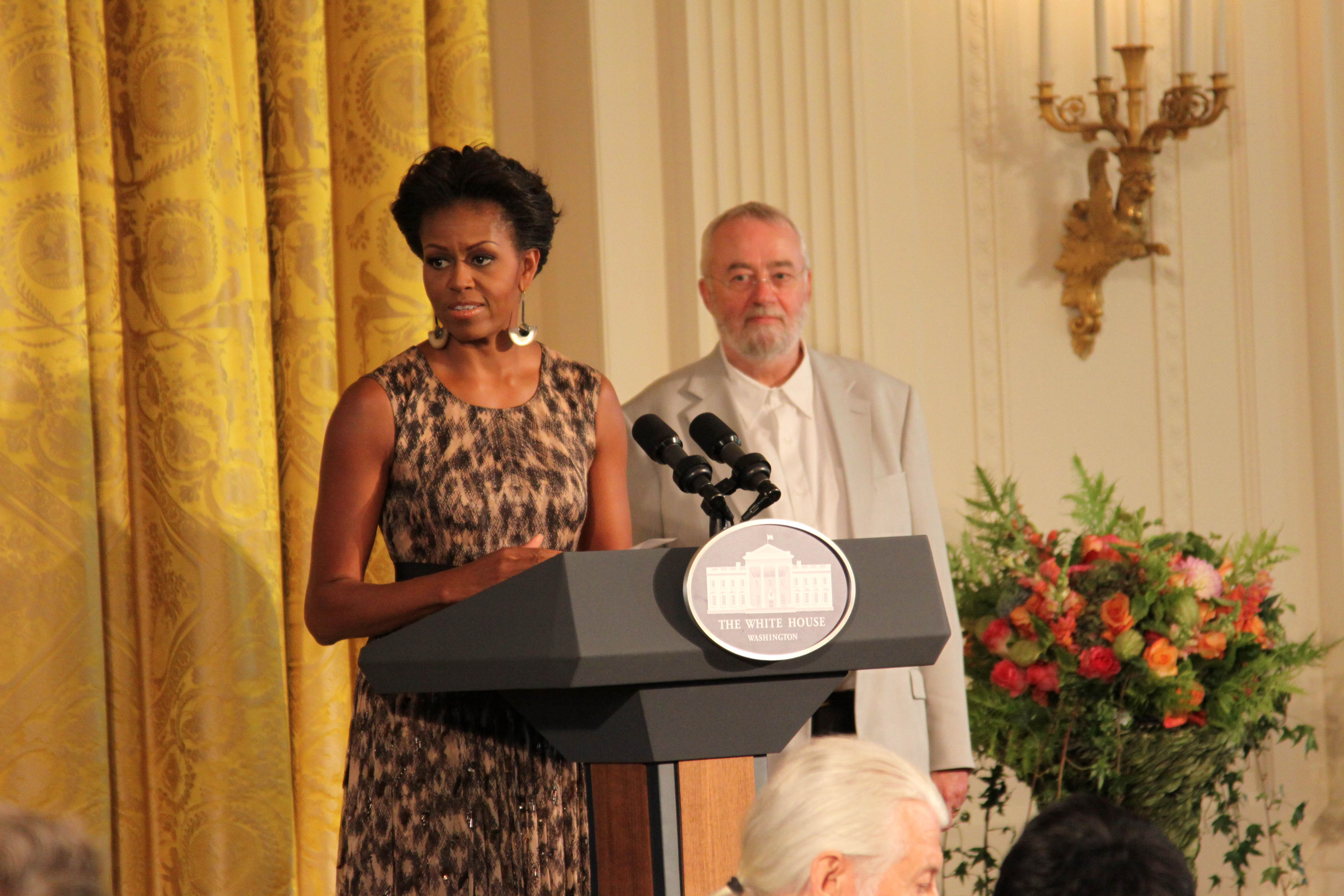 Michelle Obama is a very smart First Lady. It's clear that she has invited us all to lunch at the White House not just so we can engage in a bit of mutual logrolling, patting each other on the backs as we surreptitiously snap phone pics of our luncheon place-settings. We are here for these teens -- helping them understand what it is we do, but also who they are, who they can be. We spend the morning just downloading a bunch of the knowledge we have accrued over the years, and listening. The teen fair ends with a Q&A with Tim Gunn that brings a lump to my throat -- just be who you are, true to your passion, work really, really hard, and you don't have to travel the beaten path, in fact I never have, he tells the hundreds of teens seated around the magnificent National Portrait Gallery's courtyard, designed by this year's landscape design winner, Gustafson Guthrie.
This is why we are here, we all agree, to usher in this next generation. And if, as Michelle Obama tells the seated guests at the luncheon, including fifteen teens selected from the Teen Fair hundreds, if even a couple of them realize that by choosing a career in design they can make parks more refreshing, clothes finer, buildings greener, the world will be better for it. And if, by learning about the Cooper-Hewitt National Design Awards, and taking advantage of the tremendous design legacy shepherded by its parent organization, the Smithsonian Institution, more people understand what we designers know -- that design may not be everything, but that in fact most everything in the world is the product of design -- then the investment in awards, and lunches and little packets of heirloom seeds from the White House vegetable garden given each guest at the lunch, will have been worth it.
But I have to admit, the place settings, and the little packets of heirloom seeds, and Mrs. Obama, were gorgeous.
All photos courtesy of Cooper-Hewitt, National Design Museum, Smithsonian Institution.