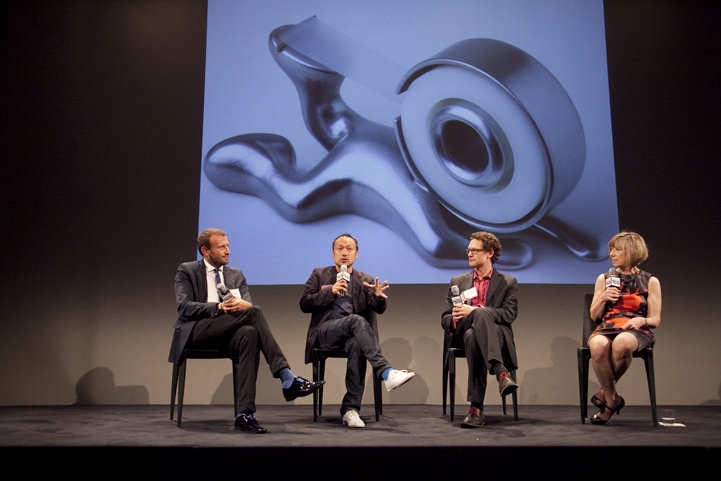 Photo by Clark Jones for Fast Company
New York celebrated National Design Week last month, from October 15th to the 23rd. So what would you expect to see on display in one of the design capitals of the world? Beautifully designed objects, things to look at -- exquisite clothing, ingenious furniture, from the design of a whole building or even a city to a tiny spoon. But what about design that you can't actually see?

To celebrate Design Week, the magazine Fast Company -- highlighting its "United States of Design" issue -- offered an evening panel on October 19th, a discussion between three of the top designers in the U.S. selected by the magazine's editors. The discussion that night made me question what design is, and means, in this century.
Maybe the Head of Global Strategic Design for 3M fit into a conventional "design" mold -- Mauro Porcini has, for the past ten years, given new, and seriously sensuous, life to such standards as the tape dispenser and the overhead projector. But the other two panelists -- what did they design? Robert Wong, Executive Creative Director, Google Creative Lab, talked about the development of Google+, Google's social networking site that has pushed the idea of online sharing to include face-to-face chat, rolling the assets of Facebook, Twitter and Skype all into one. The example Wong gave from Google+ drove a new concept of design home to the packed audience at a downtown venue. He told the suspense-filled story of how his team modified Google+'s online sharing system just the previous week, allowing the Dalai Lama to participate, from India, in the 80th birthday celebration of Bishop Desmond Tutu in Cape Town. His team had to conceive and set up, within 24 hours, a conferencing system that could beam the Dalai Lama in to the thousand plus guests, as the Dalai Lama's South African visa was held up (under questionable political circumstances) and he could not enter the country.

The design of a virtual network -- this has emerged as an American-driven industry that many in the conventional design world have yet to recognize as artful design.

The third panelist at the Fast Company event was Jake Barton, founder of Local Projects, a media design firm that was hired to help the 9/11 Memorial design team figure out how to display all of the names on the memorial's walls. He talked about how the idea of "meaningful adjacencies" emerged in thinking about a physical order for the names. The system the team designed to order the names moved beyond alphabetical lists, to place next to each other the names of people who were in some way connected -- they worked together, or they were brothers (one a fireman, one a policeman in at least one case) or they walked together down the emergency staircase and vowed to stay together, which they did, until they perished. And each of these 9/11 victims was connected to someone else, who was connected to someone else, and on and on -- an intricate web of connections. The "meaningful adjacencies" system depended on the design of an algorithm that took all these connections and formally arranged them.

This concept of design -- design as a platform for people to communicate -- certainly trumps the conventional notion of design as the crafting of solitary objects. In this age we are designing connections and, in my field, landscape design, the connections are so multi-layered -- connection to nature and within ecosystems, connections to each other, to history, to culture -- that we can often get lost. That is why it is so important to give designers the license, and the credit and appropriately scaled fees (compare even a superstar designer's income to a banker's, e.g.) to make beautiful order out of so many overlapping networks. To paraphrase Daniel Pink in his prescient 2006 book A Whole New Mind: Why Right-Brainers Will Rule the Future: in the information age everyone scrambled to hire masters in business administration or MBAs; in this new conceptual age, what we all -- businesses and governments as well as design practices -- need are masters in fine arts, or MFAs. The Fast Company design round-up suggests that this is the new American Dream, in which design and technology and business work together.
May these interesting times, which we are fated to live in, be fruitful and beautiful.