 Two weeks ago, I got a call that my mother had suffered a stroke, and that she was in the hospital. For someone with Alzheimer's, like her, hospitalization can be a traumatic and sometimes fatal event. When I arrived at the hospital, I found my mother lying alone in a room, with only the sounds of monitors to keep her company. In one day, she had lost all her reference points, all the warmth and familiarity from her life at the assisted living place that is now home for her. Add to that the inability to remember from one minute to the next. Where am I? What has happened to me? Why can't I speak? Who are those people talking? Three days into her stay, I watched as the aides rushed to move her to a new room, without hardly any explanation. There was a new emergency coming in. Tubes hastily pulled, bed briskly wheeled away, off my mother was taken to a shared room with another elderly woman, also suffering from dementia and screaming loudly that she wanted the police to come and rescue her. I found myself wishing that something would be done to silence the woman. I could also see this was the only way for her to protest the restraints placed on her to keep her "safe." If there is a hell, this came pretty close to it.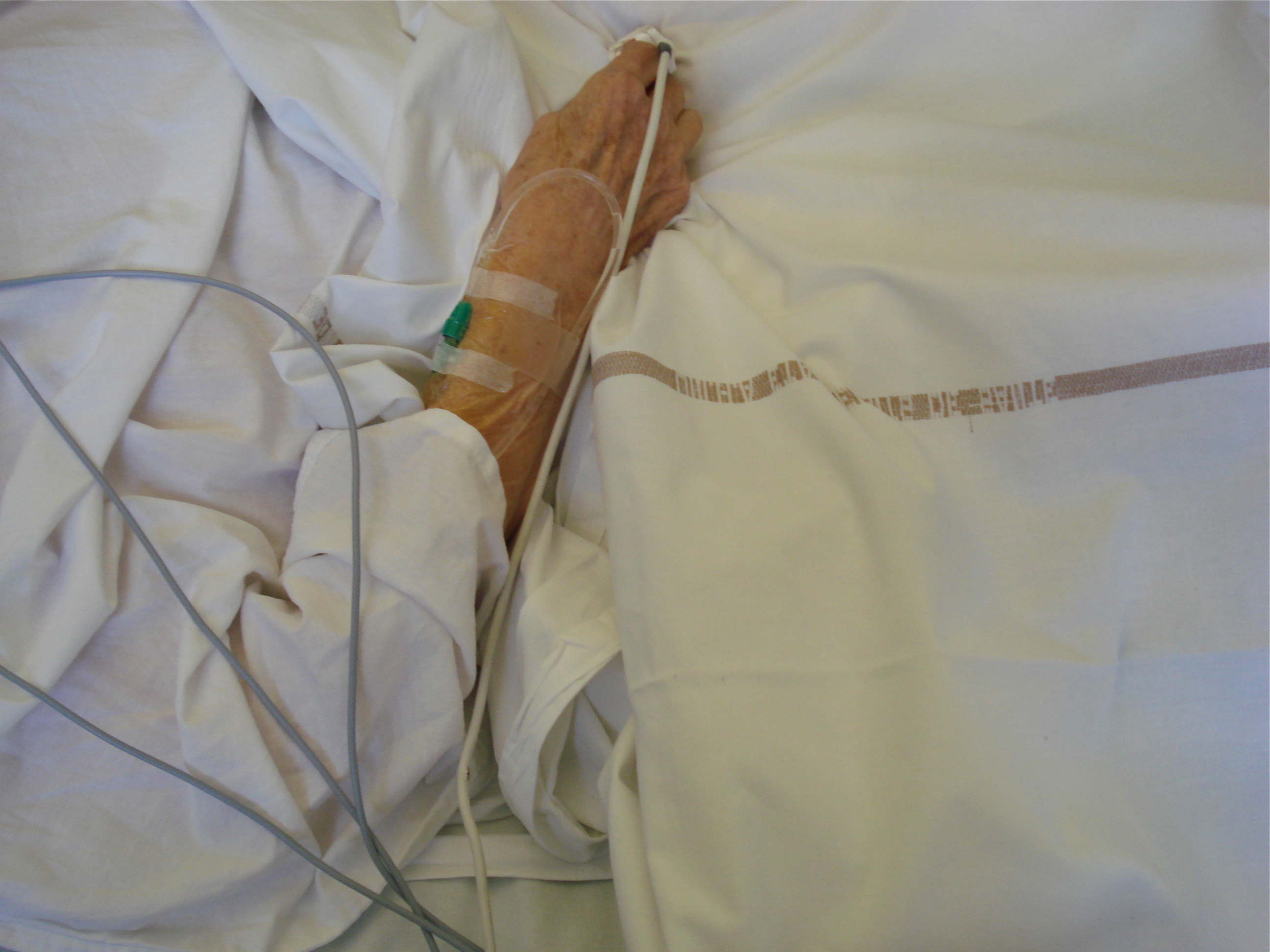 I visited my mom every day, and spent many hours at her bedside to reassure her. The roommate calmed down, and her screams became more and more rare. "They all do after a while," said the aide. I did not want my mother to linger in the hospital, as nothing more was being done for her other than waiting for a follow-up brain scan. I pleaded with the staff. After 10 days, my mother got the OK to leave. The morning of her discharge, I found her sitting up on her bed, beaming. We waited until the chief doctor stopped by with his cohort of interns. The six of them stood around my mom's bed, and not one bothered to acknowledge her presence. All conversation was directed to me, including ample mentions of her Alzheimer's and her disabilities. I had to insist for the doctor to prescribe a course of physical therapy and speech therapy. The underlying message was, your mother is 90 years old, why bother?
My mother went home, a shadow of her former self. She had withdrawn almost completely, and had stopped eating. The nurse found a bedsore on her right ankle and an untreated infection in her mouth, both the results of improper care in the hospital. She also wondered, why a course of antibiotics? It was no surprise my mother did not feel like eating. My mother is still alive, but we are not sure she is going to make it. While the hospital did save her from some of the permanent effects of her stroke, it almost killed her from the heartless, unskillful care she was subjected to. This is a widespread, worldwide phenomenon, not limited to that particular hospital. Last year, a Harvard Medical School study highlighted the following:
Hospitalization increases chances of poor outcomes in Alzheimer's patients. The risk of being hospitalized is three times greater for the 5.4 million Americans with the disease than for those without it. In a three-year period, up to two-thirds of individuals with the disease will end up as an inpatient, and nearly half are hospitalized two or more times, said Tamara G. Fong, MD, PhD, lead study author and assistant professor of neurology at Harvard Medical School in Boston. According to Ralph Nixon, MD, PhD, chair of the Alzheimer's Assn.'s Medical and Scientific Advisory Council and professor at New York University School of Medicine, the risk of being hospitalized is 3 times greater for those with Alzheimer's than for those without it. "This is an underrecognized and underappreciated problem that is going to get much, much worse," he said. "The number of people who are going to be in the hospital and have these kinds of adverse outcomes is going to increase." Dr. Brangman, professor and chief of geriatrics at State University of New York Upstate Medical University talks about "a huge need to educate our health care work force."
Similarly, this week, the Care Quality Commission in the UK reports that 85 percent of dementia patients "were more likely to die in hospital" than people without the condition. According to Jeremy Hughes, Chief Executive of the British Alzheimer's Society, "Hospitals are meant to be places of recovery but people with dementia are going in too often, staying too long and dying in a hospital bed much more than those with any other condition."
While much is out of our control, there are some steps we can take as family members to protect our loved ones with dementia during hospitalizations:
Avoid or shorten hospitalization if at all possible
Try to visit every day, and be as present as you can during each visit; if not possible, call and insist on being connected to the person
Have calendar with schedule of your visits posted that aides can use to reassure the person
Make friend with the nurse's aides and nurses, compliment them on what they do well; they will be your most effective advocates
Coach the staff on the person's preferences; type a list and have it posted next to vital signs chart; list may include lyrics of person's favorite songs
Bring "home" to the room in form of family photos, flowers, favorite food, pillow, or quilt, familiar music
Minimize distress from noise and commotion; shut the door, and if shared room, draw dividing curtain
Give the person hope, and tell them they are going home soon
Keep reminding the person about where they are and why
Insist on involving person in decisions made about her
In the midst of writing this blog post, I got a call from my mother's doctor informing me about his concern regarding her labored breathing. He is considering a possible re-hospitalization. What do I think?