At least, according to Kermit the Frog's woeful tune. Come hear an alternative viewpoint at Chicago's Green Festival at 3 p.m. on Sunday, May 17 in the Community Action Pavilion at Navy Pier in Chicago when I present "Green Solutions to the Food Desert." We will share our latest Chicago findings on food access and health, and talk publicly for the first time about how a few powerful Chicagoans unsuccessfully tried to pressure us into excluding findings on race from our publications.
Truth in data for the public good means releasing honest and timely information, even when it is uncomfortable or inconvenient to do so. Even if you feel sad or alone, the way Kermit does when he sings his little song. My goodness -- you're thinking -- what kind of provocative information did they seek to suppress, anyway?
Well, for example, African Americans, on average, travel twice as far to reach a mainstream grocery store as they do a fast food restaurant. After controlling for other key factors, we found that they are more likely to suffer and die prematurely from diet-related diseases, and that the relationship is statistically significant. If we care about the health and welfare of all people, about developing local markets, about access to goods and services, about quality of life -- isn't this worth knowing?

Relative Distance in Chicago to Grocers and Fast Food By Block By Race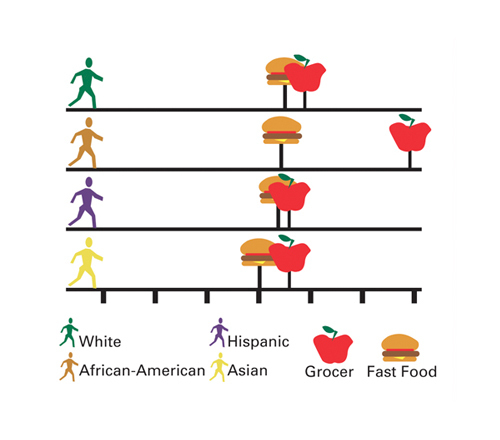 Copyright Mari Gallagher Research & Consulting Group
Regarding the violent deaths of so many Chicago Public School children, isn't it worth knowing that the vast majority are African American boys? There's more to talk about, but that's enough on race for now. Back to color, or more specifically, the environment.
Kermit can breathe a sigh of relief because, these days, it's a lot easier being green. Everyone can do something. We can plant a garden, like Michelle Obama, or maybe just a tree or two. We can use products that are kind to the earth. We can recycle instead of throwing everything in the landfill. We can give away the usable stuff we don't want anymore and stop buying so much new stuff that we don't really want or need to begin with. We can turn off the lights when we are not using them. We can even tug on the old heartstrings and use guilt when necessary. When my husband leaves the lights on in an empty room, I say softly: you made Mother Nature cry.
At the National Center for Public Research, we are printing more publications online, and when we do use a printer, it's a green one. It costs more money, sure, but it saves money, too, because we're printing less and reducing waste and pollution. It's better for everyone in the long run. Like Kermit, you might still feel that it's not that easy being green, and many times perhaps it's not, but it's becoming more and more necessary. Consider all the hidden costs.
And consider all the hidden costs tagged on to the otherwise cheap "fringe food" that people are eating in the food desert. The high fat, high salt, high sugar foods with little if any nutritional value. These costs are borne directly by the food desert residents themselves, and indirectly by the health care industry, by employers, by government agencies, by taxpayers, and by others who take on the burden of pre-death treatments. Many of these diseases can be moderated and in some cases prevented entirely by a healthy diet.
Which reminds me - what else was it our friend the frog used to say? Was it "time flies when you're having fun" or "time's fun when you're having flies"? Not sure. Anyway, that makes me wonder: would Kermie's outlook pick up if he improved his diet?
See you at Green Fest.
(3pm, Sunday, May 17th, Community Action Pavilion, Navy Pier. More details here)