Today I had the privilege to chat with singer-songwriter Tristan Prettyman about life, love, heartache, and what it feels like to be a woman in her early 30's. Our conversation had a familiar buzz, like when you meet a friend of a friend at a party and you click as you share similar experiences and humor, and realize that you will probably become close friends, and how come you've never met this friend before? I couldn't believe the amount of things we had in common, like growing up in southern California, surfing, our love for travel, our need for connection, our age and (lack of) marital status, the urge to empty our brains onto the page. This musician, this woman, is not only someone I can relate to, but also someone to admire.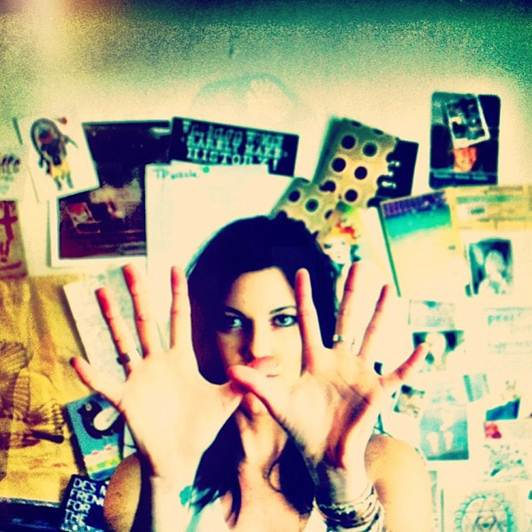 And then it hit me. This feeling I had after we talked was nothing out of the ordinary, nothing revelatory, nothing thousands of fans have not felt before. This feeling, this connection, is what draws fans to Tristan's blog, what causes fans to email or tweet or write what they feel to a literal stranger who feels like a figurative buddy. Since she released her first album (Twentythree) in 2005, followed by her second album in 2008 (Hello...x), Tristan has been building a rich and colorful fan base. Her honesty, ever apparent in her music and lyrics, is attractive and her bluntness and ability to open up is refreshing.
At first glance, she seems almost perfect with her dark tresses, long legs, and her sexy voice that reaches deep inside you. But she is admittedly not perfect. Rather she is a work in progress, a girl who knows that yoga and health and travel are essential to growth, a seeker, a woman who is realizing more and more the power of connection. And so I ultimately realized that it wasn't our propensity to travel or our addiction to writing that drew me in to Tristan Prettyman, but rather the 'imperfect woman' in her that welded the bond.
And so here she is, on the cusp of her 31st birthday, coming down after a long tour before she starts back up again, single, dating, living, and most importantly, growing. Her most recent album, Cedar and Gold, was released in October 2012 and it rocks. If you weren't aware of her painful break-up with musician Jason Mraz, it won't take you long while listening to the album to realize that Cedar and Gold is Tristan's "break-up" album. And maybe this is another reason fans are drawn to Tristan, because most of us need a good cry along to music that can speak the words that we can't bear to say. Personally, the first time I heard the song "I Was Gonna Marry You", I shocked myself by bawling into my Boston Terrier's shoulder blades. It's because of the raw honesty poured into her songs that her music resonates with so many people, so many women.
In the next few weeks, Tristan will be taking questions from her fans about love, heartbreak, relationships, and life. When I asked her this afternoon what made her qualified to answer questions about heart shakes and breaks, she laughed and said, "I'm not qualified." After a pause, she continued, "But no-one is."
Tristan Prettyman has experienced (and is currently experiencing) love and life; she has been knocked to the ground by heartache, and she has shared this with her friends and fans in her music. She is open, she is blunt, and if there is one thing we have learned from listening to her albums, she is honest.
So, do you have a question for Tristan, or are you looking for some advice? Fans can submit their questions via Twitter now (deadline is May 20th) and check back on the Women's Voices to see if Tristan chose your submission. She will be proffering personal advice in a two part series starting Memorial Day Weekend. Users can submit their questions to Tristan via Twitter using @TPrettyman #ASKTP. Make sure you include the hashtag and check back in just a couple of weeks to see if Tristan chose you!