This is my absolute favorite season of the year! Every single part of New York is alive with the sights and sounds of the season. Christmas in New York is like nothing you have ever experienced. It's everything, and much more, than you have imagined and the magic is alive here in the big apple. Our little family has a lists of must's we try to do every year. Some of these are pretty mainstream, but some are off the beaten path. All of these are great to experience with kids. I hope you enjoy my 11 favorite things to do in New York this Christmas Season!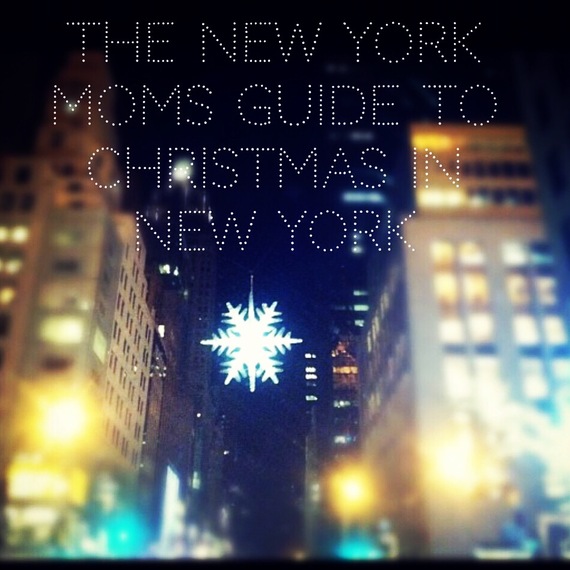 Rockefeller Center How could you not do this? While we always skip the ice skating, we do love to experience the tree and the window light show across the street at Saks Fifth Avenue. This year, the lights are all projected and it's an impressive story of New York, but I miss the old-fashioned snowflakes of yesteryear. Rockefeller Center is the magical heart of Christmas in New York. While there, make sure you stop by St. Patrick's Cathedral.
Bergdorf Goodman's Window Display
Wanna hear a local secret? The BEST holiday windows in NYC are at Bergdorf Goodman's. And no lines or crowds. These are hands down the most creative, high couture, thoughtful, artful windows in the entire city. Sure, you have the whimsy of the Saks windows and the Macy's windows... but the Bergdorf Goodman Windows are high art. It's a MUST! Find them at 5th ave and 58th street.
Dyker Heights Decorations
Over there in Brooklyn is an entire neighborhood coo-coo for Christmas. You might have seen some of these homes featured on television on practically every single christmas home display show, but nothing compares to actually going to Dyker Heights and experiencing this magic in person. Dyker Heights, you bring the Christmas Season out in full force!
Skating at The Standard, High Line Hotel
I'm giving away all the secrets here! Skip all the lines and tourists at the Bryant Park and Rockefeller Center ice skating rinks. The real deal is going on at a tiny ice rink at The Standard Hotel. The rink is super small, so parents can release their kids out on the ice while they sit on luxe seating -- outside. Under heating lamps. While sipping on their choice of seasonal hot toddy. The "all the time" celebrity sightings are also a bonus if that's your thang! The hotel is also right by The High Line.
New York City Ballet's Nutcracker
You HAVE to see the NYCB Nutcracker. That tree, the dancers, that perfection.... magic!
Roasted Chestnuts From Street Vendors
Sure, you may think, A bag of roasted chestnuts for $5... all eight of them. But they are the perfect seasonal street vendor food. Walk up and down 5th ave while eating your bag of chestnuts... magic!
Handel's "The Messiah" Sing-Along With The New York Philharmonic
You MUST do this. The entire place is PACKED with hipsters, locals, old people... everyone. Singing "The Messiah" at least once during the Christmas season should be on everyone's list!
Visiting Santa at ABC Carpet And Home
He's the real deal. Every local knows that the best and realest Santa is at the ABC Carpet in the Flatiron district. The lines can be long, so always check the schedule before you go.
Union Square Christmas Market
After you grab your Santa picture at ABC carpet, head over to the Union Square Holiday Market. Buy some handmade presents, drink some seriously rich artisanal gold leaf hot chocolate and enjoy Union Square.
Radio City Christmas Spectacular
Another MUST. When they start kicking in unison, it's amazing. As a dancer, I know exactly what goes into those rehearsals and that hard work and magic delivers onstage. Also, you are going to sob like a baby at the last scene.
Botanical Gardens Train Show This is a choo choo show like none other. This elaborate train sow is created using ONLY nature's bounty. A must! Also they have a boozy weekend showing... I vote for that one.