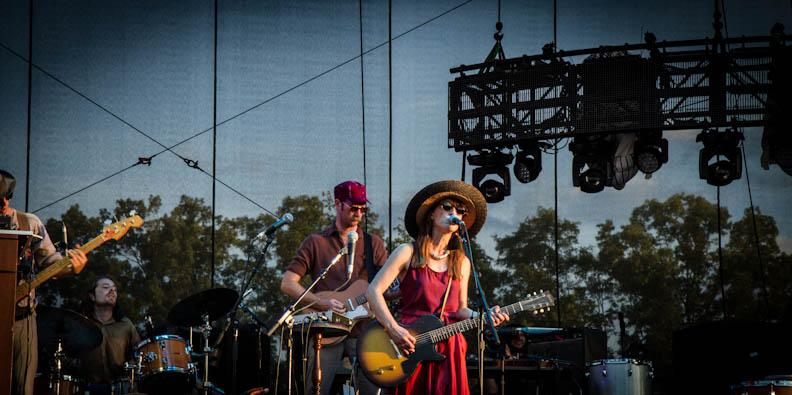 Image Courtesy of Michael James Murray
In its 54 years as a festival, Newport Folk Fest has been revered as one whose lineup pairs longstanding folk kings with indie up-and-comers, bluegrass masters, and folk-punkers to create an unforgettable folkie blowout. Here are a handful of must-see acts that span the folk spectrum.
Feist

The Canadian born singer-songwriter Leslie Feist will be one of the festival's clear highlights. The songstress is a near-perfect symbol of the festival's ability to consistently transform its definition of "folk" -- crossbreeding traditional folk, bluegrass, alternative country, blues, and indie folk into one amorphous musical entity. Feist crosses enough musical boundaries to appeal to the oldies who have been running Newport since its inception and leave the rest of us smitten with her powerful vocals and ever-evolving set of ballads.
Andrew Bird

With the festival capped at 10,000 attendees a day, Newport Folk Fest remains among the more intimate of music festivals. Catch your chance to see Andrew Bird in a dreamy New England setting where you don't have to fight an arena's worth of fans to see the Chicago veteran. There's a reason the festival decided three years was a long enough wait for Bird to return to the main stage from his debut performance in 2010. This one is not to be missed.
The Lumineers

The Denver-based folk rockers will have plenty of lovelorn, foot-stomping sing-a-longs to go around this weekend. What could be seen as the American response to a certain Mumford & Son aesthetic -- one marked by tambourines, heartwarming group vocals, and nostalgia -- will be present in The Lumineers' debut Newport appearance. They'll play "Ho Hey," all of Rhode Island will join in, and it will be most glorious.
Father John Misty

Under the moniker Father John Misty, Josh Tillman represents one of indie's most unforeseen (and welcomed) success stories. Former drummer of Walden-wave indie rockers, Fleet Foxes, Tillman is coming off of a seven-album stint under the name J. Tillman. Now, under a denomination he promises is strictly random and meaningless ("I mean, I may as well have called it 'Steve'"), Tillman has earned the praise that was largely absent from his prior solo albums (and, truthfully, Fleet Foxes gain more kudos for chilling folk-saturated harmonies than thunderous drumming). Father John Misty's debut album "Fear Fun" will translate well to the Newport setting, with Narragansett bay as the backdrop to the festival.