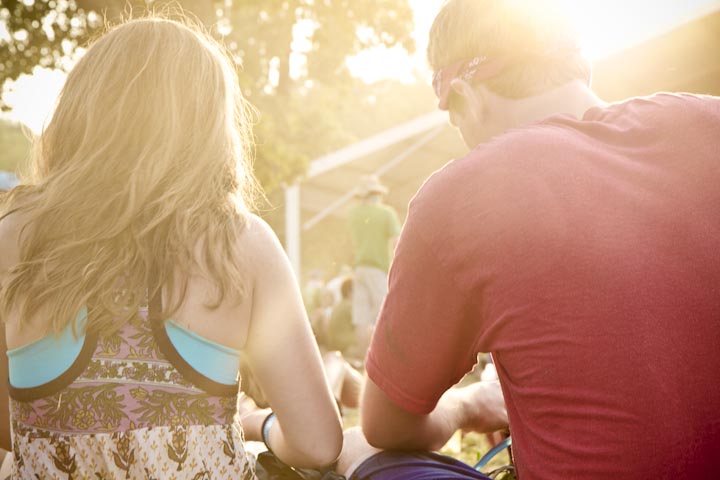 Image Courtesy of Michael James Murray
An onslaught of talent -- including Ariel Pink, Deep Vally, Father John Misty, and Alt-J -- joined forces to deliver a dynamic first day at Bonnaroo Music & Arts Festival in Manchester, Tennessee. The first day of the fest, typically reserved for showcasing emerging talent across various genres of music, carried much more pull than years past. The schedule still offered an easy transition into the festival, but not since The Walkmen performed at Bonnaroo X have we witnessed a Thursday night lineup as enticing.
Underground folk artist Ariel Pink delivered a solid performance in the early evening, despite an initial battle with This Tent's sound mixer ("If I don't hear feedback in my vocals, it's not loud enough"). Did Ariel Pink follow-up this quarrel by snubbing the entire festival? ("Thanks for coming out for the only band worth seeing here -- that's not a dis, it's a fact bitches.") A firm yes.
Alt-J, arguably, won MVP of Thursday night, maintaining a crowd of behemoth proportions. It's easy, during midday Thursday, to feel state-fair vibes and use your superfluous downtime to roam and rotate through Ben & Jerry's free-scoop hut, but at night -- Bonnaroo transforms. Thursday night, in particular, is when you have to start thinking about putting on your big boy pants. Alt-J's performance was a prime example of this. There are times at Bonnaroo when, in-transit from one show to another, you realize that small armies of people are everywhere. Then there are times when, as Alt-J's ragtag of spectators proved, all of the festival is in a single space. Alt-J's inventive dream pop provided a smooth start to the festival with its thoughtful arrangements and carillon percussion. Songs like "Tessellate" were of the downbeat nature for which Thursday nights at Bonnaroo are known, but the crowd was charmed nonetheless. Before closing their late-night set, singer Joe Newman showed his appreciation."Congratulations on being pretty much the best crowd we've ever played to," Newman said before ending the night with "Taro."
Towards the end of the evening, Allen Stone laid down a funky performance at That Tent, urging all of Bonnaroo to lay off social media and forge a "real connection" with people. His meaning wasn't lost on the crowd (as we all surely have lost service and battery by now), and offered a nice preface to Alo's performance, which closed out the night with a special guest appearance by Jack Johnson. It was later revealed that Jack Johnson would actually nab Mumford and Son's headlining spot this year, following bassist Ted Dwane's emergency brain clot surgery.
Bonnaroo continues Friday with performances by Paul McCartney, Wilco, Wu-Tang Clan, and ZZ Top.