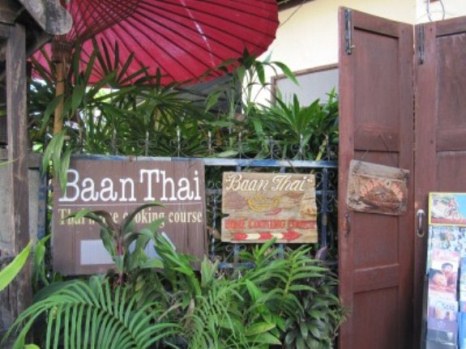 During a two-week journey through Thailand, I set out on a quest to prepare my soul for the preliminary stages of enlightenment. I wished to be freed from the vicious cycle of human desires and rid my thoughts of impurities to ultimately find a meditative state of peace. It would be an arduous task, but I was prepared to ward off any temptation that came my way.
Before embarking on my trip, I researched several cultural experiences, hoping to find one that would open my eyes to a simpler, more sustainable lifestyle; leading the way to Sotāpanna (the first stage of enlightenment). I came across suggestions like an elephant-back trek through the mountains of Chiang Mai where tourists can visit with local hill tribes, or sharing a meal with monks at one of the many wats in Bangkok. I even considered a spiritual climb up 1,237 steps to the peak of Wat Tham Sua (Tiger Cave Temple) to meditate before "the footprint of Buddha."
All the suggestions sounded promising, but nothing caught my eye like the glossy page I stumbled upon in the guide, National Geographic Traveler: Thailand:
Thai cuisine is famous the world over for a reason: Its delectable balance of flavors, the freshest of ingredients, and its exquisite presentation combine to create unforgettable feasts. You can literally eat your way through Thailand, but why not pick up some practical skills, so you can re-create the experience back home? Thailand offers a plenitude of cooking schools, for both novice and professional chef.
And just like that my prayers had been answered. OK, so I realized that a Thai cooking class would not exactly subdue my hedonistic desire for good food in a country where pungent spices and fresh mango with sticky rice ruled, but I could not say "no" to my addiction to gastronomy in such an enticing place. I decided I would pursue enlightenment precisely after I had completed my cooking class.
I enrolled in the evening class at Baan Thai Cookery School in Chiang Mai -- my hotel suggested attending at a time when the sun's relentless rays would be retreating from the stifling streets of the city. I realized it was a very useful suggestion after my husband and I were stuffed among six other students sitting in the back of an over-sized tuk-tuk while temperatures soared to a sultry 95 degrees.
When we arrived at the school, I peeled my cotton dress from my sweat-soaked body, removed my sandals, and took a seat on a large, paisley-print pillow at the far end of the table. The decor resembled that of my grandmother's house: odd knickknacks spread throughout, brightly colored, mismatched rugs, and religious figures and paintings hung from the walls and on makeshift shelving. It was unbearably hot, but I reminded myself that it still might be possible to find the path to enlightenment if I could just erase all negative thoughts and profanities spewing through my mind, and focus solely on the beautiful food I was about to create. Just as I began to clear my head, a flamboyant Thai man waltzed into the room and introduced himself as our teacher. "To the market!" he declared, clapping his hands in a flutter of small, quick "clacks", and off we went into the crowded streets.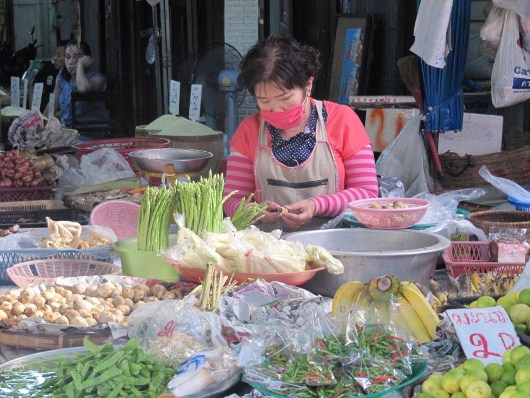 We followed our teacher like hungry, blind kittens huddled around their mother as he picked vegetables, fruits, sauces, and fermented crustaceans from open baskets, all while providing us with a brief synopsis of the name, herbal use, and type of dish prepared from each. After our lesson, we were given ten minutes to peruse the market to get a closer look at the different products being sold. Despite the heat, I loved being in the midst of such a lively production. The smells and colors of abundant produce and the glistening faces of vendors were enlivening in the most simplistic way. I ran my fingers over the bumpy skin of a Jack fruit and scanned the perfectly lined rows of rice baskets. Stands of silvery-pink fish displayed on bright-green banana leaves stood next to tables of vegetable oil and fish sauce, fresh eggs, and bags of noodles. It was a smorgasbord of essential ingredients in Thai cuisine.
Ten minutes had passed and the group began walking back to Baan Thai. I returned to my pillow where a bowl of fresh fruit and seasoned nuts were waiting. Conversation broke out after a few bites of the refreshing snack, and I learned that each person at the table came from a different part of the world. Eager to share stories about our excursions in Thailand, we immediately found commonalities to discuss throughout the evening.
After reviewing the four dishes we had selected to prepare, the instructor asked us to split up according to the meal we chose and report to different kitchens for preparation. This was a nice touch because it provided another opportunity to meet new people who were taking the same class in other areas of the school.
In the center of the kitchen, a long table was set with small, wooden cutting boards, chopping knives, worn dish towels, and bowls of vegetables. A row of gas burners topped by aluminum woks flanked a wall with small windows. Shelves hovering above the woks held powdered spices, cooking oil, sugar, and fish sauce.
After clearing his throat loudly, our instructor began reviewing each ingredient needed to prepare the first dish of the evening: Stir-Fried Prawn with Curry Powder. He modeled the procedures and we followed his lead, chopping, peeling, sauteing, and plating. It was a painless process minus the blistering heat of six woks being revved up simultaneously in a small, non-air-conditioned room. Once finished we returned to our original dining area to enjoy the meal.
The stir-fry was outstanding; each flavor popped off my tongue playfully tantalizing my taste buds. The fresh ingredients undoubtedly made up for my poor chopping skills and unsightly performance on the wok. This was certainly not the road to enlightenment, but I rationed that the extreme temperature and cooking under slightly primitive circumstances dampened the overall gluttonous experience. I was thoroughly enjoying the food, company, and overall home-like atmosphere.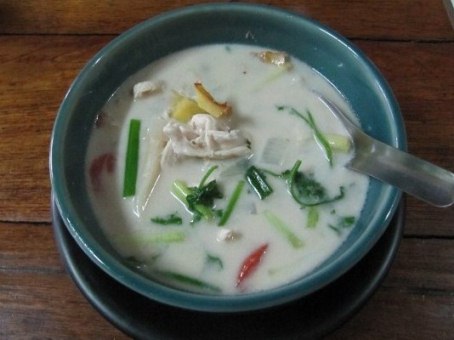 The rest of the evening played out in the same way: report to kitchen, "meet & greet," chop, sauté, sweat profusely, plate, return to dining area, eat, chat, repeat. A total of four dishes were prepared, the other three being: Chicken in Coconut Milk Soup, Spring Rolls, and Chiang Mai Noodles in red curry paste (after making the curry paste using a mortar and pestle). Each meal was surprisingly delicious, and I felt confident that -- with the help of my trusty "Baan Thai Cookery School Cookbook" (included in the cost of the class) -- I could easily recreate the meals at home.
The night ended with an exchange of personal contact information, sweaty handshakes, and rumbling bellies as we wobbled off the back of a rickety truck to our hotels. I rolled onto my bed like raw dough on a sheet of flour, and was immediately overcome with peace. I could not tell if it was the enormous amount of food I had stuffed into my body, or the inspiring submersion of an authentic cultural experience, but I was certainly in an enlightened state, unable to think or move.