Rainy, gloomy, thunderous days are the kind of days to snuggle up with your favorite blanket, light a candle, and dive into a glorious, all-consuming book. Sometimes, they're the best days to veg on the couch and watch marathons of your favorite shows while listening to the pitter-patter of the raindrops hitting your windows. Why then, amid all these comforts, would I feel irritable, moody, down and sad? The answer: I have no f**king clue.
The smell of summer rain is intoxicating. Watching the deep gray thunder clouds roll in is mesmerizing. Witnessing the changing shapes and colors in the sky is awe-inspiring. Despite my appreciation for all these aspects of stormy weather, I inevitably end up feeling like crap. It's as though the beautiful thunder clouds I'm watching end up inhabiting my mind for some inexplicable reason. I endure an uncontrollable mini depression while it rains, and I can not, for the life of me, understand it. I have the urge to cry for no reason, my thoughts become darker and more worrisome, I become way more easily annoyed with any and everything, or I simply want to hide away from the world.
The reason I know my mood directly correlates to the weather is that as soon as the sun starts shining, my outlook and being completely shift. The dark clouds in my brain disappear, and I'm almost immediately relieved and happy. I guess it's nice that my mood can brighten so quickly, but it's also kind of alarming. I detest that I am so easily and drastically affected by the weather. I shouldn't be totally miserable because of a little rain. It makes me feel so delicate and fragile that my mood is dependent upon the weather. Of course, I resort to my tool box of resources to attempt to pull myself out of my funk, but more often than not, I simply have to ride it out knowing that it'll end sooner or later.
The sh*ttiest part of this though is that winter will be here in a few short months, and that's an extended period of time during which the weather controls my mood. I realize I should live in the now and not worry about what's to happen in a few months, but I am compelled to start preparing. I wish to avoid the continuous battle I fight daily against the oppressive harshness of those winter months. I wish to avoid the feeling that I'm merely holding on, just surviving. It's not okay to feel this way. I can't live half my life simply surviving.
What is a girl to do then? I fight, fight, fight; I work out, I meditate, I write. I do all the things I know to help ease the mood fluctuations, but it's still a game of survival. I want more. I want to be able to live through these months. I want to be able to rise above the weather. Maybe I should get one of those tanning lights or sun lamps so that vitamin D can seep through my pores and hopefully elevate my mood. Anyone ever try one of those? If you have, I'd love to hear about your experience. Also, if you have any other suggestions as to how to weather the weather, I would most gratefully appreciate them!
Here's to figuratively living in the sunshine!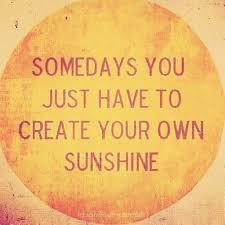 Facebook Page: https://www.facebook.com/HeadAboveWaterLifewithMoodDisorders
Blog Site: LifewithMoodDisorders.blogspot.com
Twitter: @MariaCMeow
Image: Jackicarr.com, Google Images