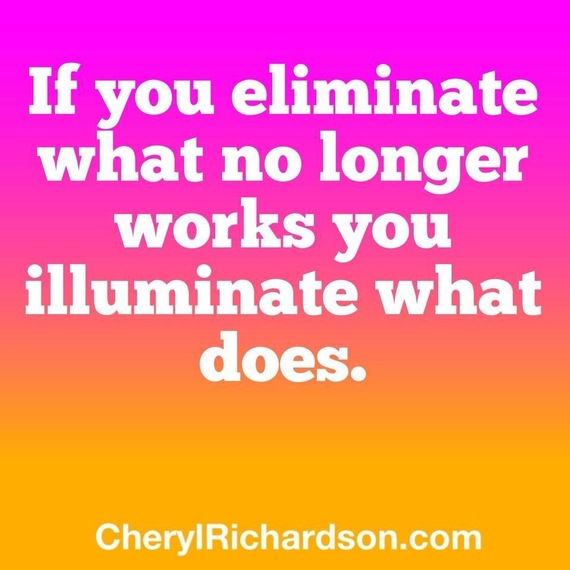 It's taken me an entire year to empty my trunk of everything from my previous teaching job. My car has been a dumping ground for bad memories this year, and Sunday, I finally received the motivation I needed to face it. Something came over me as I was driving home from running some errands; I needed to empty my car immediately of all the crap, clear it of the negativity, and start anew. This essentially became a metaphor for my life in that moment of clarity.
Yes, it's cliche, but Sunday was a day where the motto "out with the old; in with the new," became my reality. I'm moving on from my teaching full-time past and moving forward with my writing career. There is fear, yes, but there is excitement as well. I'm finally free to say what I want and be who I am. As I threw out each piece of unneeded paper or supply, it was like weight was incrementally lifted from my soul. I was being liberated physically, spiritually, and emotionally.
As I went to the garage to dump out my first box of dead weight, my favorite song, "Am I Wrong" by Nico & Vinz, came on. I heard these lyrics as I made that first jump into a fresh start:
Am I tripping for having a vision?
My prediction: I'mma be on the top of the world

Walk your walk and don't look back, always do what you decide
Don't let them control your life, that's just how I feel
Fight for yours and don't let go, don't let them compare you, no
Don't worry, you're not alone, that's just how we feel...
I took this as a sign. It flooded me with relief, hope, contentment, and the reassuring feeling that I am doing exactly what I should be doing.
Another deeply imperative aspect of this day needs to be discussed: My step-kids were helping me the entire time. They wanted my car to be spotless and fresh and worked their little behinds off to make sure it was. I didn't ask them to help; they offered and jumped in whole-heartedly. I'm always blown away by their eagerness to help me and their desire to make me smile, but this project was poignant. It made me realize that it is with them by my side that I leap into this life change. It is for them that I have become a more emotionally present step mom by shedding away the stresses of my old career. Before, when working full-time in education, my step-kids got the left-over version of me -- the battered, tired, defeated, barely-hanging-on form of me. Now, they get the full me -- the fun, energized, mentally available version, and I can assuredly say we all like this so much more. We purged the bad energy of the past with love and togetherness. They're my family, and I'm not alone in my journey to the unknown. I travel to it with lots of love and support by my side, which has given me the freedom to unleash the love inside of me abundantly.
Please feel free to like/share my Facebook Page: facebook.com/headabovewaterlifewithmooddisorders
My Blog Site: LifewithMoodDisorders.blogspot.com
Or follow me on Twitter: @MariaCMeow