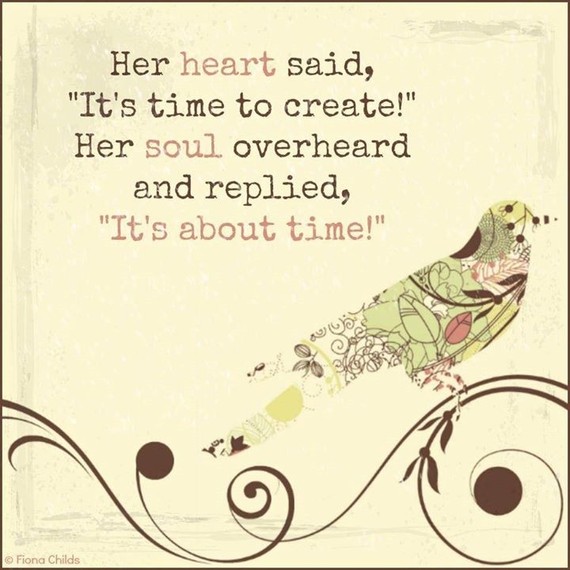 Creating, producing, making, enhancing, growing. All of these things provide pure, exuberant joy in my soul. I am completely happy when I'm using my creativity, and I am blessed and grateful to say that I'm able to do this through writing and doing hair. Utilizing my creativity has become an incredibly healthy and much-needed outlet that alleviates my anxiety and brings me peace, calm, and happiness.
It took me a really long time to realize that I'm a creative person. I grew up thinking I was merely an academic and not talented elsewhere. I believed my brother had all the talent in the family -- the kid is an amazing drummer and an uber awesome artist. I got the good grades, so I thought that was it for me. However, I had always loved doing hair and practiced on friends since middle school. I simply explored the way the hair moved and reacted to my touch; I developed a relationship with it, allowing it to tell me which direction it wanted to go. It was my art. Despite this intense love for my art and the great pleasure and relaxation it gave me, I was too scared to attend beauty school. I falsely believed it wasn't a feasible, practical option for me. I never thought it was a possibility, so I attended college aimlessly and drifted for years afterwards.
Eventually, my love for beauty took over, and I couldn't ignore my curiosity and passion any longer. They compelled me to enrolled in cosmetology school in 2006. I've been doing hair and makeup since but merely as a side job, not able to invest my time fully into it because of working full-time elsewhere for health insurance. This year, I decided to devote my time to the loves of my life intead of working a "have-to" job. Now that I have the time, I am able to do hair more, and I am obsessed with it. It doesn't feel like work. I get to transform the women I work on and create art using their beauty. The science behind color, the math behind cutting, and the art behind styling join to make the best combination to satisfy all areas of my brain and my heart. It gives me such a deep sense of elation, an inner glow that emanates from the inside out. That glow is building and manifesting into more opportunities to get my hands in more hair. The more I use my creativity, the more it grows, along with my confidence. I. LOVE. IT.
This somewhat recently discovered creativity of mine lends itself to my writing as well. I love getting my words on paper (or a computer screen). I so enjoy the craft of weaving my thoughts into articulate sentences and creating pictures with my words. Again, there's that word: creating. I am happiest when I create. It's me, my own, my rules, my time, my soul. It's pure freedom, and I've become addicted to it like a drug.
The natural high that ensues after I've written a new post or have finished a client's 'do is nearly indescribable. It is intoxicatingly joyful. I did that. I made that. I followed my own rules. I am in control of my life. I am doing what I love. I've found my heart's desires, and there's no ignoring them; they're pretty much yelling at me at this point making it impossible to turn away. Turning away would be the dumbest, worst thing I could do anyway. My path has opened up for me, and I'm going to follow it.
Facebook Page: https://www.facebook.com/HeadAboveWaterLifewithMoodDisorders
Twitter: https://twitter.com/mariacmeow
Blog Site:http://lifewithmooddisorders.blogspot.com/
Google Plus: http://Google.com/+MariaCVallejo
YouTube Channel: https://www.youtube.com/channel/UCsyTsGz2m5hoyc8YE-eGACw/feed?
Image: Fiona Childs, Facebook.com