Welp, we made it happen. Through determination, perseverance, great friends, and complete ridiculousness, I made contact with Yanni!
This past Saturday was my bachelorette party. A group of us ladies had an early bird special dinner at 2:30 in the afternoon at the local winery. Even a club of lovely, older gentlewomen had reservations that day too; it was only too fitting that we were partying with them. Alas, I digress. The afternoon was filled with hilarity, lots of wine, good food, and great company. Though I was apprehensive about having a day centered on me, I must say that the doting was quite enjoyable. I had zero responsibilities for the entire day, and it was amazing. The winery portion was phase one of the festivities; it was the pre-party for the main event: the Yanni concert.
For those of you haven't read my post, "A Letter to Yanni Who Holds the 'Keys to My Imagination,'" (http://lifewithmooddisorders.blogspot.com/2014/08/a-letter-to-yanni-who-holds-keys-to-my.html) allow me to explain to you how much going to his concert meant to me. I've loved Yanni's music since the 7th grade; I discovered its magic 20 years ago while happening upon his Acropolis concert. It changed my life and still continues to do so. It helps me profoundly in dealing with my anxiety, OCD, and depression. I love Yanni -- not in a romantic way, but in a hero-worship kind of way. I am beyond grateful to him, and I look up to him as an idol and role model.
To discover that he was coming to town three weeks before my wedding was thrilling. It almost seemed serendipitous in a way; I mean, how perfect was his timing? I didn't know if any of my friends would want to go with me, but I threw it out there as an option for my bachelorette party. I was over-the-moon excited and touched when my best friends and bridesmaids agreed not only to accompany me, but to pay for the most expensive tickets in order to get as close as possible to the stage. Prior to our ticket purchase, I had no desire to drape my body in tacky bachelorette decor. That immediately changed once I knew we were going to see Yanni. I was determined to meet him, and I figured my best chance would be to dress like the bride-to-be that I am. My maid of honor had the brilliant idea of us all wearing wigs to further increase our chances of contact.
She's a genius. She and my other bridesmaid donned the most outlandish, goofy wigs that were made of rainbow-colored tinsel. They topped them with mini, glittery, pink cowboy hats that read "Party Posse." I wore a bright purple bob wig with a tiara and veil along with a pink sash and jewelry that lit up. We looked ridiculous. My girls really took one for the team... the team being me. To my ecstatic joy and disbelief, Yanni noticed us! It worked! In the middle of his concert, he asked us what was with our hats. I stood up and told him I was getting married and proceeded to have a conversation with him! I'm still in shock this happened; it's a grand understatement that it made my night.
Apparently, he wasn't the only one who noticed. After the show, I did get to meet a couple of his band mates and his lovely, gracious daughter. She told us that everyone in the band, Yanni, and the manager were all talking about us back stage. She tried contacting her dad for us to meet him, but she couldn't get a hold of him. They were leaving for another country for their tour. She then offered to take a picture with us; how incredibly sweet is that? I will never forget her down-to-earth attitude and generosity.
I'm still floored by what happened that night. Thanks to my dear and true friends, one of my lifelong dreams came true. Because we got all wigged out, I'm still wigging out, in an elatedly giddy way.
P.S. -- Someone, to my extremely pleasant surprise, caught the conversation between Yanni and I on video and put it on YouTube! Here it is:
https://www.youtube.com/watch?feature=youtu.be&v=DCShOHf3Fa0&app=desktop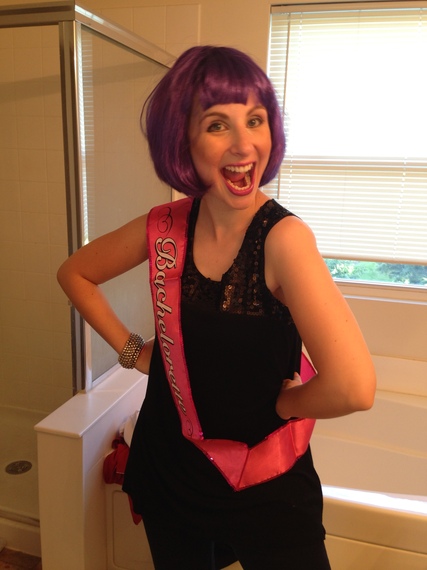 Facebook page: https://www.facebook.com/HeadAboveWaterLifewithMoodDisorders
Blog Site: LifewithMoodDisorders.blogspot.com
Twitter: @MariaCMeow