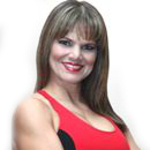 Follow the conversation on Twitter and share a photo of yourself wearing red #RedSelfie.
So it's February, and although resolutions are beginning to fade, they're still there, shining dimly in the background of your mental to-do list. The determination to get back in shape is still alive, but already unforgiving schedules, nagging colds, and less-than-optimal weather conditions have gotten in the way.
Whatever you do, don't give up... February is here to the rescue! What better time to get back on the wagon than during American Heart Month! Whether your goal is to lose weight, lower your blood pressure or simply become more active, the path is clear and, contrary to what the negative voices in our heads are saying, these goals are attainable.
I'm all for vanity as a great motivator to get healthy, but let's not lose sight of the most important goal: to live longer and stronger. Heart disease is the leading cause of death in women, even more than all cancers... combined! Obviously, excess fat is a contributing factor, and dropping a few pounds greatly improves heart health. Nevertheless, losing weight shouldn't be the only focus. After all, in case you haven't heard, strong is the new skinny! It is important to be informed and have realistic goals.
Research by the American Heart Association has shown that visceral (abdominal) fat is directly related to higher incidences of heart health issues. But before you throw yourself to the floor in a frantic attempt to do as many crunches as humanly possible, know that six-pack abs are no more healthier than those with reasonable height-to-weight ratios. The American Heart Association recommends a waist circumference that is less than 35 inches for women. However, this is relative to height. Therefore, a waist circumference that is less than half of one's height is another guideline toward procuring a healthy size, as opposed to going by the air-brushed model on the cover of your favorite magazine.
By now, we've been bombarded with every lose-weight-quick diet tip and get-flat-abs-quicker exercise routine. Fitness professionals, like myself, are forever searching for exciting exercise combinations in order to motivate our clients. But between you and me, the truth is, simple is best. Sometimes, just finding the time (and a wearable sports bra) is complicated enough.
The American Heart Association recommends at least 30-45 minutes of any exercise to achieve a healthier lifestyle. The keyword here is "any." You don't have to be drenched in sweat and feel like you're about to die in order to have accomplished a good work-out, but if you're determined, a lot can be done in just 30 minutes.
Start with a casual warm-up, jogging in place for a minute, increase to sprinting for another minute, and add jumping jacks for yet another minute. You can go back to sprinting, then jogging to bring your intensity down before stopping. Add some arm circles and leg swings for dynamic stretches while keeping your heart rate somewhat elevated.
Now that you're all warmed up, let's use your home as a gym. The bottom two steps of any stairway can be used as a "stepper" to do alternating step-ups, adding knee raises to work the quadriceps and then heel lifts to work the hamstrings and glutes. Use a dining room chair for tricep dips, and you can even sit in the chair, hold on to your seat (literally), bring your knees into your chest and extend your legs for a great abdominal workout.
Finally, take it to the floor and add some planks to the mix, going from elbows to hands to make it a little more interesting (if not entertaining) for an effective core and upper body exercise. Spend a couple of minutes at each of your homemade stations, take a one-minute water break, and repeat three times. End your at-home exercise routine by holding a few static stretches and you are good to go!
Find out more information about Health Benefits of Weight Training for Women, Abdominal Exercises that Strengthen Your Core and other heart-healthy routines by visiting Go Red For Women.
This blog post is part of a series produced by The Huffington Post and lesscancer.org, in recognition of both World Cancer Day and National Cancer Prevention Day (both Feb. 4), and in conjunction with lesscancer.org's panel oncancer in Washington that day. To see all the other posts in the series, click here. For more information about lesscancer.org, click here