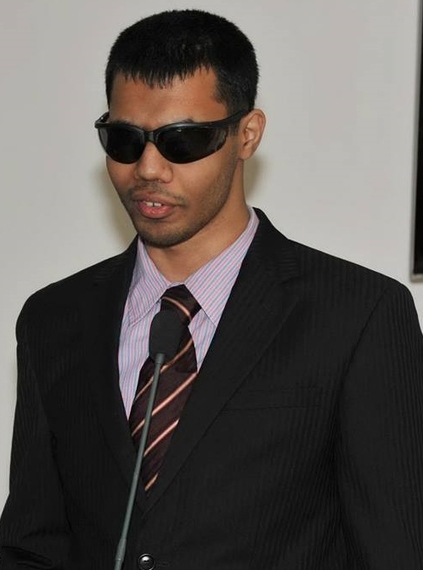 There are moments in our lives when we find ourselves at a crossroad, afraid, confused, without a roadmap. The choices we make in those moments can define the rest of our days. Of course when faced with the unknown, most of us prefer to turn around and go back. -- One Tree Hill.
Syed Naqi Haider Rizvi, has come across so many "unknowns" yet, not once has this 22-year-old ever given up on any dream of his.
I had applied to 17 universities around the world and I had only received two offers. That was very disappointing for me, and I realized that I would have to fight tooth and nail to find my place in this competitive world. I did not want my visual impairment to become an obstacle between me and my dream of becoming an engineer.

Having faced the disappointment, never did Naqi let go of any opportunity that he could get his hands on. He applied at the AlFaisal University in Saudi Arabia, which even rejected him initially.
After a lot of persuasion, proving to people my capabilities, and convincing, I finally got admitted in AlFaisal University. I made up my mind not only to become an engineer, but also to show to the world that a person who is completely blind can become an engineer. I was the only one in my batch with a physical impairment. Despite that, I topped in my batch and represented my entire batch as the student speaker in my graduation,
says Naqi, who now stands as a topper of AlFaisal University.
What made Naqi continuously motivated unlike so many others whose potentials are not realized if they suffer from any physical disabilities?
For Naqi, his mother "played an instrumental and indispensable role" in getting him to the place where he stands today -- a charismatic gentleman who stands tall with a degree in Industrial Engineering. He was incessantly reminded by his parents that "disability is not the same as inability."
Naqi reinstates the sad reality that developing countries like Pakistan have to face. Not having the right infrastructure to aid those with special needs is just one of them.
What Naqi feels is that,
more important than the physical structures is the unwillingness of people to help because not many want to go the extra mile to aid a disabled person and secondly, the skepticism associated with the disabled persons is enormous.
This gleaming gem concedes that he has to face issues in finding help everywhere.
Unfortunately help needs to be sought. People don't usually extend a helping hand on their own to help someone in need. I also faced issues in education as the system is designed primarily to fit the 'able-bodied people.' Another challenge is the stigma that is attached to people with a physical or mental impairment.
Why is there this barrier within our society which prevents the integration of those who suffer from even the slightest of the disability?
According to Naqi, the population in general needs to understand that these people want to be viewed with "empathy and not sympathy."
Naqi firmly believes that there should be no schools for the visually impaired.
For me, one of the best things my mother did was to put me in a normal school from the very beginning. The later one takes that step, the harder it becomes to transition into the 'normal' world. Schools for people with special needs should slowly be closed and people should be encouraged to study with everyone because the world we live in is not segregated.
As for Naqi, there is no stepping back. He wishes to study further and help serve humanitarian missions. Not only that, but he wants to spread colors in the lives of many others like him, just the way he was helped in his time of need.
The only way I can pay them back is to help those who require my help. I hope to change the existing status quo and to integrate the so-called 'disabled' people with the rest of the world. I would like to talk to people about us, so we can create more awareness about differently-abled persons.
Apart from being brilliant academically, Naqi also is an excellent rhetoric and plays the piano as well.
This young, energetic engineer wants people who have special needs
to continue to fight for their rights and to persevere as only hard-work, dedication and commitment can get them where they want to be. I want them not to relent to pressure as the world is full of people who discourage and shun others.
And opposition as Naqi puts it, should be used as " a propelling force as kites fly against the wind."