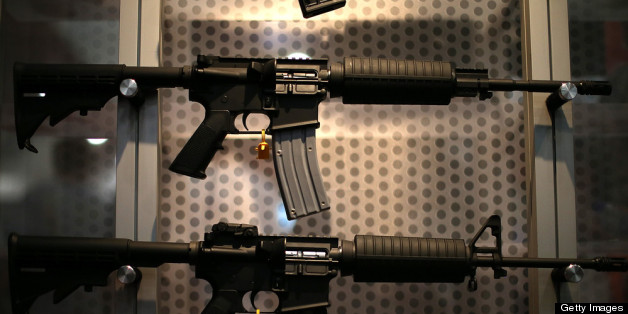 My name is Nardyne Jefferies; my only child, Brishell Jones, was murdered on March 30th, 2010, by a gun.

She sent me an email; she'd made reservations ... for Mother's Day. And I never got my Mother's Day dinner with my daughter. And it's just hard, because all the special moments that we shared, you know -- I can't make any more memories with Brishell. And I just miss everything about her ... And time really doesn't make it any easier -- I feel like it just really hurts just as much for me three years and some months later as it did then, because you think about what could have been, and what was supposed to have been, and what should have been.

Enough is enough. I don't know how much more bloodshed has to be spilled on these streets ... We have to come together. This definitely is not a Black thing, it's not a White thing, it's not a gang thing, it's not an inner-city thing. This is a human thing. And too many humans are losing their lives to gun violence.
This Mother's Day, Nardyne Jefferies is one of the Children's Defense Fund (CDF)'s "Faces of Courage." They are part of a club no mother ever wants to join. Most, like Nardyne, have lost children to gun violence. Nardyne's beautiful daughter Brishell was only 16 when she was killed by bullets from an AK-47 in a drive-by shooting. Others have had spouses or other family members killed or injured by guns or been victims of gun violence themselves and have struggled to help their families deal with the trauma gun violence leaves behind. All of these mothers whose lives have been shattered by gun violence are sharing their stories in a series of videos developed by CDF and Moms Demand Action for Gun Sense in America as part of a Mother's Day campaign. The campaign is focused on honoring gun violence victims and their families -- and taking action so fewer mothers who are celebrating Mother's Day this weekend will be mourning their own children next year and in years to come. Every year 2,694 children and teens are killed by guns -- one child or teen every three hours and 15 minutes.
As part of the campaign, Moms Demand Action has created a Mother's Bill of Rights. It reads:
We, as mothers, have the absolute right to protect our children from harm. We have the right to know our children are safe from gun violence, from the moment they leave our arms in the morning until they return home later in the day. But the rights of American mothers are under attack by criminals, the gun lobby, and legislators who are unable to stand up for common-sense gun reforms. The right of mothers to protect our children SHALL NOT BE INFRINGED.

As mothers, we have the right to...

Expect that assault weapons will remain in the hands of our military, not civilians.
Preserve our children's innocence and shield them from gun violence in America, real and scripted.
Demand that all public places remain "gun-free zones," except private homes and shooting ranges.
Know our children are safe in their schools: any school, anywhere.
Expect our teachers to be focused on teaching our children, not training to become armed guards.
Demand that our government create the same strong regulations for guns as they have for toys, cars and food.
Expect our leaders to put our children's safety above the profit and influence of the gun industry.
Have access to complete, accurate information about the impact of gun violence on our families and communities.
Hold our elected officials accountable for keeping our children safe from gun violence.
Mothers who support these principles are encouraged to create paper flowers -- on behalf of the children shot and killed every day in America -- to be delivered to Members of Congress electronically and in person with a copy of the Mother's Bill of Rights and the message "You can have our flowers this Mother's Day; give us our rights." The Brady Campaign to Prevent Gun Violence and its Million Mom March and Brady Chapters; Women's Donor Network; MomsRising; and Voices Against Violence have also joined in on a Mother's Day Week of Action asking Americans, especially mothers, to make their voices heard with their elected officials in support of common sense gun reforms. Join them by calling your senators and representative today and urging them to support universal background checks and a ban on assault weapons and high capacity magazines. Urge them to honor mothers on Mother's Day by protecting children, not guns.
Sarah Brady is another of the campaign's "Faces of Courage." She founded the Brady Campaign to Prevent Gun Violence after her husband Jim was shot in the head during the 1981 attempted assassination of President Ronald Reagan. At the time their son was five years old. Now for more than 20 years her courage and advocacy for common sense gun laws have inspired moms across America. As she says in her video: "Please join me in speaking out. And by speaking out, I mean now. I mean getting your friends and your neighbors to speak out, and to keep speaking out. You have to have perseverance. This is the right thing to do. And right eventually will win."