It's the first of November! That means cooler weather, reminders to turn your clocks backwards and the end of the election campaigns. It also means that the winter holiday season is upon us.
The holidays hit us all differently. There are so many emotions running rampant: excitement, cheer, faith, nostalgia, gratitude, anxiety and even frustration. Those feelings are contagious. As we know, our moods can be the gift that keeps on giving to those around us during the holiday season.
What feelings are you passing on this holiday season? How about strength? Peace? Comfort? Harmony? Joy?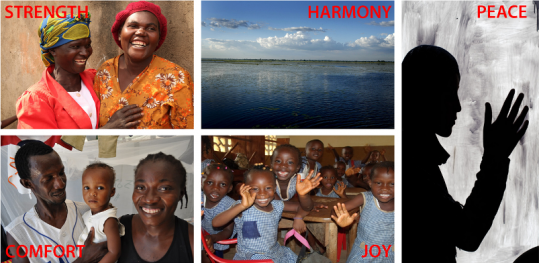 Fortunately for you, regardless of how you feel, the Huffington Post has you covered with uplifting content that is sure to drown out any stress this holiday season. Today, the Huffington Post is launching a full series to promote the first ever #GivingTuesday. And ActionAid USA, through partnership with InterAction, is very excited to be a part of it.
Unlike Black Friday and CyberMonday which focus on shopping, #GivingTuesday celebrates spreading holiday cheer by giving to others. The day, marked as the Tuesday after Thanksgiving, symbolizes a return to original spirit of the holiday season and suggests a focus on what is really important in our lives. For us, at ActionAid, the day is an opportunity to connect with feelings that may have gotten lost in the materialism of the modern holiday season or subdued in the frustration that comes with holiday stress.
At ActionAid, we know the uplifting power of giving, because we have experienced it each day over the last 40 years protecting the rights of people living in poverty around the world. Those in poverty give us the gift of courage and optimism, and we try to give, in turn, capacity to build a safer, healthier and more just world for all of us. As a result, we have a lot to be thankful when we celebrate Thanksgiving in three weeks.
Forty years ago, ActionAid started small, by supporting 88 children to go to school in India and Kenya. Today, ActionAid, headquartered in South Africa, works with 5,000 communities in 43 countries, changing lives at a local, national and international level. We reach more than 15 million people around the world each year in Africa, Asia, the Americas and Europe, protecting the rights of the world's most excluded people. It is an amazing accomplishment, and we did it with the help of generous people who committed to spread their own personal cheer to help the lives of others.
After 40 years of progress at ActionAid, we feel strong. We feel at peace. We have a sense of comfort, harmony and joy. It is through the power of service and giving that we share these sentiments. We want you and loved ones to feel the same. That's why we're offering you the opportunity to spread the spirit by reducing global hunger, empowering women, protecting ourplanet, preventing violence against women and girls, building resilient communities, providing life-saving aid in times of disaster and offering a brighter future for children living in poverty. Find out how.
This year, rather than give your family and friends more sweaters or electronic gadgets, consider a gift that is both meaningful and life changing. Instead, give them something they will feel good about forever. Here are some ideas:
###
This blog is part of our #GivingTuesday series, produced by The Huffington Post and the teams at InterAction, 92nd Street Y, United Nations Foundation, and others. Following Black Friday and Cyber Monday, #GivingTuesday -- which takes place for the first time on Tuesday, November 27 -- is a movement intended to open the holiday season on a philanthropic note. Go to www.givingtuesday.org to learn more and get involved.