"Bordeaux varietal." You hear that phrase a lot out in Napa. And if, like me, you aren't completely comfortable with the lingo, you might get a little intimidated each time some wine connoisseur mentions something about a "bordeaux varietal."
The Bordeaux varietal isn't all that intimidating, though. It simply means a wine made in the Bordeaux style -- why are we always copying the French, I wonder -- outside of France. It's a blend of some or all of the following grapes: Cabernet Sauvignon, Merlot, Cabernet Franc, Malbec, and Petit Verdot. Desperate to understand the concept of the Bordeaux, I opted into a Blending Seminar at the stately Franciscan. There we would aim to replicate their headline Bordeaux blend: Magnificat.
Franciscan was founded in 1972 and owns 240 acres of land in Napa's Oakville District. Agustin Huneeus, creator of Chilean brand Concha y Toro, took over the reigns in 1985, and was instrumental in the creation of Meritage wines, a designation under which the Magnificat I was about to blend falls. Varietal blends, like cabernet sauvignon and merlot, have 75 percent or more of the grape for which it is named as a base. Meritage blends don't have specific grape percentages. Rather than call such blends something as lowly as "red table wines," Huneeus, joined by Robert Mondavi and Joseph Phelps hit the road to campaign for a more commercial umbrella. After a national contest, "Meritage" wines were born.
Helping to educate the everyday wine aficionado, the Blending Seminar explains the differences between the five varieties of grapes. Unique in color, aroma, flavor, body, and finish, each contributes individual characteristics to any good red blend. Cabernet Sauvignon has intense aromatics and tannins, while Merlot is more fruity and rounded. Cabernet Franc is lighter, and more herbal, while Malbec is dark in color, and offers a smooth mid-palate. Petit Verdot, fairly uncommon on its own, provides structure. Well, that's what Nolan, my Franciscan wine educator told us.
Let me set the scene. Around a large, wooden table we sat. Five glasses, each containing one varietal, sat in front of us. One glass of '06 Magnificat overshadowed one empty glass. In this we would blend our own wine. Using a pipette, or what looked like an anorexic turkey baster, we slowly tweaked our blend. Nolan explained that most Meritage blends were comprised of a 90 percent Cab and Merlot base; using the other three wines, we could play with percentages for the ultimate blend.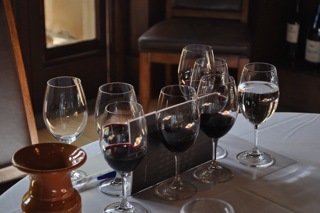 After individually sampling all five grapes, we began our science experiment. And, it's a very good thing I'm not a winemaker. How quickly I had forgotten about the 90 percent Cab and Merlot base Nolan advised, so my base of those two grapes hovered around 66 percent. A poor start, to be sure. I added 26 percent Malbec -- my favorite varietal outside of this particular seminar -- 6 percent Cabernet Franc, and 3 percent of Petit Verdot. Basically, I made poison. I couldn't even drink what I had created. Competitive to my core, I was disappointed in my wine. The others in my group fared better, though nobody was completely satisfied. Then, we tasted the Magnificat. Aaaah...now that was a wine. What newfound respect I had for my winemaking friends. I would cherish each new sip of red that passed my lips, for I knew I was in for a lifetime of remembering my own poisonous Meritage.
A very fun and a wholly different way to learn about wines, and develop an appreciation for those elusive Bordeaux varietals, I highly suggest a trip to Franciscan for the Blending Seminar. But in future, I'll leave the blending to the pros.
First-Time Insider's Tip:
The 2006 Napa Valley Cabernet Sauvignon ($28) was a wonderful compliment to our Italian meal that evening. This year's Magnificat can be purchased on the Franciscan website.
Franciscan Winery
1178 Galleron Road at Highway 29
St. Helena, CA 94574
www.franciscan.com
Franciscan is open daily from 10 AM - 5PM. Tastings begin at $15.
Mastering Magnificat: The Art of the Blend is offered daily, by appointment. $40.