Just as we thought that, at long last, we'd finally stuck a Forks in it, a calculating, middle-aged gal named Erika Leonard, that's E. L. James to you and me, took on the quaint British device of nom de plume initials -- à la C. S. Lewis, J. R. R. Tolkien and J. K. Rowling -- to become the U.K.'s bestselling author ever, making, as best I've been able to discover, an estimated $1.34 million a week from Fifty Shades of Gray. And that was back in June.

As shameless as Fifty Shades' rather more colorful protagonists, you might say. It was initially self-published as an ebook, posted openly online as Twilight fan fiction, became a massive viral hit, and was acquired by the Vintage Books unit of Random House in March 2012. Combined print and digital revenues totaled more than $250 million in revenue for the publisher. That was also as of last June. Current figures are almost impossible to come by, I found. The thing just keeps moving that fast.
And that's just the book trilogy, print and digital. We're not counting the piano tribute to 50 Shades of Grey and the rest of the instagenre at iTunes, or the inevitable fast-tracked trilogy of movies showcasing the presently-unknowns with whose faces, InStyle poses, $25 million salaries and fashion foibles we can look forward to being saturated for at least the next seven to nine years. There's an instant industry including, but not limited to, tote bags, cookbooks, T-shirts, water bottles, masks, objects heretofore known only to law enforcement, toilet paper, do-it-yourself nondisclosure agreements guaranteeing you a Fifty Shades, er, arrangement, and onesies proclaiming "I'm The Result of My Mommy Reading Fifty Shades of Grey." For example.
Oh, and grey ties. Well yeah.
"From an early age I had always dreamt of writing stories that readers would fall in love with," says Fifty Shades' author bio.
Okay. Dear aspiring authors: Forget Gabriel García Márquez, F. Scott Fitzgerald and Winnie-the-Pooh. Forget Publishers Marketplace, Writers Digest and C-SPAN's Book TV. Forget Michiko Kakutani, The New Yorker, the Writers' Workshop at the University of Iowa, and all the rest of it. Here's a no-fail trajectory for our Twitter age, you hopeless romantics, you.
Phase One: Hook gradeschoolers and enthralled parents with kiddie crack cocaine of wizards, wizard schools, magic, issues of good and evil, and parenting (and irrelevancy of). License globally. Fast-track films. Keep sequels coming until child stars and audience bump into hormones. Leave audience frantic. Perpetuate in DVD, HD, Blu-Ray, 3D, and boxed sets.
Phase Two: Recast cracking-voiced wizard and erudite budding heroine as definitely really thinking-about-it, sullen, tormented good human/humanoid versus evil/underworld/ supernatural mashup. License globally. Fast-track films. Keep sequels coming. Leave audience frantic. Perpetuate in DVD, HD, Blu-Ray, 3D, and boxed sets.
Phase Three: In the guise of harmless -- indeed, therapeutic -- lifestyle trending, recast vampire and sullen former virgin as bored billionaire and implausibly naïve, self-loathing young woman. Deploying all available technologies, create viral tsunami aimed, thanks to Breaking Dawn -- Part 2, at the now-mommified with particular targeting on the Upper East Side and newer tracts at the perimeter of local cineplexes. Launch blitz of Author interviews on female-centric, coffee-break-hour stripsearches where the likes of Savannah Guthrie, Matt Lauer and Barbara Walters normalize kink with mock outrage, as slouched Author protests she has no idea what all the fuss is about. License globally. Keep audience frantic. Fast-track films. Keep sequels coming. Perpetuate in DVD, HD, Blu-Ray, 3D and boxed sets.
I just saw a headline that some high schoolers were arrested for using smartphones to shoot and sell pornographic videos of themselves because, like our finest YouTube stars, they want to be rich and famous, like, now, and don't care how. The parents are in no position to moralize. These teens are themselves byproducts who'll be buying By-Product of Fifty Shades bibs for their own.
Cute.
This whole thing makes me queasy. But still, the very idea of a million bucks a week--

Green has fifty shades, too.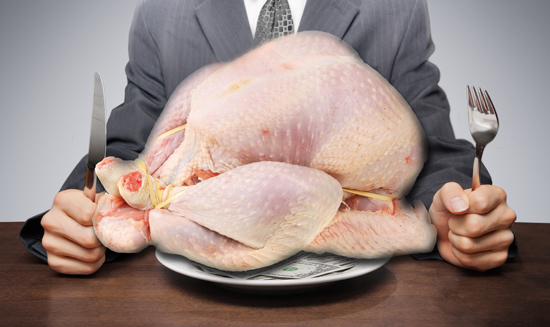 Photo illustration ©2013 Marie Woolf.