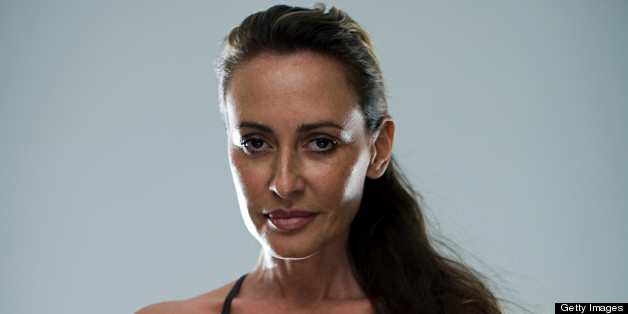 The first words out of my mouth, on introduction: "Yes, I am a refugee from the Island of Misfit Toys."
You remember, that dear little Rankin-Bass Christmas classic, Rudolph the Red-Nosed Reindeer -- where poor Rudolph and his friend, the elf dentist, run away from a conformist North Pole and land on the sad shore of forgotten dolls, planes that can't fly, and other flawed playthings just waiting for a child to love them?
This occurred about four years ago, in a family-centric situation where a woman's proven ability to breed, however accidentally, unequivocally trumps a woman's commitment to mothering. Notice I didn't say, "a woman's right to choose." That has nothing to do with it. I say this as a woman with 22 first cousins -- and that's just on my dad's side -- who never opted out of pregnancy. It simply wasn't in the cards.
As a woman of business without perfect control over my calendar, biological or otherwise, I confirm that the lowest depth of misery isn't going without baby showers, the prospect of grandkids or suffering relentless family-centric marketing.
It's finding myself trapped, at a table for one, on the sunny outdoor terrace of a five-star hotel, enduring the quizzical, sympathetic glances of tables for eight or 10 in which a prolific queen is accepting America's great secular religion of repeated lifts of champagne goblets, odes to sacrifice and endurance, piles of presents and roses, roses, roses. One such Mother's Day, a great-looking, silvering son of such a table hesitated as the clan finally began to leave and, from 40 feet away, smiled and gave me a military salute.
Well, you know? The brave one, just showing up there on Mother's Day, solo.
A close second to this is the clueless party patter. "How old are you? Forty? Well, it's not too late."
Or the young Latino guy behind the service counter, trying on a smooth flirt: "What, no babies? What a waste of DNA! Seriously!"
I've been tempted to calmly reposte with this Oscar-winning barb: "I desperately wanted to, but I had a full hysterectomy at 17 due to cancer," just for the pleasure of sticking my little untruth of a needle into this crassest of social faux-pas, and watching the hot air hiss out.
Every family has one, and I'm it. The Different One. It, as in some kind of sick game of DNA Tag where people with kids run for cover. It's assumed I don't get it. Can't possibly understand. Must be one of those leaning-in barracudas every mother warns her son about, an overcompensating estrogen-dominant. Hey, wasn't I a child once? Women with families love to say, "How wonderful. I admire you so much -- so high-powered and successful in the business world." The expression says: "But not with MY husband."
It's enough to have the bad hand of being born in late January in the first place. Everybody is broke and depressed, coming off the six week Christmas holidays. All year long, you've waited your turn to be fêted. The weather is bleak or indifferent. You'd host a little gathering to ensure a turnout, but local restaurants go dark for an annual recuperation in the slowest month of the year. Besides, didn't you just get presents a month ago? Nevertheless, since I'm gypped out of Mother's Day it is, by default, My Day, known around here as MFest -- with a grace period for all offerings of 364 days either direction.
I found reason to be actually excited about MFest in 2013 -- I mean, talk about a cool convergence, just for me -- a three-day federal holiday, parades, motorcades, flags flying, black-tie parties into the night, big shots and potentates and, incidentally, having the president show up as well! I selflessly pooh-pooh'ed any presents, asking instead for a wonderful dinner for two at home. The day before MFest 2013, my husband wrenched his back trying to pull a sweater over a flannel shirt and was laid up for almost six weeks, house calls from our chiropractor and all.
No question the gods had it right. Who needs babies? I can only take so much selflessness, you know?