How much can we take?
Is our snapping point forgoing Whole Foods for food storage? Trying to explain to your kids why there won't be a Christmas tree again this year? Or, perhaps, discovering what "the future" might imply when the true-believing parents, who sacrificed to help you work your way to your college degree, are being laid off in their fifties?
Faced with situations shared by thousands, or even millions, why are some people able to rise above, while others simply go under?
Unbroken: A World War II Story of Survival, Resilience, and Redemption by Laura Hillenbrand, author of the bestseller Seabiscuit (Random House, 2010, 496 pages), is the true story of how a Depression-era son of Italian-American immigrants, Louis Zamperini, channelled his youthful troubles with the law into becoming a track champion, culminating in the 1936 Berlin Olympics, where he placed seventh in his event. Zamperini was preparing for the 1940 Olympics when World War II broke out.
Louie became a bombardier in the war with Japan. Shot down over the South Pacific, attitude, you might say, saved the hell-raising Zamperini, who irresponsibly ripped the Nazi flag off the face of the Reich Chancellery and lived to keep the flag as an Olympic souvenir. He and pilot Russell Allen Phillips, sole survivors of their crashed B-24 Liberator, survived for 47 days on raw albatross and fish and rainwater in a flimsy rubber raft, beating off incessantly circling and attacking sharks even as, at one point, a strafing Japanese plane riddled the tiny raft with bullets.
With the raft disintegrating in the blistering sun and salt water, the men worked to save one another's sanity wit conversation, for a time tricking their bodies with artificial nourishment by elaborately describing favorite meals to each other. Riding out a typhoon after eight days without water, they spotted what was not, after all, land but a Japanese ship, which immediately dragged them aboard and landed them a few days later on an infamous Japanese-occupied atoll nicknamed "Execution Island." They had drifted two thousand miles.
From there, things went downhill.
If attitude is more than the will to win, survival is more than the will to live. Louis has the ability to have kept not just his generosity but his sense of humor, not just in giving his own rations and water to his fellow survivors but through year after year of beatings and torture as a captive in a series of prison camps, at the hands of a Japanese military on the losing side of war.
He returned from the war to his family in Torrance, Calif., in 1945, marrying a dazzling and devoted blonde, Cynthia, in 1946. In ensuing years, Louis grappled with post-traumatic stress syndrome (PTSD), alcoholism and a near-miss with divorce before his wife persuaded him to attend a program led by the Rev. Billy Graham. He became a dedicated Christian, and along with bearing the Olympic torch as a runner in the Olympics well into his eighties, Louis Zamperini has held his own crowds captive, you might say, most recently in a Rancho Santa Fe church this past February.
Hitler, whom the insouciant Zamperini met in person in Berlin, "looked like a comedian... If he had come to Hollywood, Stan and Laurel (Hardy) would have been out of a job."
He describes a Japanese officer who, when prisoner of war Zamperini walked into a room, claimed that he, like the prisoner, was a USC graduate. "He was the most obnoxious one," Louie said. "I couldn't believe he was a Trojan... he had to be a third-year transfer from UCLA."
If his audience isn't laughing, we're crying. As with all great stories and all books, however, it's what stays with us when we close the cover. I am indelibly inspired by a living, Unbroken example that it isn't a question of how much we can take but rather, that we can do anything -- and everything is possible.
According to local reporting of the recent event, when asked if he could change anything in his life Louie looked up and said firmly: "Though God has blessed me ... I am just an average Christian. God has used my life, but I never knew why." Until Laura Hillenbrand, who only met Louie once in the seven years of her writing, produced Unbroken.
If anyone can survive Angelina Jolie's direction, after her turgid debut writing/directing project, In The Land of Blood And Honey, grossed $303,877, Louis can.
Louis Zamperini's plane was shot down seventy years ago, on May 27, 1943.
He is 96 years old.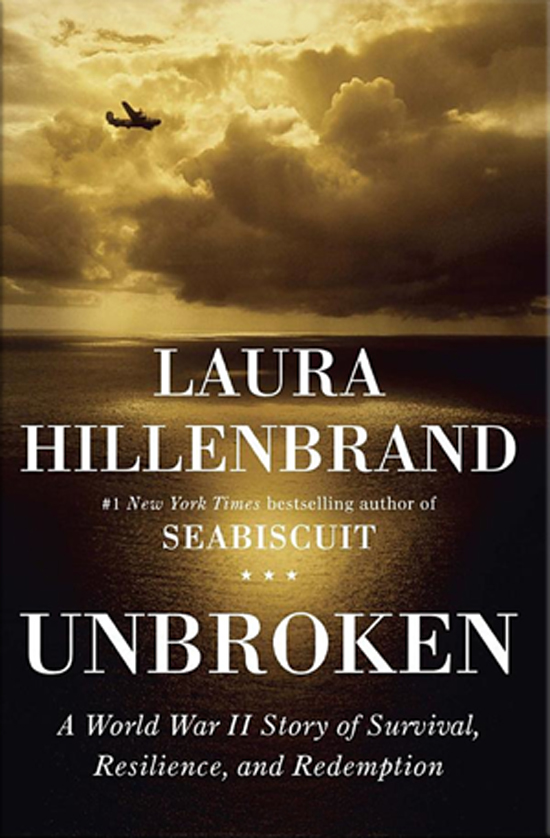 Image of front cover, Unbroken by Laura Hillenbrand, ©2013 Marie Woolf.