The Egyptian Revolution is not over. In many ways, it has just begun. As Egypt begins its difficult rebirth, reshaping and recreating itself into a New Egypt, an ideal expounded in the tents still crowded together in Tahrir, the country is fighting against the vestiges of power that fear change.
And they are many. Even after the fall of President Hosni Mubarak last February, those who had taken to the streets were only cautiously optimistic.
"The head is gone but the body is still there, kicking and punching" said Shima'a al-Haider, a young biotechnology student and activist who went to Tahrir Square the first day. Like many others, she was worried that changing the faces, and not the system itself, was not a real revolution.
Shima'a, like many young Egyptians, became a revolutionary after January 25, propelled from a virtual world of online activism into real world street protests by the success of the Tunisian revolution.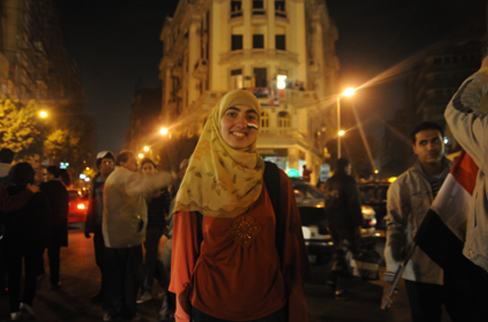 Shimaa al-Haider after the Fall of Mubarak, February 2011 (Photo by Micah Garen/Four Corners Media)
Egyptian women played a critical role in revolution. They were on the frontlines facing the brutality of thugs and police, they filled the tent city of Tahrir and through their voices -- amplified on blogs, in tweets and in interviews -- they became a strong force for the revolution.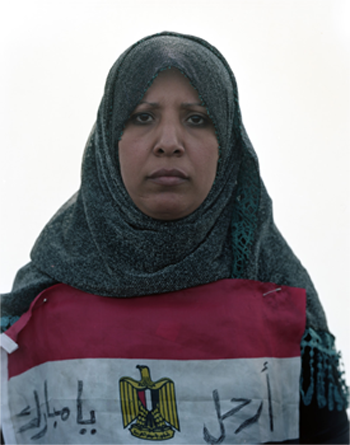 Female Protestor in Tahrir Square, February 2011 (Photo by Micah Garen/Four Corners Media)
We went to Egypt to document the revolution, sleeping in Tahrir with the protestors during the height of the clashing in February. We met incredibly dedicated visionaries who created a leaderless democracy in the protected perimeter of Tahrir Square -- a "utopian vision of what Egypt could be", in the words of many protestors.
After publishing a series of large format photographs of wounded protesters in Vanity Fair -- Faces of the Facebook Revolution -- and doing a short documentary for Granta Magazine -- Four Women One Revolution
-- we are now working on a feature documentary film called If that follows four young women from the Revolution's beginnings in Tahrir through the upcoming elections scheduled for the Fall.
Events are moving quickly in Egypt. Protestors have again occupied Tahrir Square after July 8. Several dozen hunger strikers are demanding changes to the military leadership, and civilian rights that have yet to be granted. Many protesters are being arrested and subjected to closed military tribunals, and some given long jail terms. The harassment of foreign journalists is also continuing, including the recent arrest of four reporters in Suez.
We recently spoke on the phone with Shima'a, one of the subjects of our film who is leading protests to the Ministry of Defense to hold the SCAF accountable and pressure them to hold trails for those responsible for the over 900 deaths during the revolution.
Below is a minute and a half audio file of the conversation that gives you a sense of how things are dynamically changing in Egypt today.
Among those pushing for change is Mona Seif, another character in our film and a young cancer researcher and longtime political activist who also went to Tahrir on the first day of protests. She began tweeting to an ever-growing international audience of thousands of followers.
Her cell phone became a weapon in the revolution. It continues to be her tool as she fights ongoing military trials of protestors, many held without charge, due process or fair representation. While the Army officially denies this, Mona is publically documenting these cases and is a member of the organization "No to Military Trials of Civilians".
As the world's attention shifts away from Egypt, so too does an understanding of the important role that women played in the Arab Spring. One slogan they hold forth is: "It's not over yet".
In the spirit of the "leaderless" revolution of Egypt, we have launched a Kickstarter campaign to crowdsource support and funds to finish this film. We have a deadline of August 3 on Kickstarter to raise the funds.
Click here to learn more about our film.
If is the coming-of-age story of four young women during the Egyptian revolution. Shimaa, the lead character we followed during the revolution, is in many ways a typical young woman, but with an exceptionally informed and unique voice. Shimaa is an avid reader of literature. She identifies with Holden Caulfield and discusses the contemporary political implications of Orwell's 1984. She blogs about politics, philosophy and biotechnology, her major at university. Her world is forever changed on January 25, 2011. Defying her parents, she is one of the first to head to Tahrir Square. Her alienation gives way to activism -- Holden Caulfield in 1968.
Our second character is Mona, an active blogger, whose mother is a prominent human rights activist. Mona becomes a tweeter extraordinaire. She is involved in the early planning of the revolution; as the movement progresses, her Twitter following grows to 10,000; through her Blackberry, her voice reaches the world.
The third character is Sarah, a curator of contemporary art at the Townhouse Gallery in Cairo. Used to viewing the world through the meta-lens of post-modern art, she too is quickly caught up in the revolution. When her friends are trapped in Tahrir Square without Internet access she starts to disseminate information to journalists through Twitter. Sarah moves from a world of ideas to a world of concrete action.
The fourth character is Nora, a young Egyptian woman who was getting her Masters degree in Brussels when the revolution started. She immediately heads back to Egypt with a job at the International Federation of Journalists. As she describes it, her role there "is to make sure that you don't go missing."
These four characters are representative of both the discontent that led to the revolution and the incredible optimism and activism that propelled it. The film is a nuanced story of four personal journeys interwoven, and also a portrait of the revolution. The Arab Spring continues to unfold with these four characters playing an ongoing role. They represent a dynamic, young, cross-section of the people who changed Egyptian society, and the future of the Arab world. Through them we will explore how they changed their world, and how the revolution changed them.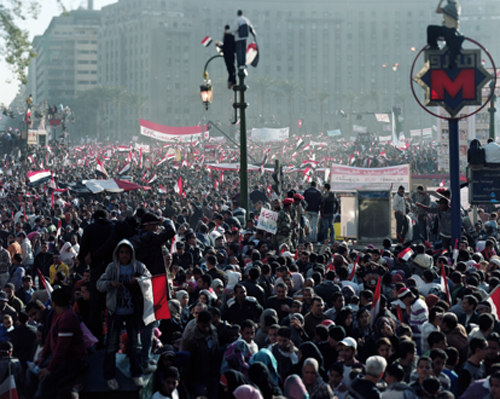 Tahrir Square one week after the fall of Mubarak, February 2011 (Photo by Micah Garen/Four Corners Media)