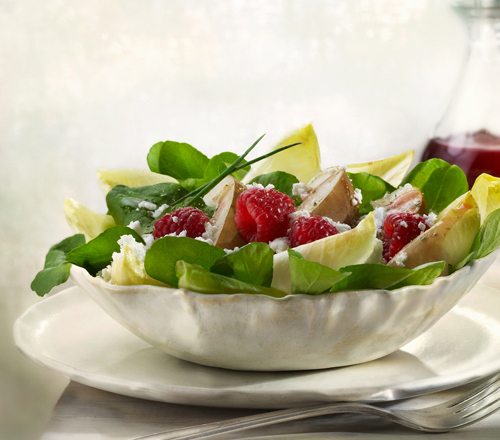 Photo by David Bishop, dbishop.net
One of my all-time favorite combinations of fruit for a salad is pear with raspberries. I like to use Bosc pears because of their sweetness and crunchy texture. Raspberries are a perfect foil with their sweet tartness and smooth and juicy mouth feel. I like to augment these beauties with goat cheese because of its creamy body and savory tartness.
When you add the ensemble to a combination of satiny acerbic endive and velvety piquant watercress you have perfect balance in flavor, color and texture. The Honey Raspberry Vinaigrette finishes the mating in a harmonious blend.
My grandmother on my father's side introduced me to watercress when she used to take me to lunch as a child. Her sole company was such a treat for me. She had some fairly sophisticated ideas about food for that time in small town America. She made her own granola to have with yogurt for breakfast. That sounds normal now but not in the 1960s for a woman who was in her mid 60's and not a hippie. She was a flapper in the twenties. She had the greatest laugh, sweetest smile, and the sunniest disposition I have ever known. I think of her whenever I see watercress.
It used to be that unless you harvested your own watercress from ponds or streams, it was available year round in grocery store produce departments a little beaten up from the packaging and shipping process. They wrapped it in rubber bands thereby bruising the fragile tender leaves. You can find it in nearly pristine shape in farmer's markets when it is season. There is another type of cress called Upland Watercress now available in a growing number of grocery stores carefully packaged and shipped with the roots still on it. It stays perfectly fresh until you use it because it is still alive. I was so excited the first time I saw it. It tastes so much like watercress that I didn't realize it was a different kind of cress until I researched it further.
So without further ado I present my recipe for Pear & Raspberry, Endive &
Cress, Goat Cheese Salad.
Salad Ingredients: makes 4-6 servings
2 heads of Belgian endive
1 bunch of Upland Cress
1 Bosc pear
6 oz. of ripe, firm, plump red raspberries
4 oz. of fresh crumbly goat cheese
Chives for garnish, optional
Flake Sea salt to taste
Freshly ground black, white or green pepper to taste (I like the green for this)
Raspberry vinegar for coating the pears so they don't turn brown
Directions:
Wash and dry the lettuces, separating the endive leaves gently from the head
Arrange the leaves in individual bowls or plates
Slice the pear in half
With a 1" melon baller, core the seeds in one clean motion making a circular hole
Slice the pear lengthwise into slim slices
Lightly brush each side of the pear wedges with vinegar
Arrange the pears and raspberries onto the lettuces
Crumble the goat cheese over each salad
Garnish with chives if desired
Liberally sprinkle with sea salt and freshly ground pepper
Serve with Honey Raspberry Vinaigrette
Honey Raspberry Vinaigrette
Ingredients:
1/2 cup Walnut oil
1/4 cup Raspberry Vinegar
1/8 cup of honey
A tiny sprinkle of sea salt and pepper to taste
In a saucepan, boil all of the ingredients together while whisking. Let the mixture chill before serving.
Enjoy this beautiful and delicious salad for lunch, snacks or dinner. Also visit my professional website at marilinda.com and my first blog at foodfloozie.com.