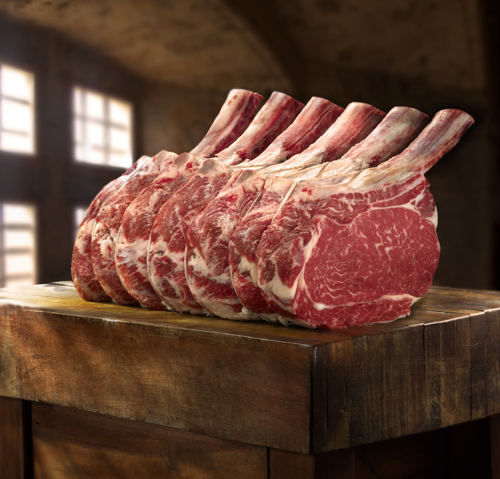 Photo by David Bishop
When I was growing up we moved around a lot in the early years, due to my dad's occupation. We often lived in tiny towns on the southern coast of New Jersey. There was an annual tradition in one town for a summer dinner at the fire house. The whole town turned out for the occasion. They always served prime rib roast and all of the trimmings. You could get it at any doneness you liked, as long as you signed up ahead of time. Prime rib made everyone so happy. When I think of prime rib, it always reminds me of that period of my life -- a very happy time indeed.
I recently was asked to food style a raw standing prime rib roast for a photo shoot in Manhattan. I did some research on price and order time, and also to find out more about the intricacies of the said roast beast -- its marbling, bone, meat and fat patterns. I tried a few places for comparison. My final choice was the old-time residents of New York favorite Ottomanelli & Sons Meat Market on Bleecker Street in Greenwich Village.
Frank, one of the two brother owners of this location, out of a long line of Ottomanelli Meat Markets, Restaurants and Cafes, was most helpful and accommodating, in every way, with my rib roast order for the next morning. Their meats are all grass fed, locally grown, and humanly harvested, as they have always been.
The purpose of the photo shoot for the raw roast was to show off this classic, primal cut of meat in all of its majestic glory. Seldom do we find this grand roast on menus or at dinner parties these days. The tenderness and flavor of the meat is unparalleled. The photographer chose the cathedral-style background and old butchers cutting board surface to illustrate the noble yet historic nature of the cut, its enduring quality.
It dawned on me how those many years ago that the royal roast brought the whole small town of simple people out to enjoy food that made them so happy. It is not just royal, it is elementary. It is the pleasure of really good food that makes people happy and makes them come together. I had even noticed it at a very young age.
The nature of this cut of beef, which makes it so succulent, is the fat content through the marbling of the flesh. Rib eye is known to be the most tasty cut of meat, whether in a roast or a steak. I often talk of how red meat may not be the best choice for frequent consumption in a healthy diet, but I do enjoy a great cut of beef occasionally. When it is grass-fed, locally produced, and humanely delivered, It is amazing.
Please enjoy it as a treasure of our great country's offerings from the small local farmers that endeavor to produce the best that can be had. They give of their lives in their heartfelt mission to make our lives better through their products.
Also visit my first blog at foodfloozie.com and my professional website at marilinda.com