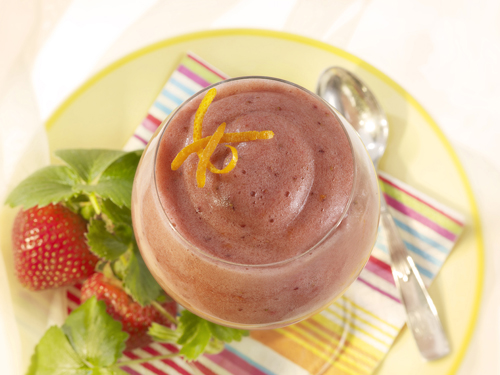 Strawberry "Creme-cicle" Mousse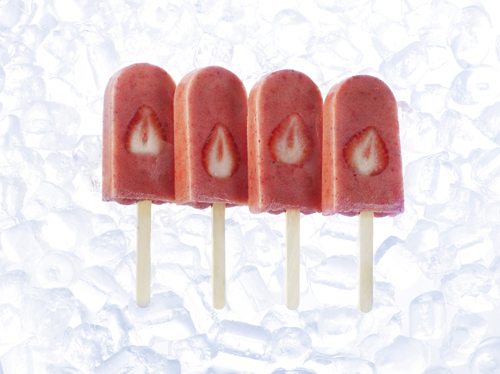 Strawberry Mousse Pops
Photos by David Bishop
See David's link at dbishop.net
Having never been a calorie counter before now, I am intrigued by a diet trend that seems to work well for so many people. I've begun keeping track of calories by way of designing tasty and satisfying recipes that are indulgent while sporting surprisingly low calorie counts and using fresh wholesome ingredients. The two forms of strawberry treats pictured here are made from the same recipe with two textural and temperature variations.
The one cup refrigerator mousse has 32 calories and the "Popscicle" snack has 16 calories. By volume and weight the frozen treat is half that of the dished dessert. A recipe makes 4 custard cups of mousse dessert or 8 frozen "Pops"
Recipe:
2 cups chopped washed hulled strawberries, minus eight slices for garnishing the pops, if desired-Total 100 calories
2 Tablespoons grated orange zest-4 calories
1/4 teaspoon pure vanilla extract-3 calories
1/4 teaspoon pure orange extract-1 calorie
12 drops of natural pure Stevia extract sweetener-0 calories
In a blender, puree the above ingredients together until it is homogenous and nearly smooth. In a clear glass measuring cup, mix the below ingredients to dissolve the gelatin.
1 package unflavored gelatin-20 calories
1/2 cup boiling water
Dissolve the gelatin into the hot water until completely clear. Blend the gelatin mixture into the above strawberry mixture in the blender and process for another minute.
Pour the strawberry mousse evenly into 4 custard cups and refrigerate for at least 2 hours until chilled, or pour it into 8 "Popscicle" forms, leaving at least 1/2 inch at the top of the forms to allow for freezer expansion. The forms usually come in sets of 4 pops per mold. The plastic sticks that come with pop molds are not usually very pretty. Use tongue depressors or popscicle sticks instead for a more adult look. To center and stabilize the sticks, wrap the top of the molds in aluminum foil. Puncture the center of the foil over each form carefully with the tip of a sharp knife and insert the sticks about halfway down each of the forms. Let them freeze for at least 6 hours. Unmold each pop individually by running them under hot water.
For an added flourish to the pops, stick a reserved slice of strawberry down the side of each pop before adding the mousse to the forms. The gelatin keeps the pops from becoming too hard to chew and provides a fluffy texture for the mousse cups. Garnish mousse cups with additional orange zest or mint leaves.
Enjoy the fruits of your oh-so-little-effort, guilt free.
Also see my first blog at foodfloozie.com and my professional website at marilinda.com