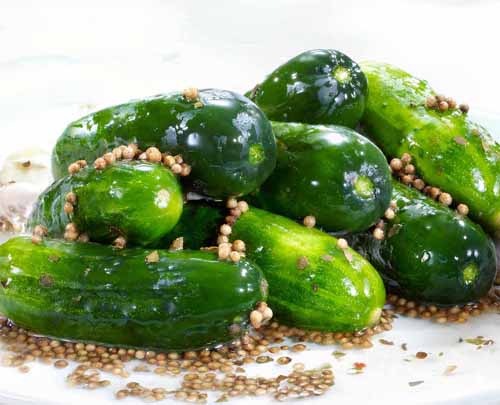 New Pickles
Photo by David Bishop
If you like pickles you will really enjoy the fantastic assortment of hand made pickles from The Pickle Guys at 49 Essex Street in the lower east side of Manhattan. Visit The Pickle Guys. They are not only amazingly tasty but are also incredibly beautiful. The above featured New Pickles are the freshest, crispest and brightest pickles on earth, due to their "newness" or lack of heat and brining time which can be anywhere from 1 to 10 days. They are sometimes referred to as Overnight Pickles. They taste like a salty cucumber with notes of garlic, mustard seed, coriander seeds and a few other spices.
...This is a quick preparation in which the fresh cucumbers are placed into the brine, generally without vinegar, for a brief period, about one to two days, under constant refrigeration. The result is a bright green pickle that tastes like a marinated fresh cucumber, much less acidic than a typical pickle. These are akin to "half sours" ... From thenibble.com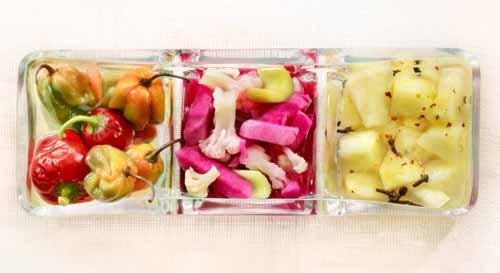 Jamaican Bonnets, Turnips, Pineapples
Photo by David Bishop
The first thing that strikes you as you enter the tiny shop packed wall to wall with colorful barrels, is the piquant aroma. The challenging part of the experience is deciding which pickles to purchase, a pleasant conundrum. Call 1-888-4-PICKLE for more information.
The beautiful trio of Jamaican Bonnets (made with vinegar, are extremely spicy hot and tantalizingly tasty), Pink Pickled Turnips (salt & vinegar brined with beet juice for color and sweetness, they are crunchy and slightly peppery), and Pineapple (seasonally brined with sugar, salt & vinegar, are sweet & sour, cinnamon & clove spiced with a light red pepper kick) make for a handsome party-pleaser.
Have fun on your fanciful foray into pickle world.
Also visit my first blog at foodfloozie.com and my professional website at marilinda.com