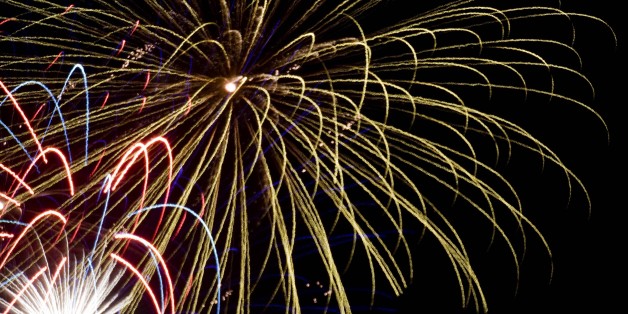 Ah, Independence Day... the crown jewel of summer extravaganzas. Because, really - on what other holiday are you encouraged to eat, drink, and bask in the sun whilst reflecting on all that's great about the U.S. of A? There are no poignant memorial services, no "summer is over" dread (I'm looking at you, Labor Day). The Fourth of July is one giant, pride-filled, nationwide celebration, and the below are my top five suggestions for making the absolute most of it.
5. Throw a BBQ. Hosting a BBQ has the distinct advantage of forcing everyone to come to you, plus, guests are basically delighted to eat pretty much anything that's been cooked over a grill, so your menu can be as simple as hot dogs and hamburgers or as fancy as steak and shrimp. Add some salads, a few bowls of chips and dip, some beer and soft drinks on ice, and some patriotic plates and napkins, and you've got yourself a celebration.
4. Host a Bonfire. While this may seem limited to an after-dark activity, it's really a full day at the beach/river/lake/creek for you since you'll need to arrive early to stake out a claim - and it's so much fun! Instruct guests to bring their own chairs and blankets, and pack an array of coolers with drinks, snacks, and sandwiches, plus hotdogs and marshmallows for roasting over the fire. Firewood, matches, and roasting sticks are of course a must, as is an iPod (with speaker) loaded with a patriotic playlist. Distributing Fourth of July sparklers is encouraged but optional.
3. Organize a Block Party. Although it takes a lot of advance planning - plus the full cooperation of your neighbors - nothing says Americana and fosters a feeling of community like an old-fashioned block party. Just imagine red, white, and blue balloons (distributed in advance) on every mailbox; patriotic decorations on every porch (offering a prize for best decor will motivate people to participate); and tables laden with delicious dishes (strictly potluck). Be sure to check with your city about permit requirements, etc., well in advance, and plan to divide the bulk of the planning and work with a few key, enthusiastic participants.
2. Picnic in a Park. The art of picnicking has recently taken a glamorous spin, but in my opinion, retro is the way to go for Fourth of July. An ice-filled cooler of Cokes (bottles only, please), a hamper of cold fried chicken, a batch of potato salad, a tray of deviled eggs, a bag of chips, and a gorgeous apple pie are really all the sustenance you need for a sundrenched day of softball and badminton. And this menu is American - throw in some Hostess snack cakes and a dispenser filled with lemonade, and watch how the kids at surrounding picnics cast envious looks your way while regarding their quinoa salad with disdain. Dress things up with a star-spangled tablecloth and you're golden.
1. Go to See Fireworks. This may seem like a given, but a shocking number of adults are put off by the inevitable traffic jams and parking snafus that go hand-in-hand with the No. 1 draw of Fourth of July. But consider this: Some of my favorite childhood memories are of sitting snug between my parents in a nearby high school parking lot, oohing and aahing over every burst of light in the sky while the sweet smell of ozone hung in the air. The rockets' red glare and sounds bursting in air were absolute magic - and for a few moments in time, I and the surrounding oohers and aahers (including my dad, who would most certainly curse the traffic on the long ride there and back) shared the mutual awe of imagining the view that our forefathers had.
So, whether you BBQ at home, host the entire block, or venture out to catch some fireworks, don't miss the opportunity to celebrate this Fourth of July - it's what amazing summer memories are made of.