Every year, approximately 70,000 gallerists, collectors, curators, artists, art critics and art and design-lovers descend on Basel, Switzerland for the annual art and design fairs Art Basel and Design Miami/ Basel. Facing one another in the Messeplatz (exhibition plaza), the two fairs, while different in scope, content and curation, have become a barometer of what to watch in modern and contemporary art and design. Art Basel is expansive, spanning three halls with with 285 galleries from 34 countries, and Design Miami/ Basel features 51 galleries; it is quite frankly impossible to cover this all in one day, yet alone the six days the fair is open. With that in mind, I've created a simple plan -- a cheat sheet of what you cannot miss this fair-going weekend, which of course leaves you more time to visit Basel's phenomenal museums and collections, swim in the Rhine, and take a day trip to the Black Forest.
1. "14 Rooms" at Art Basel, Hall 3 of Messe Basel
Curators Klaus Biesenbach (of MoMA PS1) and Hans Ulrich Obrist (of Serpentine Galleries) have reinterpreted and evolved their perennial "Rooms" exhibition this week in Basel, as "14 Rooms." Laid out in a Herzog & de Meuron-designed exhibition space constructed within the hangar-like convention hall, each room features performance works created by pioneers from Yoko Ono, Joan Jonas, Bruce Nauman, Marina Abramović, John Baldessari, and Damien Hirst to up-and-comers like Xu Zhen and Jordan Wolfson. Enjoy a coffee at the airstream following your living sculpture experience.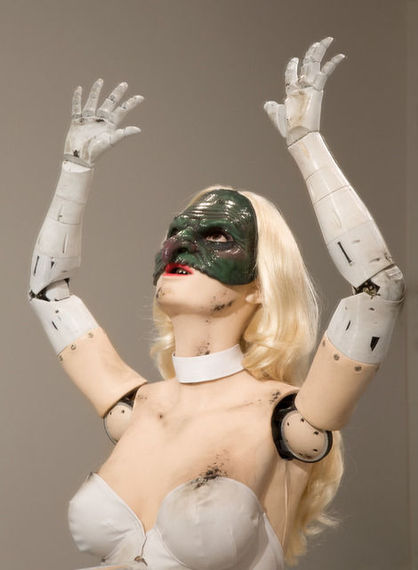 JORDAN WOLFSON, (Female Figure) 2014, 2014. Courtesy of the artist and David Zwirner, New York/London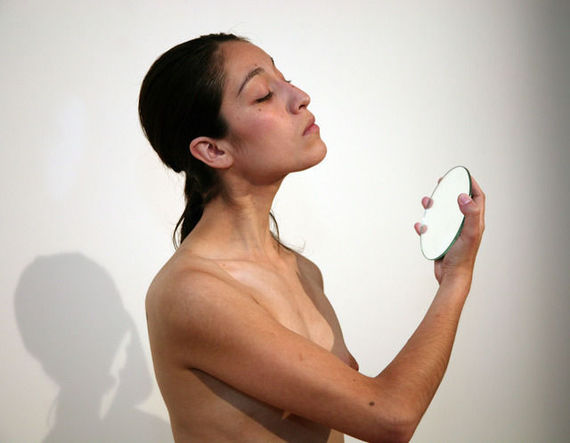 JOAN JONAS, Mirror Check, 1970, Photo credit courtesy Manchester City Galleries, Courtesy Manchester City Galleries
2. Wearable Art at Louisa Guinness Gallery, Design Miami/ Basel, Booth G29
At Design Miami/ Basel, London-based gallerist Louisa Guinness shows stunning jewelry pieces by modern and contemporary artists, from rare pieces -- like a spiraling Alexander Calder brooch and a Roy Lichtenstein pin--to commissioned editions, like a Jeff Koons rabbit strung as a pendant necklace and Anish Kapoor cufflinks. The pieces are not only stunning but offer one the opportunity to make art fashion.
3. Portable Housing at Design Miami/ Basel
Design Miami/ Basel offers three opportunities to not only live with your design pieces but in your design pieces: First, visit Pierre Jeanneret and Jean Prouvé's 1942 F 8x8 BCC House. The one-room house is a beautiful example of Prouvé's influential pre-fabricated (aka "prefab") design, and marks the brilliant collaborative friendship between the two iconic designers. Learn more about the history and construction of the F 8x8 BCC House from design specialist Alex Gilbert. Second, take a peek inside the late Jean Benjamin Maneval's 1965 Maison Bulle 6 Coques (Six-Shell "Bubble" House), the only entirely plastic house in France to go into production. Finally, take a look at Konstantin Grcic's mobile Audi pavilion, where Grcic, known for his furniture design, used seven tailgate doors from Audi TT racecars to create a lunar experience, on Earth.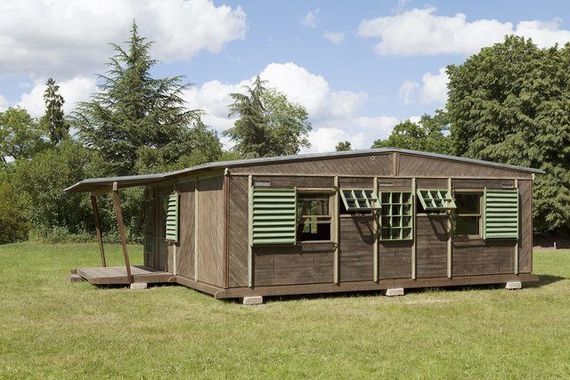 PIERRE JEANNERET & JEAN PROUVÉ, F 8x8 BCC House, 1942, Pierre Jeanneret, Architect & Jean Prouvé, Constructor, Unique, Courtesy Galerie Patrick Seguin
5. Unlimited Sector at Art Basel, Hall 1 of Messe Basel
Under the direction of curator Gianni Jetzer for the third year in a row, this year's Unlimited is among the best examples of recent curatorial intervention within an art fair setting. Set within the hangar-like Messe hall, Unlimited features 78 works from renowned artists, from monumental sculptures and paintings to video pieces and installations. My personal favorites include the immersive environment of Light & Space artist Doug Wheeler; a large-scale canvas and mirrored floor from Harold Ancart, which produces an awe-inspiring reflection; a stunning Julio Le Parc installation that plays with light and shadow; a room-size installation filled with amorphous plush sculptures by Sterling Ruby that crawl, hang and dangle from the white walls; a Carle Andre steel floor work from the 1980s that spans the diagonal length of the entire hall; and a wall devoted to Kara Walker, amongst many others.

JULIO LE PARC, Continuel Mobile -- Sphère rouge, 2001-2013, Red plexiglas, steel threads, aluminium, painted wood sphere; second of a set of nine unique pieces. Only two were produced. Courtesy of Bugada & Cargnel.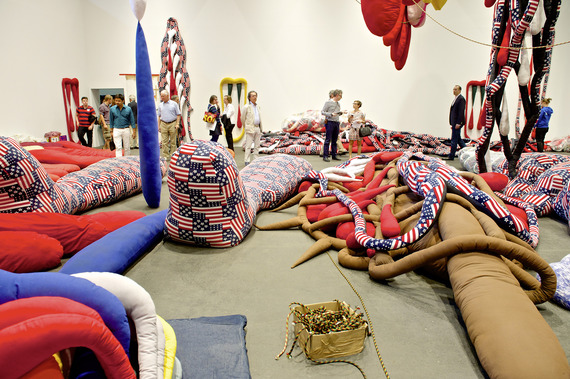 STERLING RUBY, SOFT WORK, 2011-2014, 77 soft sculptures, Xavier Hufkens in collaboration with Sprüth Magers (fabric, fiber fill, rope and hardware)
6. Statements at Art Basel, Hall 2.1 of Messe Basel
Step into the Statements section of Art Basel for a concentrated injection of emerging talent -- the sector features solo projects by young, emerging artists, presented by 14 galleries; of these, nine were new to Art Basel. Make sure to visit the booth of Pilar Corrias Gallery to watch the film of 29-year-old John Skoog, who was awarded the Baloise Art Prize. Skoog's work (Reduit (Redoubt), 2014) will be acquired by the Baloise Group and donated to a European museum collection; he'll also receive a solo exhibition.
7. Sheila Hicks' Séance (2014), Design at Large commission for Design Miami/ Basel
The 79-year-old, Parisian-based American artist (and student of Josef Albers) Sheila Hicks' technicolor fiber landscape would set adults and children alike into a fantasyland only inhabited in one's dreams. Rolling hills of fiber bundles, and a cascading pillar of cords and thread make up this dreamlike environment, complete with a table and chairs to make your own palette of pigment-rich tiles.
8. Stellar Works on Paper at Art Basel, Halls 2.0 and 2.1 of Messe Basel
Both the modern-focused ground floor (Hall 2.0) and the more contemporary first floor (Hall 2.1) are dotted with subtle but stellar works on paper. Standouts include Gert & Uwe Tobias at Galerie Sabine Knust (Hall 2.0, Edition Q3), Louise Bourgeois at Cheim & Read (Hall 2.0, C14), Jorinde Voigt at David Nolan Gallery (Hall 2.0, A12) and Galerie Klüser (Hall 2.0, D12), Rirkrit Tiravanija at Singapore Tyler Print Institute (STPI) (Hall 2.0, Q2), Richard Aldrich at Bortolami (Hall 2.1, M13), Jose Dávila at Galería OMR (Hall 2.1, N19), Bjarne Melgaard at Galerie Guido W. Baudach (Hall 2.1, P23), and Shooshie Sulaiman at Tomio Koyama Gallery (Hall 2.1, K17).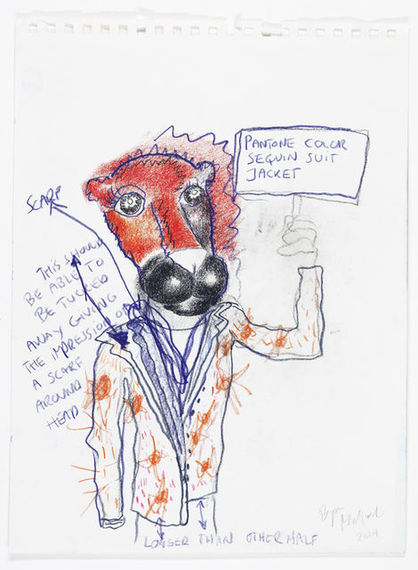 BJARNE MELGAARD, Untitled (Fashion Drawing), 2014. Colored crayon on paper. Courtesy Guido W. Baudach, Berlin photo: Roman März
9. Contemporary Ceramics at Art Basel (Hall 2.1) and Design Miami/ Basel
Ceramics are coming back with a force, proven at both Art Basel and Design Miami/ Basel. Notable artists and designers working in ceramics include Josh Smith at Standard (OSLO) (Hall 2.1, J5), Dan McCarthy at Anton Kern Gallery (Hall 2.1, J10), Lee Hun Chun at Gallery Seomi (Design Miami/ Basel, Booth G02), Glithero at Gallery FUMI (Design Miami/ Basel, Booth G37), Djim Berger at Galerie BSL (Design Miami/ Basel, Booth G42), and Betty Woodman at Salon 94 (Design Miami/ Basel, Booth G30).
10. Top places to sit after a long day at the fairs
Finally, after a long day walking the fairs, you'll need a place to rest your weary feet. Head to Design Miami/ Basel where you'll find hand-painted leather and enamel stools and benches by Kueng Caputo (Salon 94, Booth G30); seating by Jean Royère at Galerie Jacques Lacoste (Booth G47), Galerie Chastel-Marechal (Booth G43), and Galerie Mattieu Richard (Booth G35); Porky Hefer's nest-like chaise longue at Southern Guild (Booth G34); Ettore Sottsass mint-green gems at Erastudio Apartment Gallery (Booth G36); the Haas Brothers's furry friends at R & Company (Booth G12): chairs by iconic Italian craftsman Gio Ponti at Nilufar Gallery (Booth G05) and Galleria O. Rome (Booth G24); and the innovative and sustainable aluminum foil-covered works by emerging talent Chris Schanck at Johnson Trading Gallery (Booth G15). (Please note, you may not be able sit on all these works. Ask first!)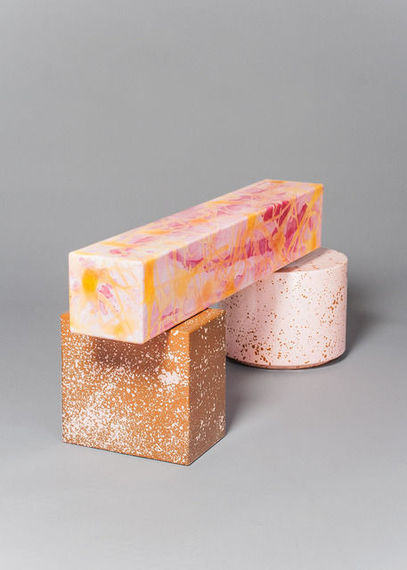 KUENG CAPUTO, Never Too Much Bench 9, 2013, Courtesy Salon 94.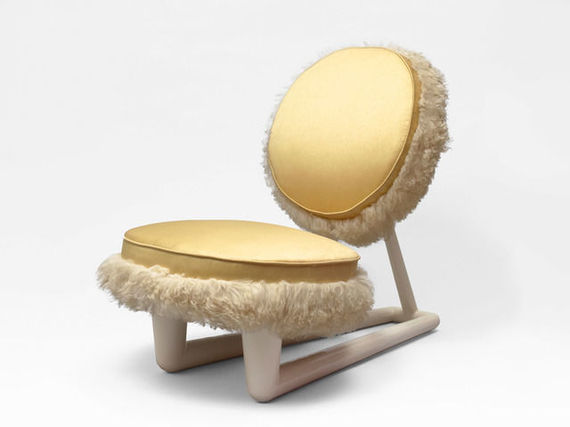 JEAN ROYÈRE, chauffeuse, circa 1950. Painted metal, fabric and sheep fur. © Hervé Lewandowski, Courtesy Galerie Jacques Lacoste.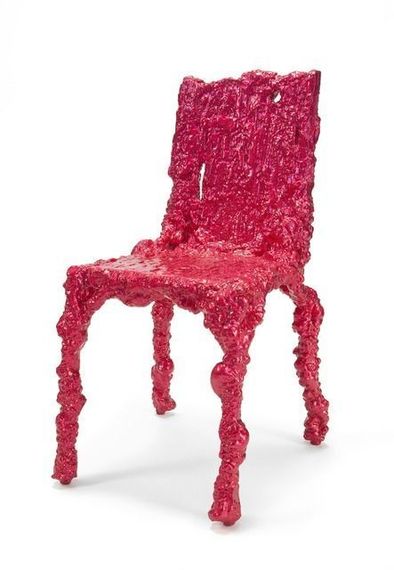 CHRIS SCHANCK, Alufoil chair, 2014. Resin aluminum, courtesy Johnson Trading Gallery.