Last week, the U.S. premiere of the 2010 Abraaj Capital Art Prize opened at the Museum of Arts and Design (MAD). In only its second year, the prize is pretty exceptional for a few reasons: the incredibly generous $1 million prize to the recipients (Abraaj Capital is the biggest private equity group in the Middle East, North Africa and South Asia, also called MENASA), the prize is given to the proposal of the work (which, if chosen as a winner, is realized), and the unique pairing of an artist-curator team. The overall mission of the prize is to offer a wider perspective on artists from MENASA countries. Projects are conceived by the artist-curator teams and only three are chosen each year. This year's winners were Algerian artist Kader Attia with Laurie Ann Farrell, executive director of exhibitions for the Savannah College of Art and Design (SCAD); Egyptian artist Hala Elkoussy with Jelle Bouwhuis, a curator at the Stedelijk Museum in Amsterdam; and Lebanese artist Marwan Sahmarani with independent curator Mahita El Bacha Urieta (who is of Lebanese-Spanish descent). The artists had six months to produce their pieces, and the works by the 2010 winners were unveiled at Art Dubai in March of this year. From an outside perspective it seems like a win-win situation: the artist and curator have the opportunity to both realize the work and get international exposure, and Abraaj Capital gets to keep the completed work for their private collection.
I walked through the show at MAD with one half of one of the winning duos Laurie Ann Farrell, who talked to me about her work with Kader Attia History on Myth: The Small Dome of the Rock and the significance of the prize.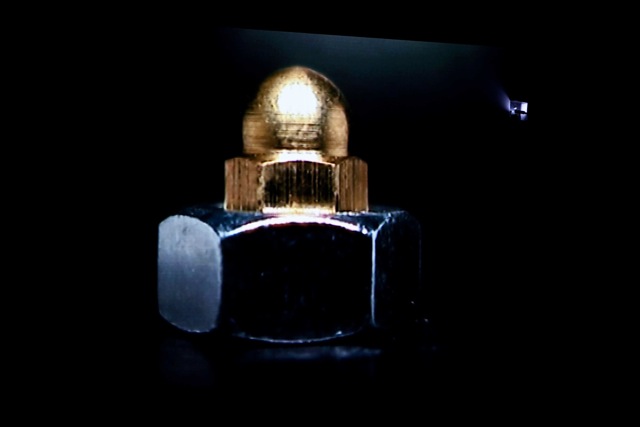 Kader Attia, History of a Myth, 2010 Abraaj Capital Prize winner
Marina Cashdan: Can you tell how your proposal came together?
Laurie Ann Farrell: I met Kader when I was still working for the museum of African Art. I was researching a North African art exhibition, and I was put in touch with him. We met in Paris. At the time I had just changed jobs -- I went to be the executive director exhibitions at SCAD -- and so we decided we would do a solar project together; this was in 2008-2009. The show opened at SCAD in Atlanta and he included this piece entitled Skyline, comprised of all refrigerators.
We showed that along with some photography that he actually printed when he was at SCAD. That was our first chance to work together. Right about the time that this project was coming to a conclusion he emailed me and said he wanted to apply for the Abraaj Capital Art prize. It was a curator-artist paring and so I worked with him.
I find the artist-curator pairing interesting. When you conceived the project did you know that it was a winner and when did you find out that you won?
I worked with him on the proposal and funny enough we were having dinner together in Paris when we got the phone call that we had been selected. It was kind of magical, you know. I really think he's an amazing artist, every project that he does takes a different form; but you know they all conceptually are dealing with issues of the human condition and contemporary society. And he's born in France to Algerian parents, but part of his family is back in Algeria so he goes back and forth always. He's really invested still in Algeria.
I have never been there, but I wonder if there is any support of contemporary art in Algeria?
I think until the past few years there hadn't been a lot of support for contemporary art. But I believe it was in 2006 they opened a contemporary art museum there and they have had more venues to show more contemporary work.
I read in the press material about the Abraaj Capital prize that one of the things they are hoping to do is bridge the east and west. He seems to embody that but I wonder if he also struggles with that?
He's still engaging that notion of inbetween-ness if you want to call it that. I mean he was living in the north of Paris in a Muslim suburb so he was really ensconced in a way with people around him having a similar worldview. But the whole reason he built these refrigerators was talking about the Haussmannization of Paris; the whole city plan was based around having control about how people moved. By placing these enormous apartments -- a part of one of his [earlier] exhibitions was shot in this neighborhood he lived in -- and so he's really using the material of these issues of these conflicts to comment on how architecture plays a role in the construction of power and placement of people and I think that related directly to the project for the Abraaj Capital Art prize. He had gone to Jerusalem to visit the Dome of the Rock and he talks about how he was really struck by going to the temple mount and going to old Jerusalem. He expected a lot of conflict and he was pleasantly surprised by how peaceful it was. He talks about having a view of olive trees and chirping birds and how beautiful it was. I think he was motivated to make a piece that is essentially kind of a readymade of reconstruction of the Dome of the Rock in miniature.
What are the dimensions?
It's about this big [she makes a 1 sq. cm cube outline in the air]. Kader has chosen to have a live feed camera on it. So on the wall there's a live feed camera -- it's not a video it's live; it's recording the piece sitting on the wall he has it on the wall. It's recording the piece on the wall. He added an acoustic element that actually is recorded; he tried to recreate the reverberation of the wind on the plaza. Viewers get to experience the ambiance, that recollection of that first visit.
So he created the audio component of the work from the actual site of the Dome of the Rock on the Temple Mount in Jerusalem?
I think it's a mixture of a recording sound and adding some bass to it and playing with it. But it's a real comment on taking this tiny piece of hardware and projecting it many times its size. It's a beautiful statement.
Was your relationship with the work to help the artist (Kader) realize the proposal from beginning to end?
Yeah it's definitely his concept and work and idea, but helping think about how to show it. And he always talked about creating a black box sort of formally mimicking the kabala.
Last year I interviewed Idris Khan who created a whole work about the Kaaba called Seven Times, a monumental floor installation with 144 sandblasted cubes arranged in a grid that replicates the exact dimension of the footprint of the Kaaba. It's an incredibly peaceful and contemplative work and made me consider the narrow-mindedness of this country -- having seen and experienced a work that represented Islam that was so beautiful and peaceful and not about conflict or waging war or any swayed or editorialized idea or fear fed to us by the media. It's a really powerful work. Is this how you see Kader's work?
Kader has this really beautiful statement in the essay he wrote about the work where he says that art is like a mirror, it holds up to the viewer because people bring so much their own psyche and perceptions as to what it is, but they're looking at the art itself so much, as to what it tells them about themselves.
I absolutely agree. It is a very eloquent observation.
I think that with the small Dome of the Rock it's really opening up a space for people to have a real experience. It's very poetic. It's very minimalistic but at the same time it's giving viewers space -- it doesn't have to be about the conflict. It could be about appreciating the beauty of the structure. It could be about thinking how architecture becomes a marker for change and changes over time.
Yes, architecture can be symbolic purely for the structure or shape and not the use, for example like the Twin Towers were to New York. I recently saw the show of experimental filmmaker Jonas Mekas [at James Fuentes Gallery in New York]. In the show, Mekas has a film about the Twin Towers, compiled from footage taken in Soho from the 1970s through the 1990s. Anyhow, James told me that Mekas called the Towers New York's Mt. Fuji, which I really liked and related to. Some architecture really has that presence. Obviously there are religious and symbolic references to the Dome of the Rock.
Yeah, another thing Kader likes to talk about is that architecture is a resolution to a series of questions or conditions whereas art asks questions but doesn't answer them. So I think a lot of his work, even though it's live feed or projection, is dealing with issues and looking at how those in power and those commissioning these spaces where people live or pray it's really dictating how you can engage with the world. And I think that in Dubai when the show was at Art Dubai, the challenge with mounting work there is that you're dealing with an art fair.
I haven't been but I head that it's a massive venue.
Yeah, it's a grand venue. I mean it's a hotel with all these ballrooms.
So do you think the work becomes a different experience in this space?
The mark of a successful work is when it can hold its own in different spaces. It was on at the art fair and then they moved it to the financial center where the Abraaj Capital offices are. I didn't see it there, so this is the second place I've seen it in; it's nice to see it in a gallery setting. Here I think the works have more of a dialogue going on -- even how the works are positioned in the space.
I think the MAD building is really successful, both architecturally from the outside and even more important, on the inside as well.
It's an incredible museum. And I think for them to support this prize is important, it gives all of these artists major visibility. The Abraaj Capital Art project says that they want to support under-recognized artists but I think Kader is definitely very well known. And Marwan Sahmarani Hala and Elkoussy are also well known. But I think it helps other artists in their communities with this recognition.
What will you and Kader ultimately take from this?
Well, it's an incredibly generous condition with which to work in. They gave each production team a production budget of $200,000 dollars so it's pretty ideal when you have that kind of support.
It's rare.
And so Kader said it's that kind of support that allows him to give him that kind of major project.
How long did it take from the time you got the prize to realizing the project?
We had six months to create the work. My input was more things like 'I think the walls need to be this high' -- the condition we need to set up for the work. It was very much a dialogue; bouncing ideas off each other. I've got a long history of working on commissions with artists. You find your pace with them, understand where they're looking for support and where it's their decision.
And you needed to understand that the work would exist in many different environments and galleries, which can be difficult.
Yes. The instillation is as much a part of the work as the little sculpture. The work is the whole thing.
I'm sure all the logistics -- i.e. acoustics and sound, placement, etc. -- is challenging. People don't always take into account all the work behind the scenes and what makes a work a work. Even a painting on the wall has to have the right temperature, lighting, frame, it has to be hung in the right part of the room, etc. It can be lost in one part of the room and really open up in another.
Kader really he did a lot of research with technicians. He's based in Berlin right now and had an amazing team of technicians with him to realize the camera. The issue with going that small with cameras is making sure you can get the right resolution and image quality. And getting the sound right -- it's meant to be a surround sound. The majority of the budget was realizing the practicalities of his vision. But every time they show this piece the room needs to be built, it has to be the right space. But all of the works that were part of this prize are all part of the Abraaj Capital Collection. So they're all traveling around the Emirates and if Kader has a retrospective at some point in time I'm sure they'll be happy to lend the work. And that's good because the work is massive so to store that, as an artist it is sure to pose some challenges. So it's quite nice that it's in their collection. They've been so supportive with getting behind the piece. They had a major press conference when we were in Dubai and it was really quite amazing -- people from all around the world. Since I lived in New York for 10 years I'm really happy that the work is here. The New York art scene will respond to the work in a very similar but different way.
Artists of Kader's stature can use this as a opportunity to use this as growth. It gives them a window to take a risk. Make a new work. Go on a new direction. And now I know he's off working on other projects. He had work in the "Dreamlands" show at the Pompidou [Paris] this summer. But I think right now he's busy working on a film.
Do you think you'll work with Kader again?
Yes, I hope I have the opportunity to work with him again. It makes such a difference. He had a real clear vision of what he wanted to do. I felt more like a support structure for him and somebody who could write it as a work and translate his ideas and create sort of a narrative.
Last question for you before we walk around the show: When you submitted the proposal and winning, did Abraaj Capital ask for any adjustments to be made to the proposal?
No, or we didn't specifically. I think they wanted work that was going to be considered cutting edge or contemporary for the country they are representing. But also it needed to be original, something that would go into the collection and stand as a unique piece. I think it's a really nice mix. It seems to me there's something about representation and abstract and otherworldly and all three of them. The artists got to spend some time together. We got a site visit in September of last year when they made the announcement and again when they made the announcement and the opening ceremony. There is a community between these artists from different communities.
---
[Farrell and I take a walk through the exhibition, first to a room with Marwan Sahmarani's "The Feast of the Damned," an installation comprised of large scale paintings and sculptures.]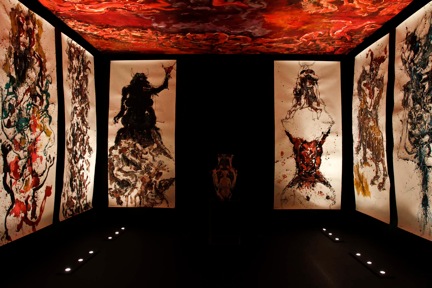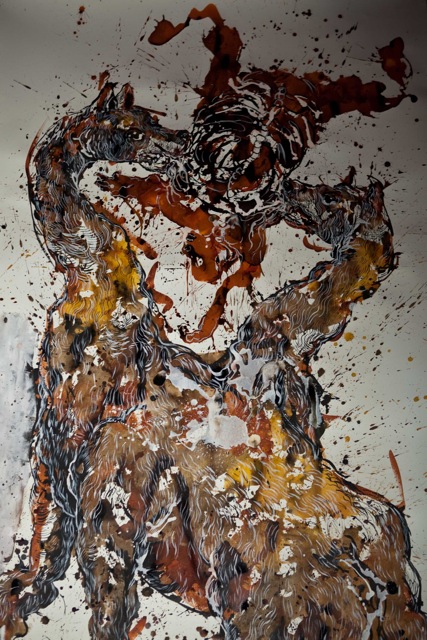 Wow, this is just incredible.
And it translates just as beautifully here.
These are all really kind of otherworldly. He won the people's choice award at Art Dubai - that's where the art fair visitors could vote and this was the instillation that won.
There's something that just draws you into the room.
Yeah he's incredibly expressive. I liken these paintings to a combination of De Kooning and almost Giacomotti-esque, really fabulous.
You need to spend some time in here.
He's so creative to be able to go between sculpture and painting and to bring it all together as a fully realized installation. There was an article on the opening day about how the president of Dubai [UAE President His Highness Sheikh Khalifa bin Zayed Al Nahyan] really loved this work. There were all thee pictures of him in this installation. It was wonderful to see somebody at that level having such an appreciation of art.
[Next, we enter the room of Kader's work History of a "Myth: The Small Dome of the Rock".]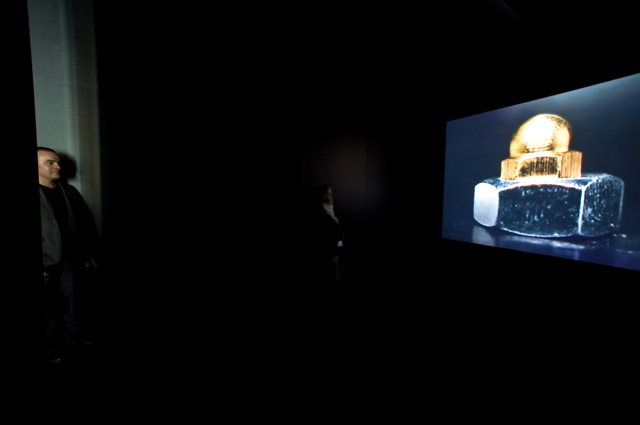 Wow, it is tiny.
It's really quite amazing.
It's almost as if the object is different from the image he creates. I mean it feels as if the dome is entirely different, perhaps the scale and the idea of an image or representation as opposed to the material object.
And it's interesting, I didn't realize with the Dome of the Rock -- I couldn't go there due to time -- but I didn't realize they didn't gilt the dome until the 1960s. It's quite recent. If you look at the history the monument has been quite different over time. Obviously the crusaders did different things and it was rehabilitated and restored. The lower strata and façade and the interior has layers of history. Quite stunning, but it is the shiny golden dome you see in the pictures when you see the aerial view of old Jerusalem. It feels like it kind of moves, doesn't it? But what Kader wants people to feel is that the object is a bit animate -- that the sound is coming from the sculpture, the projection. But I love that the video is live but the audio is recorded. It's a play on instillation versus time-based work.
[Last, we approach Hala Elkoussy's collage "The Myths and Legends Room: The Mural," an epic 27-foot-by-9-foot work.]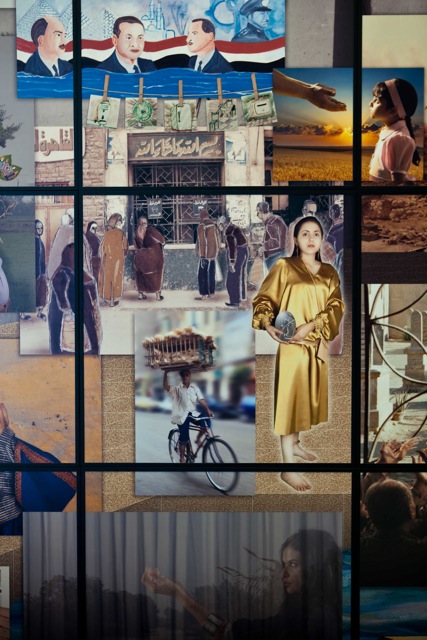 (detail)
It's a collage of photography and found images.
Yeah, it deals with the idea of myth and legend. I think you were right in saying earlier in our conversation that people have myth is about what's going on in that part of the world. The tricky thing about a myth is that it can stand in the face of truth. The artist is co-founder of a Cairo-based photography collective [Contemporary Image Collective], but she's been very supportive of her artist community. She's living abroad but giving back to Cairo. I think she's amazing.