This past weekend New York City celebrated everything that is contemporary design with one of the world's most well-regarded design fairs, the annual International Contemporary Furniture Fair (ICFF). While the 145,000-square foot Jacob K. Javits Convention Center was brimming with over 500 booth of designers from 39 countries, all around Manhattan various design-related events and exhibitions were taking place.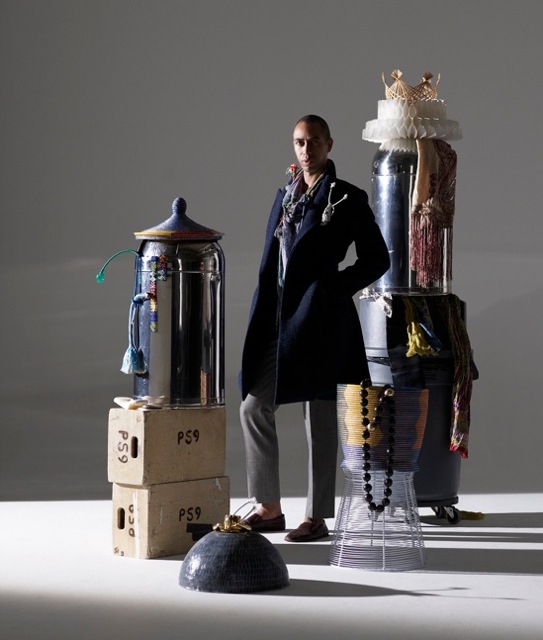 Elle Muliarchyk's Stephen Burks "Hybrid Portrait," 2009. Photograph, 10 x 8 in. (25.4 x 20.3 cm). Courtesy of the artist.
On Friday, the Museum of Arts & Design (MAD) held a reception for ReadyMade Projects founder, designer Stephen Burks, who curated a clever show at the museum (up through October 2nd) titled "Are You a Hybrid?" exploring the influence of the developing world on contemporary design. Responding to the museum's acclaimed show "Global Africa," Burks highlights artists who have "promoted a pluralistic vision of design," sharing common formal influences and emphasis on craftsmanship that are found in cultures mainly in the African diaspora. The show comprises of works by contemporary designers including Burks himself, Patricia Urquila, Mike Meire, the Campana Brothers (Humberto and Fernando Campana), and Hella Jongerius, and artists like Glenn Ligon (who currently has a mid-career retrospective at the Whitney Museum), Chris Ofili, Nick Cave and Zwelethu Mthethwa, among many others. (Concurrently, "Stephen Burks: Man Made" is up at the Studio Museum in Harlem, through June 26th.)
On Monday night, MAD held its annual young patrons' gala, what they called the Rare Earths Fluorescent Ball -- inspired by one of the gala's sponsors Molycorp Minerals-The Rare Earths Company, which explores minerals that give off luminescence (light that usually occurs at low temperatures), found in everything from undersea creatures to the neon lights in Dan Flavin sculptures. The museum was glowing a neon hue that night, as works like Lite Brite Neon's "Edison Chandelier," Adela Andea's "Nanobot," and Mark O. Naylor's "Guitar Player's Left Hand"--works being sold to benefit the museum, courtesy of the artists--while revelers, many dressed top to bottom in neon colors, took to the dance floor. Guests included former model Tyson Beckford, Mad Men's Alison Brie, and fashion designer Sam Shipley.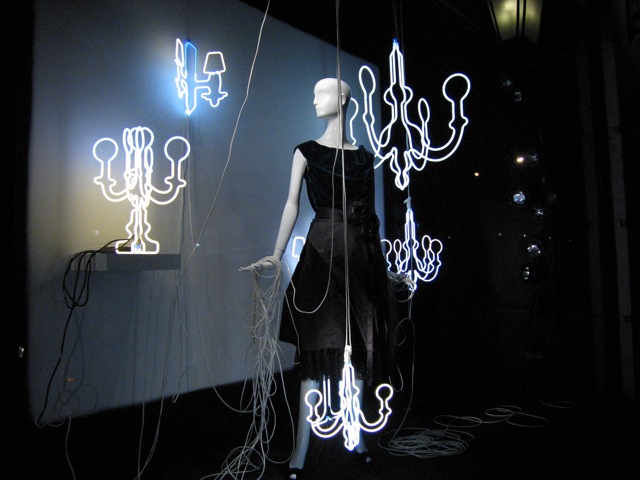 Lite Brite, "Neon Edison Chandelier," 2011. Neon, 2' x 2'x 2'. Donated by artist.
Photo: Lite Brite Neon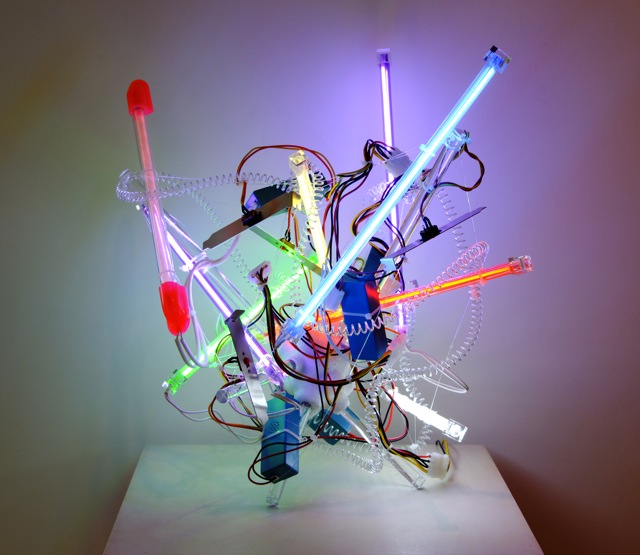 Adela Andea, "Nanobot," 2011. Plexiglass, light clay covered with microbeads; cold cathode fluorescent lights (CCFL) and fishing line, 2' x 2' x 2'. Donated by artist.
Photo: Adela Andea
INSIDERS' FAVORITES
A few design world insiders let us in on their favorites, from the most exciting booths at ICFF to some of the inspiring events that took place throughout the weekend.
Interior designer and founder of C McKeough Unlimited, Caroline McKeough's favorite booths at ICFF included:
Amuneal manufacturing
"These guys work wonders with metal. If you can dream it, they can make it. Every year they build an elaborate, sculptural booth that's a testament to their talents," she says.
Roll & Hill
"Finally, an American lighting company. Their artistic collection includes light fixtures by quintessential New York designers Jason Miller and Lindsay Adelman. "
Artek
"The Finnish company founded by Alvar Aalto in 1935 is still going strong. This year, the stick-like Pirkka chairs, stools and table designed by Ilmari Tapiovaara in 1955 were a definite highlight."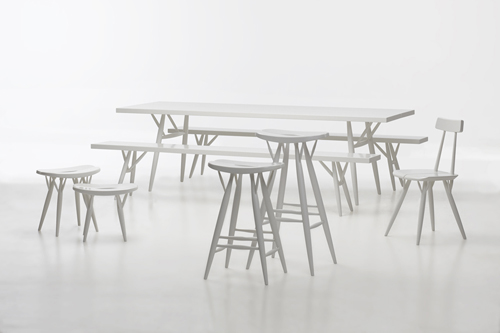 Artek's Pirkka chairs, stools and table, designed by Ilmari Tapiovaara
Other events McKeough enjoyed this past weekend:
"The NoHo Design District was the place to be on Saturday night," she says, referring specifically to Omer Arbel, who suspended a huge cluster of his Series 28 blown glass pendant lights for Bocci from a crane outside the Downtown Auto Center at the corner of Bowery and Great Jones Street.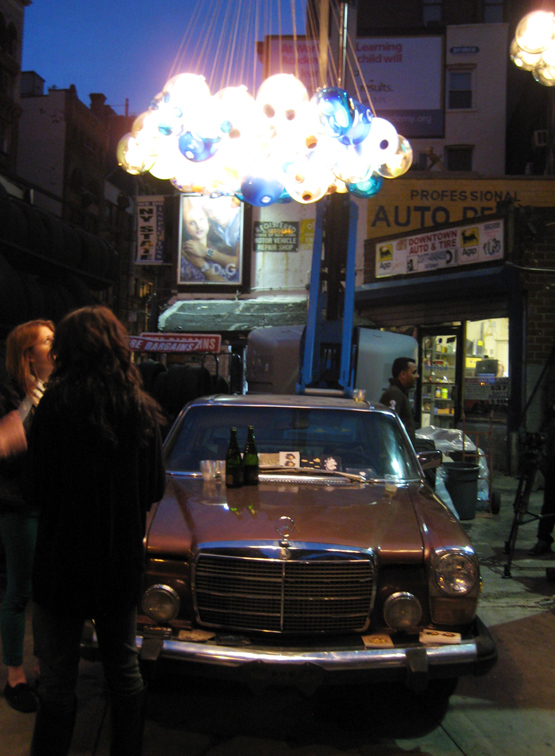 Omer Arbel's Series 28 blown glass pendant lights
She also enjoyed the pop-up shop at 45 Great Jones Street, hosted by Sight Unseen, an online design magazine, including "a curated selection of edgy and eccentric objects for sale, designed by some of today's fashion/art/design world enfants terribles."
And design store The Future Perfect, at 55 Great Jones Street, showcased California designer Matt Gagnon in their window where "he blurred the line between production and performance," says McKeough. "He wound various yarns and cords around frame structures to create a series of unique pendant lights that were immediately available for sale upon completion."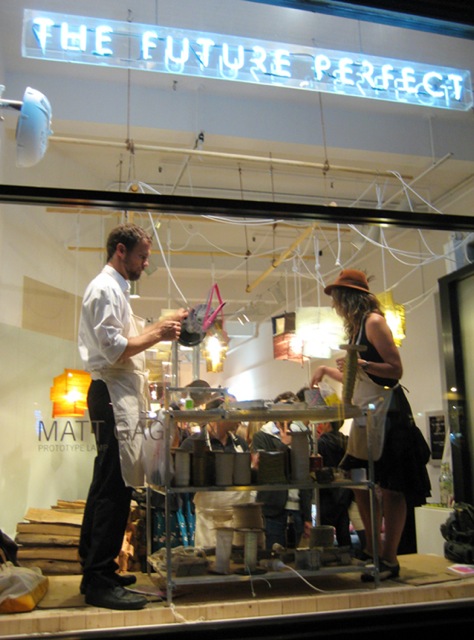 The Future Perfect showcases California designer Matt Gagnon
McKeough was a designer with Yabu Pushelberg for six years, and most recently completed DB Bistro Moderne in Miami before starting her own design practice, C McKeough Unlimited, in March.
Shayna Kulik, art director and editor of the blog Pattern Pulp, "LOVED" the Tools At Schools collaboration between aruliden, Bernhardt Design and the 8th graders at The School at Columbia University. "The furniture was functional, beautifully designed and created with fidgety kids in mind (the chairs swivel, the desks are graffiti-proof, the lockers have mail slots, compartments for books, gym clothing and built-in locks). The children were essentially asked to channel their inner adult and apply reason and logic to design."
Kulik spoke with Tyler, one of the students who worked on the lockers: "When I asked why his group chose a blue color palette, he said they loved the idea of gradation and that it was a nice change from steel gray. Both Tyler and his classmate Sarah were so composed and so impressive! Their challenge was to re-envision classroom furniture for today's student and make real world solutions, " says Kulik. "After telling me about everything, I asked him if he thought he might go into design as a profession. His eyes lit up and he said he with such excitement that he loved math and now he felt like he had a better grasp of the design process. He just helped his parents renovate their apartment and this opportunity helped him understand the purpose of design."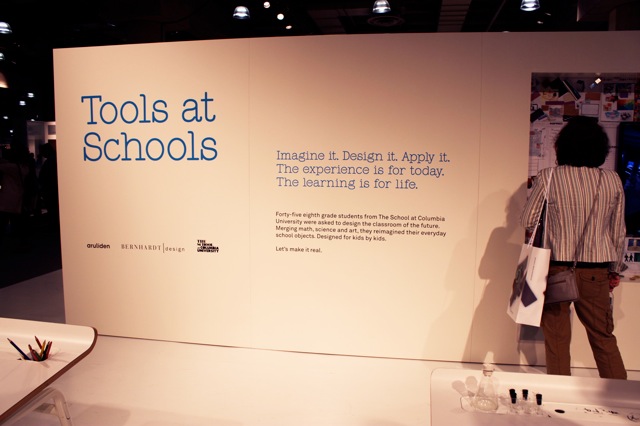 Tools At Schools at ICFF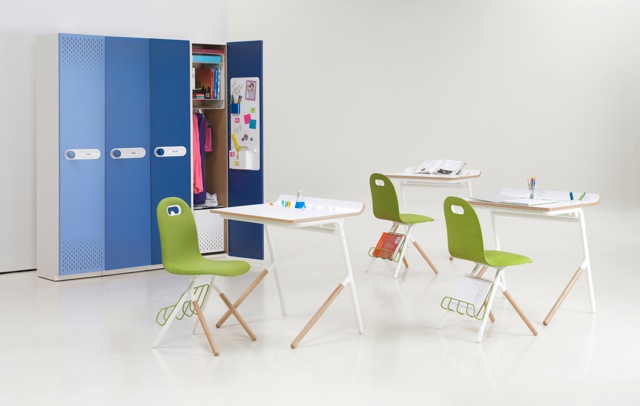 Tools At Schools, desk chairs and lockers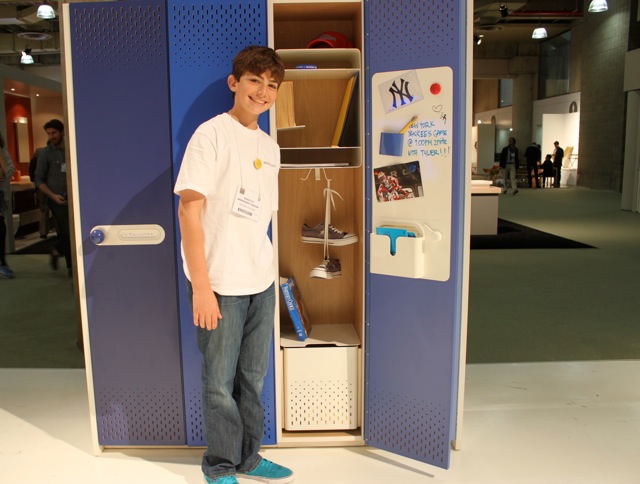 Tyler with Tools At Schools Lockers
Around town, at Model Citizens NYC 2011, held at the Chelsea Art Museum, Kulik liked Brooklyn-based Click Boom Pow who just launched a series of chairs. "Each chair nails to the wall and is designed by a different artist. The were fantastic -- modern and minimalist." And Kulik adds that Debra Folz "had several interesting concept pieces, meshing asymmetry with sharp angles," pointing out specifically a stitched needlepoint bench and a book sculpture that can be used to take notes.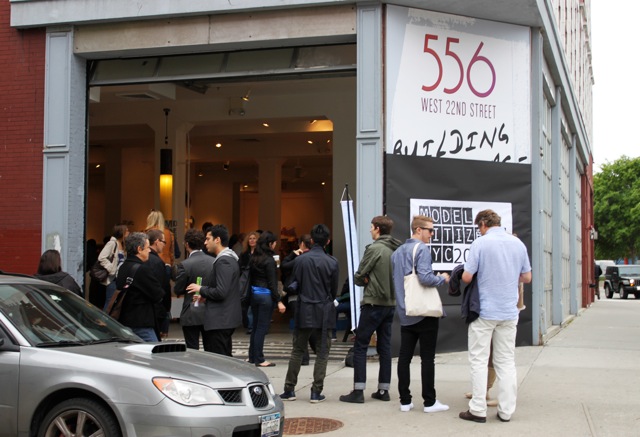 The scene outside the 2011 Model Citizens NYC, held at the Chelsea Art Museum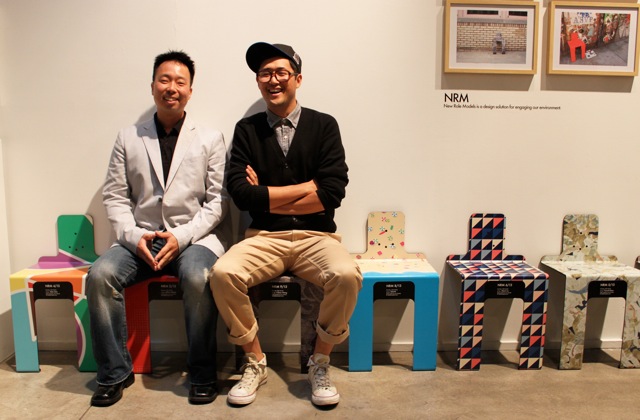 At the Click Boom Pow booth, 2011 Model Citizens NYC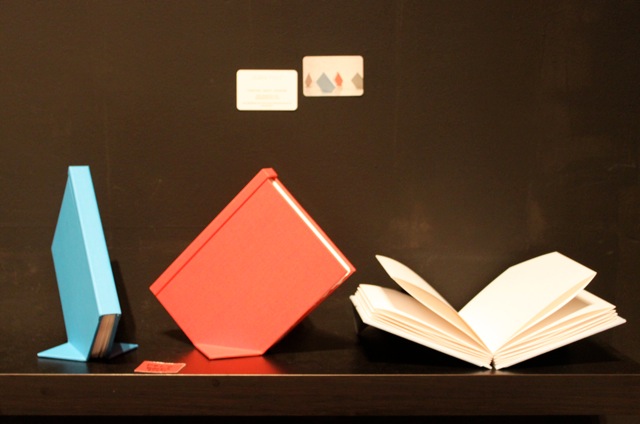 Debra Folz's book sculpture at the 2011 Model Citizens NYC
Artist and designer Fredrik Färg--who currently has an exhibition with Harry & Camila Studio, titled "Immortalize," at RH Gallery, through June 19 -- pointed out three booths that he particularly enjoyed at ICFF, including:
Rich Brilliant Willing, who "showcased a collection a product that is all their own production," he says. "The works were a series of lamps with shades, all of which had an elegant style complemented by nice details. I appreciate the lengths at which companies like this one create rather than resell this kind of functional design. I believe consumers from various walks of life should support companies such as this one for its innovation and control over the modes of production. "
"Eskayel, a project by Shanan Campanaro, is predominantly a collection of tessellated images either printed for use as wall paper or on textile for use as upholstery etc. Each print is unique in its own way, offering a glimpse into the innermost details of some of Shanon's paintings. For such a young company, everything is so well thought out--from the presentation of books to the branding of the company. I believe Eskayel will continue to blossom well into the future. "
Like McKeough, Färg also pointed to Amuneal as a highlight, saying that it "is truly a one-of-a-kind design/manufacturing house." He adds: "Amuneal is perhaps the only company that didn't exhibit design at the design fair. They were marketing concepts--models of previous projects geared to creating beyond conventional means. For instance, Amuneal showcased a long wooden table sprayed with aluminum. The majority of the other 'works' showcased were small models ranging from elaborate metal doors to staircases and ceilings. I believe this kind of production and manufacturing process at such a high level would be almost impossible to find back home in Sweden."
Around town, Färg pointed to the memorial event for Canadian designer Tobias Wong, who sadly committed suicide around this time last year. "At the event, there was a great piece from Frederick McSwain: a mosaic portrait made from dice similar to those Tobias Wong would frequently carry."
He also enjoyed the NoHo Next 2011 exhibition at the American Design Building at Great Jones Lumber.
Färg recently completed a series of furniture entitled "Succession: The Family I never knew I had," comprised of stools, chairs and ottomans.
Quick Facts about the ICFF
People exhibiting: Designers, manufacturers, representatives of contemporary furniture, seating, carpet and flooring, lighting, outdoor furniture, materials, wall coverings, accessories, textiles, kitchen and bath for residential, home/office, contract
Countries represented: Argentina, Australia, Austria, Belgium, Canada, China, Colombia, Czech Republic, Denmark, Ecuador, El Salvador, Finland, France, Germany, Greece, India, Ireland, Israel, Italy, Japan, Lithuania, Mali, Mexico, Netherlands, New Zealand, Norway, Poland, Portugal, Scotland, Singapore, South Korea, Spain, Sweden, Switzerland, Taiwan, Thailand, Turkey, United Kingdom, United States
The 24,000 attendees included: Interior designers, architects, retailers, developers, facility managers, wholesalers, store design professionals, hotel and restaurant designers, manufacturers, students, general public